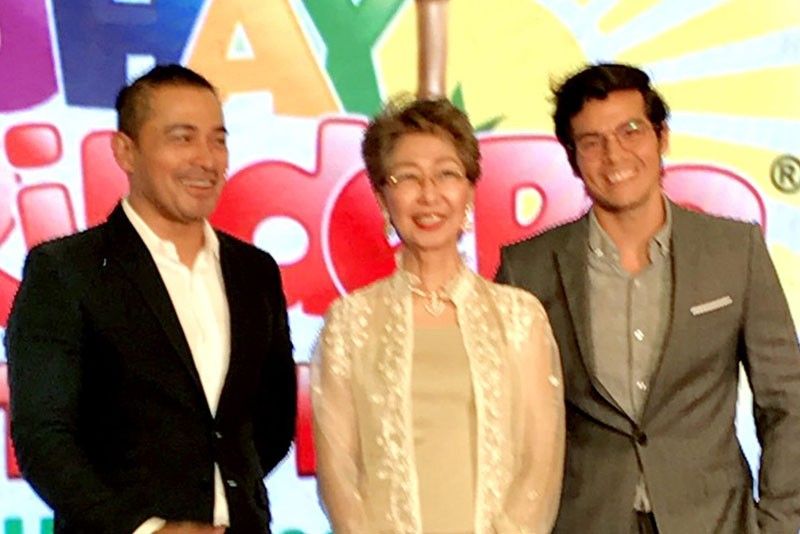 Cesar Montano, Linda Legaspi, and Erwan Heusaff
Carinderias are close to our hearts
My staff in the former office frequented a carinderia located in an old house beside the building where the office was. The carinderia was conveniently situated in that there was a dearth of food joints along Kasing Kasing and Kamias streets. It became a hub for working people especially during lunch. Aside from it being accessible, the carinderia offered meals that were affordable and had a semblance of home-cooked meals. It was common sight to see long lines of people waiting to be served food which you had to choose from a small enclosed display window. Consistently present in the menu were, adobong pusit, prito na galungong, adobong manok, eggplant omelette, igado, dinuguan, chopsuey, pinakbet, mungoong gulay, ampalaya con carne, longganisa, tocino, bistek tagalog, etc. A sawsawan (which was a concoction of kalamansi, soy sauce and red hot siling labuyo) was ready and on hand for pritong galunggong. And a steaming hot clear soup was given free when you buy any viand.
In the afternoon, the carinderia became a place for barbecuing: there were pork, chicken, isaw, hotdog, betamax (skewered blood chunks), atay at balunbalunan, adidas (chicken feet) etc. Aside from barbecue, the carinderia also offered halo-halo which can be had at 15 pesos. The afternoon barbecue in the carinderia became an enjoyable bonding time for people as they had the occasion for small talk while dipping the skewered meat in various sauces.
But my staff were not the only ones who bought meals at the carinderia. They were in the company of drivers, messengers, office workers and other people from all walks of life. At times, they were able to hear tsismis like when Ana, the serbidora, ran away with another man. The stories were fun though, and often had a happy ending, like Ana's.
Carinderias are close to our hearts. We feel at home in them. And carinderias were already popular even before specialty and fusion restaurants were born.
Carinderia and the affordable home-cooked Filipino specialties they serve are an integral part of our country's culinary and social identity. But there's more to this enterprise that has uplifted the lives of some three million individuals and their families.
Carinderia offers a glimpse into Filipino culture and customs—they are the closest to what one gets at Filipino homes, where great recipes are handed down through generations.
In 2001, Marylindbert International, Inc. initiated a unique advocacy called Carinderia Fiesta which was later on renamed Buhay Carinderia. It was aimed to help improve the carinderia's image, help the entrepreneurs behind them and present their unique style of cooking to a wider audience.
"Generous portions, affordable prices, short waits, and sumptuous dishes. Is it any wonder that carinderias are continuously growing everywhere in the country?" says Linda Legaspi of Marylindbert International, Inc.
She adds that on the sixth staging of the event, Buhay Carinderia... Redefined, it will be more expansive in scope.
Supported for the first time by the Tourism Promotions Board (headed by actor Cesar Montano) of the Department of Tourism as its sole presenter, this year's event is scheduled to scour the whole country in search of the best of the best in our culinary scene.
First to be visited are the areas of Northern Luzon–15 provinces that comprise Regions 1 and 2 as well as the Cordillera Administrative Region. "From these cities and towns we will identify the best dishes, the individuals that prepared them, and the carinderias where they work," relates Legaspi.
Eventually these local culinary experts will gather at Vigan Convention Center from June 28 to 29 where they will not only share their talent to everyone, but also interact with chosen students of the area–through mentoring partnership–so they may also pass on their skills and experiences. The respective region's best practices will be shared, as well as discussions on availability of local ingredients. It is likewise an opportunity for cross selling of produce and talents.
"During this two-day exposition to showcase all the surrounding provinces' culinary gems, we will also be searching for young individuals who will become our Philippine Tourism Millennial Ambassadors. They should be able to enlighten every one of their town's (or city's) deep and multicultural food history," says Legaspi.
This same framework will be followed as Buhay Carinderia... Redefined explores Central Luzon (particularly Pampanga, regarded as one of the culinary capitals of the Philippines) area, the Bicol region, the Visayas region (Regions 6, 7, and 8) and finally, the Mindanao region (Regions 9, 10, 11, 12, and 13). There will also be a culminating two-day event in San Fernando, Pampanga; in Naga; in Cebu; and finally in Davao City.
All around foodie, celebrity chef, online personality and husband of Anne Curtis Erwan Heusaff has been tapped as content creator of Buhay Carinderia... Redefined. An advocate of healthy and affordable eating, he will also help promote the project.
"For us, he clearly represents the 'Buhay Carinderia... Redefined advocacy: to focus and understand the history of local dishes, to popularize the use of natural and native ingredients, and to accentuate Filipino home-cooked flavours," adds Legaspi.
"I may not be a Filipino food expert yet; there are so many dishes that I still need to discover, but I'm curious to keep learning and I am a staunch advocate of our culinary culture," says Erwan.