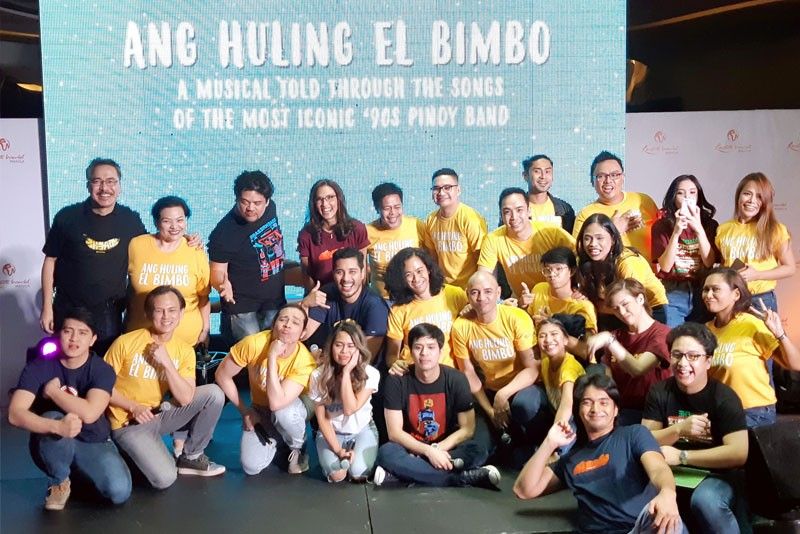 The whole cast of Ang Huling El Bimbo during press presentation at Newport Performing Arts Theater on April 25, 2018.
Philstar photo
What really happened to 'Paraluman' in Ang Huling El Bimbo?
MANILA, Philippines — Pinoy pop rock band Eraserheads has no direct hand or creative input in the upcoming rock musical Ang Huling El Bimbo, which is told through over 30 timeless and universal songs of the most iconic Pinoy band of the '90s.
But the show's director, Dexter Santos,and musical director, Myke Salomon, are quite confident the Eraserheads and their legion of fans will give the new musical a seal of approval when it opens on July 20 at the Newport Performing Arts Theater of Resorts World Manila.
At a press conference, where media guests were treated to a sneak preview by the cast (headlined by Gian Magdangal, Jon Santos, OJ Mariano, Reb Atadero, Topper Fabregas, Boo Gabunada, Sheila Francisco and Tanya Manalang), producer Christine Manalang revealed that the working script for the musical was sent to the publisher of Eheads music catalog during talks about copyrights and tracks to be used. Nothing was heard from any of the former band members regarding any possible inputs, the producer said.
Myke Salomon, who was also musical director in the smash musical, Rak of Aegis, told the Philippine Star that the Beatles of the Philippines won't be disappointed with Ang Huling El Bimbo the same way the Aegis rock band fell in love with Rak of Aegis despite having no say at all on its concept and staging.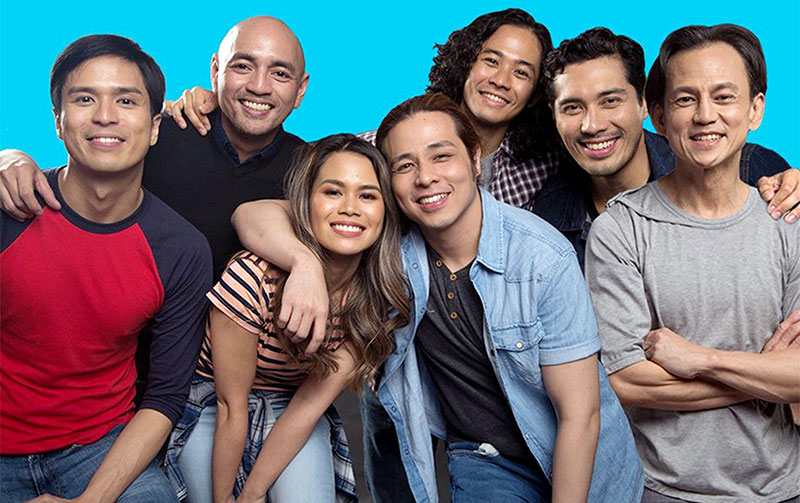 Ang Huling El Bimbo lead cast (from left) Topper Fabregas, OJ Mariano, Tanya Manalang, Reb Atadero, Boo Gabunada, Gian Magdangal, and Jon Santos.
"They (Aegis) enjoyed Rak of Aegis and they kept coming back and even performed with the cast in the gala and the closing," Salomon recalled. "We're confident Eraserheads will be proud of Ang Huling El Bimbo."
Salomon, who is best known among TV viewers as the comedic sidekick in the GMA teleserye My Korean Jagiya, said he recently bumped into Ely Buendia in an event. Although the famous Eheads leader didn't give helpful tips for the musical, Salomon said Ely told him he will try to catch it.
Dexter said the entire cast is hopeful Ely and former bandmates Raimund Marasigan, Buddy Zabala and Marcus Adoro –– who have gone their separate ways since 2002 –– will be able to grace the gala and see how the cast will give justice to the material that will further immortalize the legendary group's music.
Menchu Lauchengco Yulo, artistic director of Resorts World Manila's production outfit Full House Theater Company, Inc., said audiences of all ages will be able to relate to the songs like Ligaya, Pare Ko, With A Smile, Spolarium, Alapaap, Toyang, Overdrive and the title track Ang Huling El Bimbo.
She said all the songs are integrated into the storytelling about three friends (played by Gian, OJ and Jon) who have drifted apart in adulthood until fate reconnects them to confront their haunted past.
"We take the songs, we break them and we make them part of the narrative that revolve around very real people and very real issues," Yulo noted. "We are using as many of the songs as possible but not necessarily in its entirety. In other words we're using the music as narrative."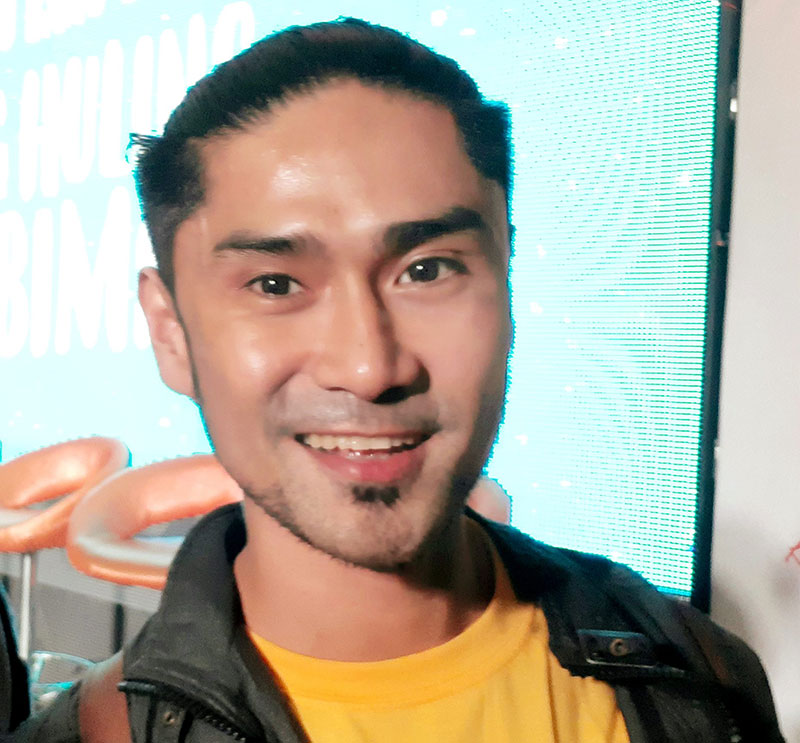 Ang Huling El Bimbo musical director Myke Salomon Paeng — Philstar photo
As a teaser, Santos said fans of the now Pinoy classic piece Ang Huling El Bimbo may find out what really happened to the lovely and alluring character in the song, who's so good at boogie, cha cha and El Bimbo.
"We are so familiar with that girl, that girl who resembles (1940s Filipina screen goddess) Paraluman, that girl who became a dish washer in Ermita and supposedly ran over in a dark alley," Santos said. "What really happened to her? Come and find out yourself."
Without giving any spoiler, word has it that a character named Joy (played by Tanya Manalang) will depict the mysterious young woman who is likened to Paraluman.
"There will be a lot of surprises in the story," Santos said of the musical penned by Dingdong Novenario. The shows limited run will be from July 20 to Aug. 26.
Tickets to the musical are now available at the RWM box office and Ticketworld outlets. Visit www.rwmanila.com