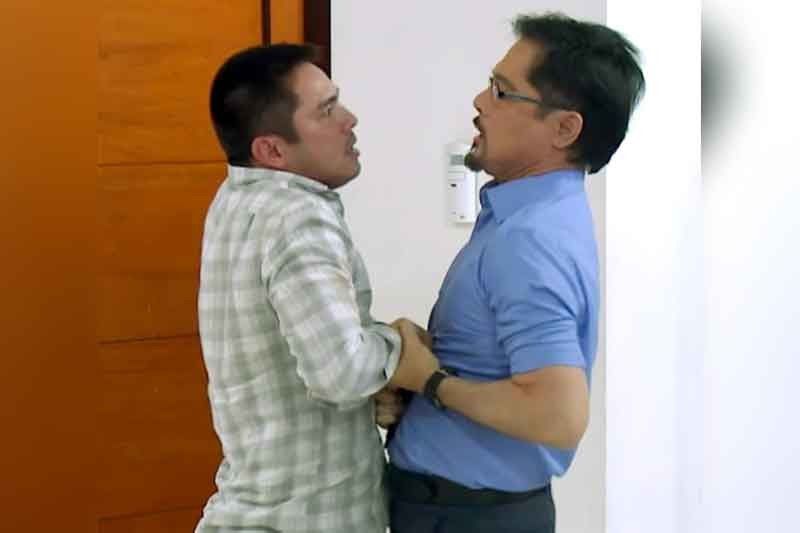 On the set of the GMA soap Kambal, Karibal where the accidental shooting happened: The scenes started with the two actors grappling for a gun that was loaded with a blank bullet.
Boyet could have died from the shoot
FUNFARE
-
Ricky Lo
(The Philippine Star) - April 20, 2018 - 12:00am
A lot of people (among them worried friends like Marichu "Manay Ichu" Maceda and Canada-based journalist Baby K. Jimenez) have been wondering what really happened to Christopher "Boyet" de Leon, you know: 1. Was he really accidentally shot during the shoot of a critical scene in the GMA soap Kambal, Karibal?, 2. Who pulled the trigger of a gun loaded with a blank bullet?, and 3. Was he hospitalized not once, not twice but thrice?
The answers to those questions most everybody is asking are: 1. Yes, Boyet was hit in the groin, barely missing his aorta (the biggest artery in the body) by centimeters; 2. It was not Marvin Agustin (as earlier reported) who pulled the trigger but a young female co-star; and 3. Yes, Boyet was rushed to the hospital, the third time was last week when he suffered from convulsion that left him totally "blacked out."
To get the real story, Funfare got it from Boyet himself. In the soap, Boyet plays the father of Marvin who plays the father of Kyline Alcantara.
In that scene, Marvin and I were supposed to be grappling for the gun which was empty and only a sound effect was needed. In another shot, I fell down and Marvin placed the gun in his crying daughter's (Kyline) hand and pulled the trigger to make it appear that (Kyline) was the one who shot me. This time, the gun was loaded with a blank bullet inside an adaptor. Kumalas 'yung adaptor and it hit me in my singit.
I was bleeding. I thought that the blood was coming from a gasgas in my skin. 'Yon pala, the adaptor entered four inches into my singit. But I didn't mind it. I even accompanied my daughter Mariel to Marawi for her gift-giving project among the residents. (Boyet is a Philippine Navy reservist.)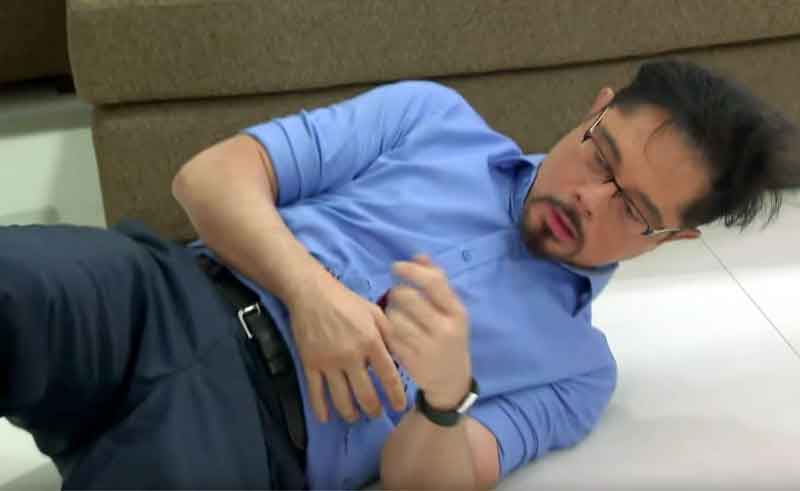 Christopher de Leon acting as victim
On the third day, I started feeling intense pain. My wife (Sandy Andolong) became worried, crying while cleaning my wound. Back from Marawi, I was given an anti-Tetanus shot because there was gunpowder in the adaptor. An X-ray showed that something was inside. I was operated on. They took out a nine-millimeter metal, as big as a bullet.
After several days, I was in extreme pain again so I was brought back to the Asian Hospital which is near our home. I was put on intravenous anti-biotic. I was getting bored at the hospital so after three days, I was discharged, accompanied by a nurse (with the anti-biotic drip). With the heavy anti-biotic medicines, I was taking my daily doses of vitamins/medications (for the liver and the heart, including a relaxant pill). The cocktail had an adverse effect on my body. I suffered from convulsion and I collapsed.
I was in total blackout. When I regained consciousness, I was at the ICU of Asian Hospital. I didn't have any recollection of what happened. Sandy was crying and crying.
That's the tragic story.
The good news is that Boyet is well although still on anti-biotic for one more week. His wound is healing fast. To be safe, he underwent an executive check-up. Everything is okay: his brain, his heart, his cholesterol level, etc. Done with Kambal, Karibal, he should be back on the set of the Kapamilya soap Sana Dalawa ang Puso by now and ready to start the shoot for Erik Matti's movie OTJ On The Job (2).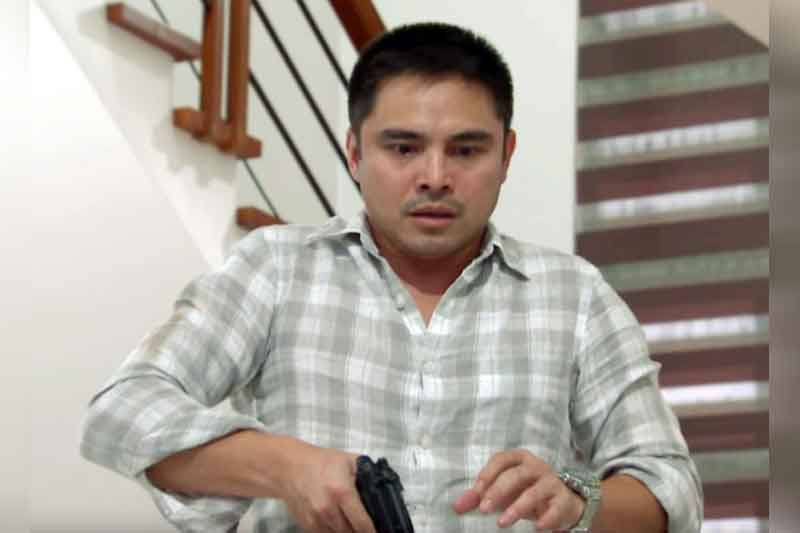 Marvin Agustin as the shooter
"In my career," said Boyet, "I'm used to playing with guns but what happened was a first. It was an accident and nobody was to blame. I'm thankful to GMA for taking care of me and paying for my medical bills. I just hope it doesn't happen again."
Boyet has an APPEAL (there, in all caps): "There should be a stand-by emergency team on the set composed of professionals talaga. You never know what could happen — somebody could suffer a heart attack or a heat stroke. There should also be a first-aid team. I've worked with the props men several times. But then, the props, not just the guns, should be double checked."
(E-mail reactions at rickylophilstar@gmail.com. For more updates, photos and videos, visit www.philstar.com/funfare or follow me on Instagram @therealrickylo.)