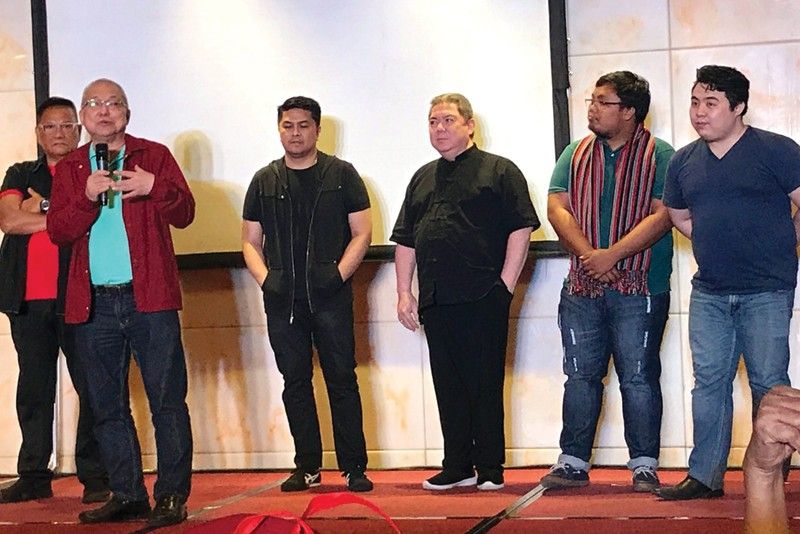 Direk Joel Lamangan (leftmost), writer Ricky Lee (second from left) and choreographer Douglas Nierras (fourth from left) with other members of the production team during the Binondo, a Tsinoy Musical.
Photos by Ricky Lo
Direk Joel and his Chinese connection
FUNFARE
-
Ricky Lo
(The Philippine Star) - April 19, 2018 - 12:00am
A musical born out of another musical.
That aptly describes Binondo, a Tsinoy Musical, set to be staged June 29 (8 p.m.); June 30 and July 1 (3 p.m. and 8 p.m.); July 6 (8 p.m.) and July 7 and 8 (3 p.m. and 8 p.m.) at Solaire's The Theatre.
When Maynila The Musical was mounted last year, a Chinese national watched it and chided direk Joel Lamangan, "Why do you make the Chinese look bad?" referring to the Chua Tek character, a Chinese who runs a prostitution house in Chinatown, derived from the original classic 1975 Lino Brocka movie. "Let's do a musical that will show the positive side naman of the Chinese."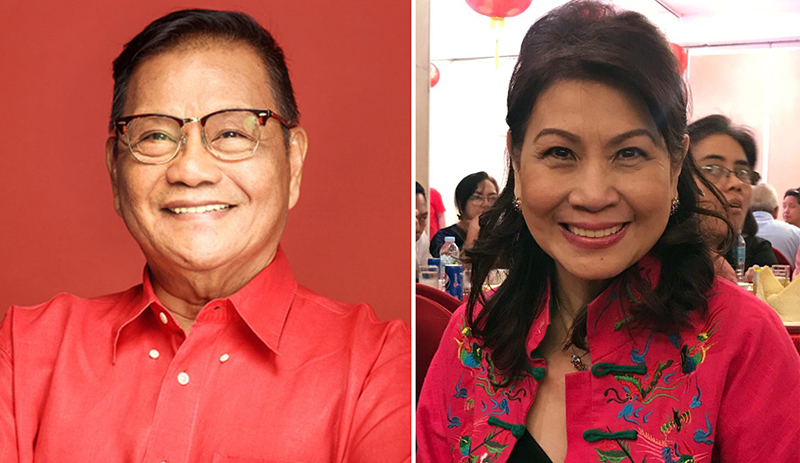 Lamangan(left): An 'adopted' son of the Chinese community. Binondo producer Rebecca Chuaunsu(left) kept the true-life love story in her heart for 42 years
And Binondo, a Tsinoy Musical was born, also with Joel at the helm.
"Actually," admitted Joel in an interview with Funfare, "nalilinya talaga ako sa mga Intsik. I have a Chinese connection and I'm proud of it."
One of his recent movies was titled Boy Intsik (for which R.S. Francisco won a PMPC Best Actor). He also directed five of Regal's Mano Po hit franchise (1, 3, 4, 5 and 6), and it's common knowledge that Joel is close to Regal Matriarch Lily Monteverde and he counts other Chinese among his good friends.
"So, it isn't hard for me to capture the Chinese sensibility," said Joel (in the same way that Ang Lee, a Taiwanese, successfully did by precisely depicting the British soul in the film adaptation of Jane Austin's classic novel Sense and Sensibility). "It helps that two of the Binondo writers (story and libretto) are Chinese, Ricky Lee (also the writer of the Maynila musical) and Gershom Chua, with Eljay Castro Deldoc."
Add to that the fact that the producer, Rebecca Chuaunsu of her eponymous film company (and talent agency), is not only Chinese but also a good friend of Joel's, with Synergy 88 and Fullhouse Asia Production Studios as co-producers.
"Joel and I go a long way," shared Rebecca (who graduated from Hope Christian High School and is a holder of a Ph.D in Communications and a Master's Degree in Theater Arts, both from UP). "Joel was my mentor when I attended an acting workshop in PETA (Philippine Educational Theater Association) in 1976. I also appeared in a Mano Po movie (as the mother of Richard Yap and the mother-in-law of Jean Garcia) directed by Joel. That's why we are comfortable working together."
Arman Ferrer (left) and David Ezra alternate for the lead role
It was Rebecca herself who told the true-life love story that Binondo was based upon — "A beautiful love story that I kept in my heart and my mind for 42 years," revealed Rebecca (who, with her three children, are into Church music ministry; one of her twin daughters is Jen Chuaunsu, the scriptwriter-girlfriend of director Prime Cruz). "It's a love story aching to be told."
Binondo traces the story of how Lily, a Filipina nightclub singer in pre-Martial Law Manila, and Ah Tiong, a Mainland Chinese scholar returning from the US to Beijing during the Cultural Revolution, stopping over in Manila. They fall in love during a 1971 moonlit mid-autumn festival in Chinatown. Vying for Lily's love is Carlos, a local Chinese friend of hers. A love triangle happens. Ah Tiong gets Lily pregnant before he returns to Beijing and then…oh well, watch Binondo and find out what happens next.
Playing the major roles are Shiela Valderrama Martinez and Carla Guevarra Laforteza alternating for Lily; David Ezra (Dulce's son) and Arman Ferrer (as the lead character Julio Madiaga in the Maynila musical, played by Bembol Roco in the movie) for Ah Tiong; and Floyd Tena and Noel Rayos for Carlos.
During the press launch, Arman and David gave sample of the six songs from the musical (Von de Guzman is the musical director) while chorus member Jim Pebanco led five dancers in a rousing dance dancer (choreography is by Douglas Nierras). Judging from what we saw in that event, I'm sure the Binondo musical is something to be experienced…live!
"Initially," added Rebecca, "I wanted Binondo to be a film but it's difficult to get a permit to shoot in Beijing. You will learn a lot about Chinese culture and tradition from the musical, such as arranged marriage which is still practiced by some Chinese up to this day."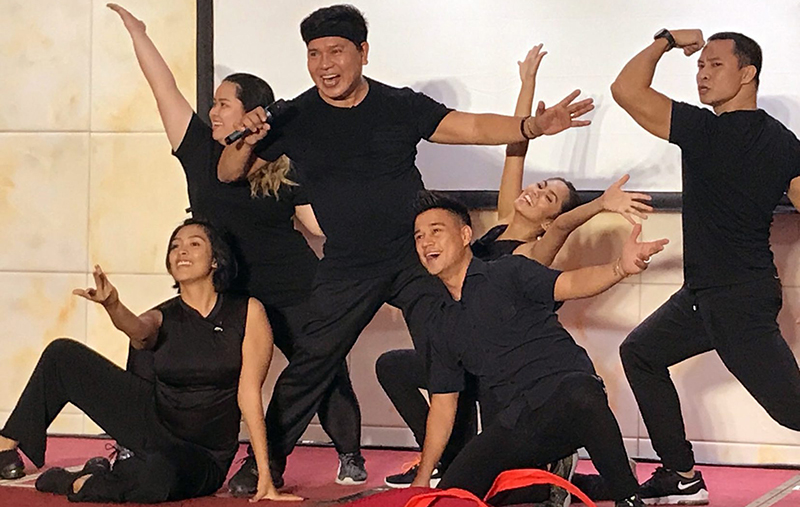 Chorus member Jim Pabenco (third from left) leads five dancers in a side show during the musical's presscon
(Ticket prices to Binondo, a Tsinoy Musical are: Orchestra Center P2,500; Orchestra Side P2,000; Loge or Gold Premium Side P3,000; Balcony Center P1,000; and Balcony Side P500. Call Ticketworld at 891-9999. For further inquiries, call Rebecca Chuaunsu at 0918-9169357 or 0917-3012445, or e-mail rebeccachuaunsufilmproduction@yahoo.com.)
(E-mail reactions at rickylophilstar@gmail.com. For more updates, photos and videos, visit www.philstar.com/funfare or follow me on Instagram @therealrickylo.)