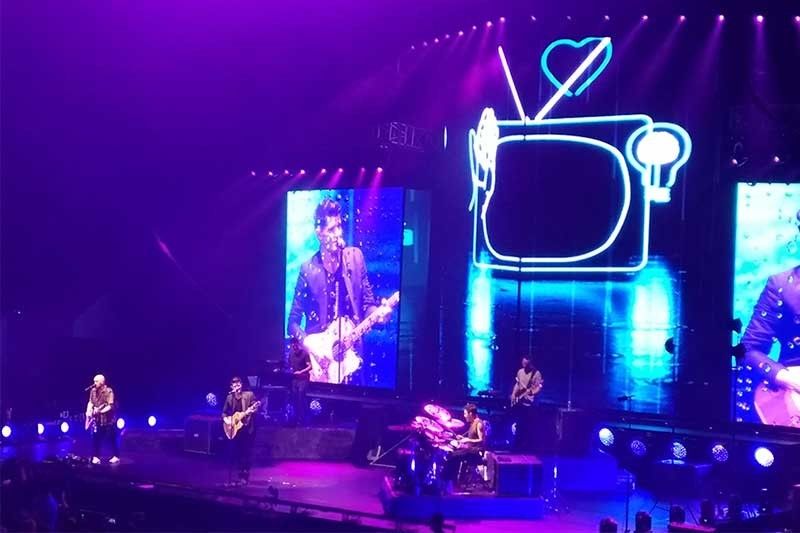 Irish band The Script performs in Manila for the fourth time as part of their "Freedom Child" tour.
Patricia Lourdes Viray
The Script gets up close and personal with Filipino fans
MANILA, Philippines — Irish band The Script promised to deliver their "most interactive show" on their "Freedom Child Tour" and they did not fail their Filipino fans.
Back in Manila for the fourth time, frontman Danny O'Donoghue, guitarist Mark Sheehan and drummer Glen Power surprised their fans as they climbed down the stage to perform with the crowd.
The Irish trio opened the show with their hit song "Superheroes."
Highlight of the show: Danny went to the lowerbox area and then all hell broke lose. Jk. #FreedomChildTour #TheScriptMNL pic.twitter.com/FbZsnOEDRM

— Patricia Lourdes Viray (@patriciaviray) April 14, 2018
The Filipino crowd went wild as the band started heading to the back of the Mall of Asia Arena during the middle of the set.
Bringing their keyboard and guitars down the stage, The Script played "If You Ever Come Back" and "Never Seen Anything Quite Like You" in the middle of the crowd in the patron area.
While Sheehan and Power returned to the stage, O'Donoghue further went through the lowerbox area while singing "The Energy Never Dies."
Probably our favorite part: @thescript heading over the audience and performing there! #TheScriptAtMOAArena #FreedomChildTourMNL pic.twitter.com/qJ16G3Hnbj

— MALL OF ASIA ARENA (@MOAArena) April 14, 2018
The Irish three-piece also performed their classic songs "The Man Who Can't Be Moved," "Nothing," "Breakeven" and new single "Rain." They closed the show with "Hall of Fame."
"The only way we can say thank you is to keep coming back again and again," O'Donoghue said bidding farewell to the Manila crowd, a Philippine flag wrapped around him.
During an interview with the media prior to the Saturday night show, The Script expressed their appreciation for Filipino fans during their previous shows in the country.
"Every time we have a tour and we come back to the Philippines, I just remember my ears ringing from the crowd just singing every song, every word," O'Donoghue said.
.@thescript frontman Danny O'Donoghue recalls the band's first performance in the Philippines at the Araneta Coliseum back in 2011. @PhilstarNews @PhilstarShowbiz @midaspromotions #FreedomChildTourMNL #TheScriptMNL pic.twitter.com/4PzTccK3uG

— Patricia Lourdes Viray (@patriciaviray) April 14, 2018
The Script is one of the world's most successful bands, having sold more than 29 million records. They have also scored three multi-platinum albums, all of which were number one in the United Kingdom.