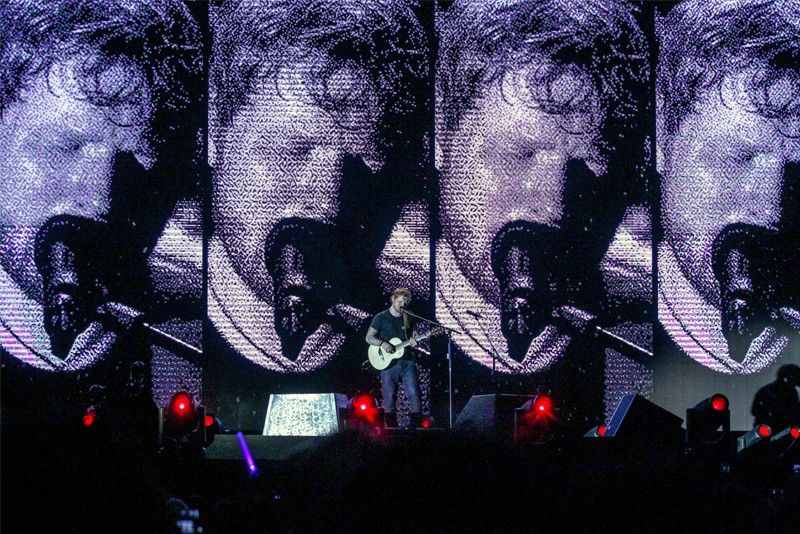 Sheeran during his Divide concert, which featured a massive LED video structure, at the Mall of Asia Concert Grounds Sunday night
Photos by Geremy Pintolo
The other sides of Mr. Nice Guy
The guitar-toting British music superstar was supposed to come last November but the show was postponed due to an arm injury caused by a cycling accident. The cancellation didn't seem to diminish the enthusiasm of Pinoy fans to welcome Ed Sheeran back to the country.
MANILA, Philippines — The other sides of Ed Sheeran were in full display at the Manila stop of his ongoing Divide world tour. But that's getting ahead of the story.
The guitar-toting British music superstar was supposed to come last November but the show got postponed due to an arm injury caused by a cycling accident.
The cancellation didn't seem to diminish the enthusiasm of Pinoy fans to welcome him back to the country. And for those who were initially wondering why his return concert was at the concert grounds unlike his 2015 indoor show, it was Sheeran himself who requested for it to be held outdoors because he just wanted to "see the multitude."
And multitude it was, as an estimated 25,000-strong crowd showed up at the Mall of Asia concert grounds Sunday night. There were more waiting outside the venue hoping to score additional tickets but the show had been declared sold-out. In a previous STAR interview, producer Renen de Guia of Ovation Productions said that Sheeran's concert sold out within two days tickets were on sale.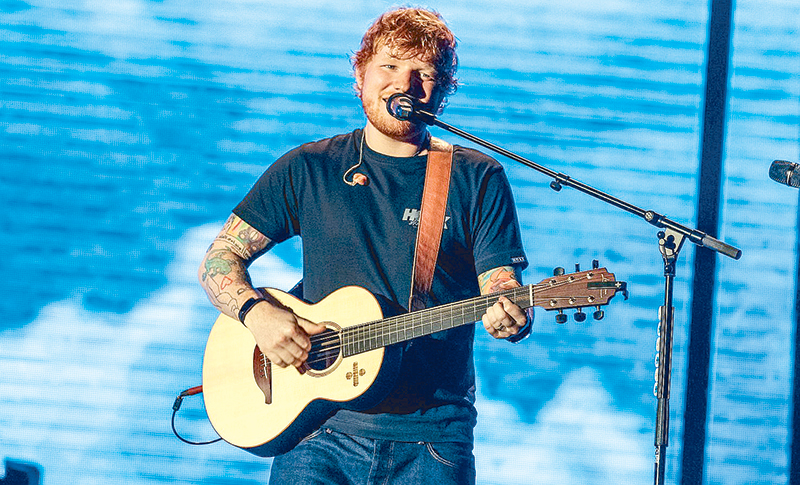 The 26-year-old Sheeran started the show with a spiel that everything everyone was going to hear that night was live. He was seemingly addressing any tiny bit of that controversy about him "lip-synching" in his concerts. The solo act that he is, apparently there are some naysayers — mostly just online anyway — casting doubt on how could he pull off everything. But, aside from his guitar and sheer talent, and the singer-songwriter has clarified it himself on his social media, Sheeran utilizes a custom-built "loop pedal" to record and layer his vocals during live performances, and that's it.
I doubt the jampacked crowd at the Mall of Asia concert grounds made a fuss or cared even just a little about what this music technology does to his performance.
And if it did anything, it was simply to enhance Sheeran's one-man show that could hold you spellbound even without a full band, backup singers and dancers, or elaborate stage gimmicks. The only time you'll get to see another person on stage, albeit briefly, is when he changes guitars before every song number.
Opening song on his set list was Castle on the Hill, one of the lead singles from the Divide album about his hometown and growing up with a normal childhood.
He would continue by alternating new and old songs in his repertoire that spanned all his studio records (Plus +, Multiply x and Divide ÷) since his debut in 2011 — from Eraser, also from Divide, to his first chart-topper and Grammy-nominated single A Team, to his mash-up of his lyrical love rants in Don't (from 2014's Multiply x) and New Man (from Divide ÷).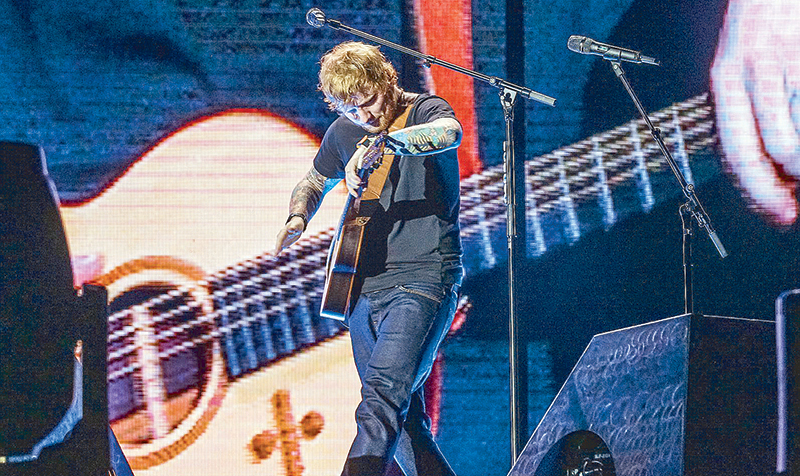 The rest of the line-up included Divide's Dive, Happier, Galway Girl, Nancy Mulligan and Perfect; Multiply's Bloodstream, Tenerife Sea, Photograph, I'm a Mess and Sing; and the 2013 song he wrote for The Hobbit movie, I See Fire.
The stage was backdropped by a massive LED structure designed like tiles. It showed awesome video and light cues that matched his songs, or flashed his image while singing his heart out, thus magnifying his presence if not giving the illusion that he wasn't alone on stage.
Of course, it helps that Sheeran, dubbed as Mr. Nice Guy in the pop music world, don't just let his music do the talking. He interacts with his audience.
"It's been exactly three years since I was last here. That show was my favorite show in the whole Multiply world tour. I'm very excited to come back here," he said.
"I've been really, really looking forward to this. The Philippines is a country that has so much passion for music, especially for music from overseas. I always feel so welcomed and loved here. I'm really, really grateful to be here," he also said.
According to Sheeran, he was surprised at how much Pinoys love his music. His latest album has been certified Platinum eight times here. "What I loved about it (is that) in my home country, I got eight times Platinum which means you have an equal amount of love for me. It says a lot," said the "world's best-selling recording artist of 2017" by the International Federation of the Phonographic Industry.
Sheeran repeatedly asked the audience to sing with him, jokingly adding that if they didn't know lyrics they could just make them up so they would all go home without a voice. "My favorite way of enjoying a concert is leaving a concert without a voice because you sang so much."
He also let them in on a secret about his songwriting process. The emotionally charged I'm a Mess was written while he was taking a shower.
Sheeran ended the concert with two encores, the Grammy-winning Shape of You, also his biggest hit from Divide, and You Need Me, I Don't Need You from his earliest album. The latter showed all and sundry that Ed Sheeran, source of your heartbreak/lovestruck playlist, is also a rapper.
His rap side may not have been enjoying as much media mileage as his being a pop hitmaker or singer-songwriter of sweet melodies, but it goes to show he's a guy of many gifts.
Nevertheless, some of the chatter on the way out of the venue said — no complaints but why You Need Me, I Don't Need You, was Sheeran trying to say something? More hip-hop-laced music soon? More rap collaborations like the No. 1 song River with Eminem?
Surely, the choice of final song was telling fans something. The answer could just be in its lyrics though: "I sing, I write my own tune/ And I write my own verse." On that note, carry on Ed Sheeran, carry on.