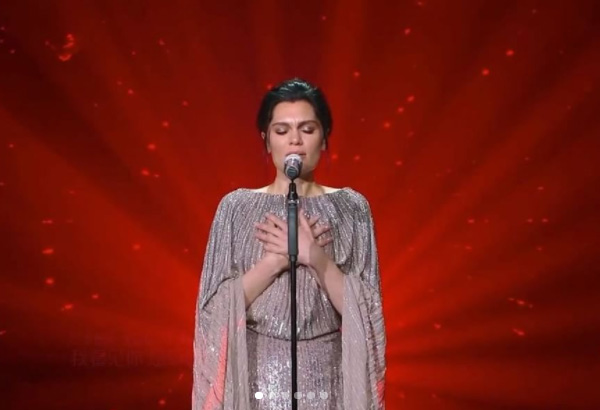 Screenshot of Jessie J's "My Heart Will Go On" performance from her Instagram account.
'My heart will go on': Jessie J opens up about heart condition
MANILA, Philippines — British pop star Jessie J explained in an Instagram post why she was absent for the March 9 episode of international singing contest "Singer 2018," where Filipino singer KZ Tandingan was also a contender.
On March 16, Jessie J performed Celine Dion's "My Heart Will Go On," for which she was voted as number one by the studio audience.
According to Jessie, she picked the song because she has been struggling with a heart condition and other health issues since she was young.
"I picked this song for episode 9. I flew to China from London for rehearsals. Over night I fell really unwell (I suffer with a heart condition and other health issues that cause me to have sudden / severe pain) and knew my priority was to fly back to London to be with my doctors. I left just 18 hours after arriving in China," she explained.
She called it "the hardest / longest flights of my life." "Not because of the pain and the fear when I get that unwell. I also hate letting anyone down," she added.
She recalled that at 10 years old or about 20 years ago, she was diagnosed with her heart condition after she collapsed in a park.
"I was taken into Great Ormand Street Hospital and had an oblation. I was told then by doctors 'your life will never be normal'," she said.
"I always think to myself, and even did back then... What is normal? A persons normal is personal to them, what you make it to be. My mind is strong, but my body can be weaker. I sometimes need to be gently reminded that I have to slow down and reminded that my body has different limitations to other people. Not one person on this planet is the same and can do the same."
Back in London after falling ill in China, she was in London for five days in and out of the hospital and resting. "After many tests and reviews I was advised by my doctors not to fly."
Despite being prohibited by her doctors to return to China, Jessie went on and delivered the performance.
"But something deep down told me I could do it. (I know I know. Some of you are for sure rolling your eyes at me right now)
So I flew back to China (granted I missed rehearsals) I made it in time to sing this song on episode 9."
As she watched the performance, she was in tears because I saw what she could do despite the many trials in her life. "I see my fear. Probably because I know what I was thinking. 'Don't faint , don't faint' But more importantly I see my passion."
"I am a fighter," she declared, "my health has been my biggest personal battle for me as long as I can remember. However hard I know it is to do my life with what I have and the sacrifices I make. I have never wanted to be defined by my health. Trust me I'm not sharing this story looking for sympathy. Im sharing it because it's my truth, and I hope it can Inspire someone else that can't control when their body decides 'No not today'."
Likewise, she encourages others to never stop trying no matter what it takes.

"The moral of the story is... 'My heart will go on'," she enthused, thanking Celine Dion for the song.
RELATED: Jaclyn Jose believes KZ Tandingan deserves another chance in 'Singer 2018'