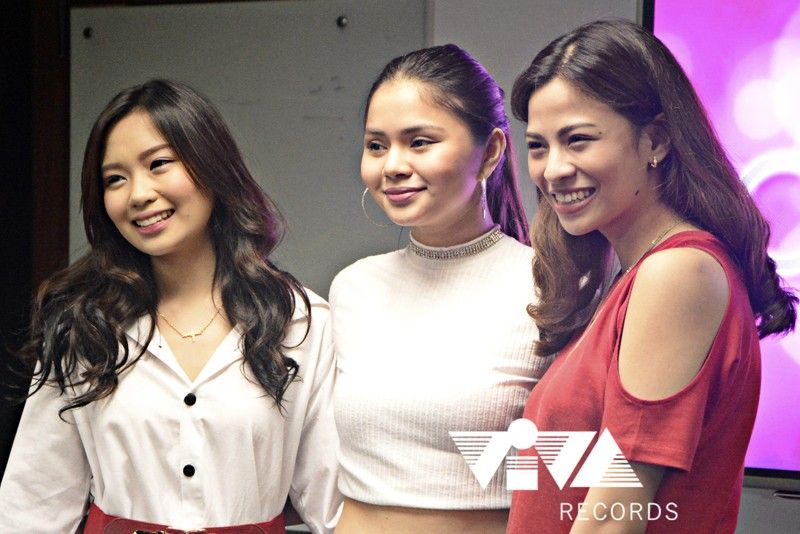 From left: Carlyn Ocampo, Aubrey Caraan and Janine Tenoso play as aspiring singers in the TV series
Viva TV launches One Song series
The situation is of the stuff that dreams are made of. A young girl is living an ordinary life. But one day, she realizes she can sing. Then she is told that because of her voice, she can become a star and will have all the fame and fortune usually associated with stardom.
And so the girl starts to dream. She also starts to work on her dream. It is not an easy job. But she persists. Maybe, just maybe, she can indeed become a star.
Such is the story of three friends named Francine, Jess and Abby. They are today's dream girls and they are the lead characters in the new TV series One Song. Directed by Digo Ricio, it will premiere tomorrow, March 10, exclusively on Viva TV.
Francine dreams of becoming a famous singer just like her departed mother. The determined Jess will use her singing to give her family a comfortable life. And then, there is Abby, who is holding on to the same dream to be close to her boyfriend who is also an aspiring star. The girls forge a close friendship helped along by their blended voices and their shared goals.
The tale is so common. It has happened before and is happening around us every day. I am sure many of you know of somebody who made it to the top and became very successful. And you also know of the failures, those who held on the dream even after it died. Therefore, it is no surprise that the girls playing the three friends in One Song are having the same experience in their own lives.
Aubrey Caraan plays Francine. She has been singing since she was five years old. She was one of the kids on ABS CBN's Pinoy Dream Academy Little Dreamers. She came to Viva Music as a soloist but was drafted to become a member of Pop Girls. She is in college at the De La Salle, Lipa taking up AB Communications.
The strong minded Jess is portrayed by Carlyn Ocampo, who was also one of the Pop Girls. Her parents found out that she could sing when she was only three years old. She is a student at De La Salle University of Dasmariñas.
Janine Tenoso was one of the grand finalists on TV5's talent show Born To Be A Star three years ago. Just like Aubrey and Carlyn, she also started singing as a little girl and her growing up time was divided between auditions and talent shows and school at the Southville Foreign University.
The girls have spent some years in intensive training with acting, singing and dancing lessons at Viva where they are all under contract. Just like the girls in One Song, they have also become friends. They are now also facing the prospect of stardom with the biggest break in their careers. Success looms first as a group and then later as solo acts.
What distinguishes One Song from other TV shows is the fact that it has an all-Filipino soundtrack. Playing the roles of aspiring singers, the script gives Aubrey, Carlyn and Janine lots of opportunities to belt out in song. These can be in pared down auditions or small gigs or grand production numbers either as soloists or as the power trio named One Song.
The Filipino pop classics and originals that make up The One Song soundtrack are now available on Spotify, iTunes, Apple Music and all other digital music platforms. The official lyric and music videos can be found exclusively on the Viva Records YouTube Channel (bit.ly/VivaRecordsYT).
Songs included in the soundtrack are the solo spots for the girls: Agot Isidro's Sa Isip Ko sung by Aubrey; Rachelle Ann Go's Bakit by Carlyn; Huwag Mo Nang Itanong from the Eraserheads by Janine; plus numbers for all three of them. Rivermaya's Himala; Next In Line by AfterImage; Cool Ka Lang from Pretty In Pink; and two new compositions, Puro Bola by Paula Rose Alcasid, Julius James de Belen and Mart Sam Emmanuel Olavides and the show's theme song, One Song by the fast rising singer and composer Miguel Mendoza.
One Song also stars Candy Pangilinan, Katya Santos, Christopher Roxas, Andrew Muhlach, Gab Lagman and Cliff Hogan with the special participation of '80s diva Roselle Nava.