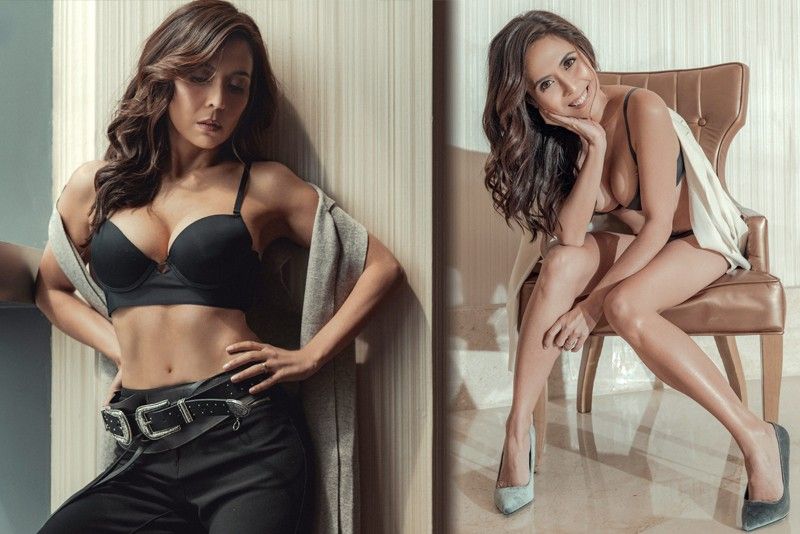 — Photos by Artu Nepomuceno courtesy of FHM magazine
Rachel 'daring, baring' in FHM
FUNFARE
-
Ricky Lo
(The Philippine Star) - March 2, 2018 - 12:00am
How Rachel Alejandro landed on the men's magazine's 18th anniversary cover and how she prepared for her most revealing photo shoot ever
And finally, after "hemming and hawing," Rachel Alejandro has agreed to bare it ("daring and baring" for a star with a wholesome image) in FHM Philippines' 18th-anniversary issue, the country's undisputed biggest-selling men's glossy magazine. This development comes on the heels of Rachel's comeback as a film star and first time as an executive producer for Ang Larawan, the 43rd Metro Manila Film Festival (MMFF) Best Picture winner which is also currently touring different schools around the Philippines and gearing up for screenings abroad.
Rachel played the role of Paula (a spinster) in the Filipino musical based on Nick Joaquin's play, A Portrait of the Artist as Filipino. Going from mousy old maid to FHM cover girl doesn't happen every day and so her reaction to the offer was a mixture of pleasure and surprise.
"I laughed out loud and was incredulous when I heard that FHM wanted me as their March cover girl," Rachel wrote on her Facebook page. "Really? Me...at this age? Then I began to realize what kind of preparation it would take and swallowed hard. Keri ba? I needed at least 21 days to prepare!"
A healthy lifestyle advocate who adheres to proper diet and regular exercise, Rachel nonetheless found herself challenged to look her best for the pictorial.
"The Christmas holidays were just around the corner back then and that's usually the time of year for enjoying time with the family and all the eating that comes along with it. I knew I had to get down to business after the holiday festivities if I wanted to rock that cover."
Actually, Operation "Rock-FHM's-Cover" wasn't really extreme. It consisted of techniques that Rachel already knew would work for her whenever she needed to get leaner than usual. She shares these slimming secrets in 21 Days to a Sexier You, a new cookbook + weight-loss plan by The Sexy Chef, a diet food service Rachel has co-owned with her chef sister Barni Alejandro since 2004.
For 21 days, Rachel ate only KETO (ketogenic) meals delivered by her company. That diet was personalized further by including more seafood dishes and less meat to suit her taste preference.
Rachel also continued weight training every other day with Alex, her personal trainer at Fitness First. The regular training was intensified with two days per week of cardio and abdominal workouts.
To keep her skin radiant, Rachel went for treatments at SkinCell Advanced Aesthetic Clinic.
On the last five days before the shoot, Rachel removed all additional salt in her food.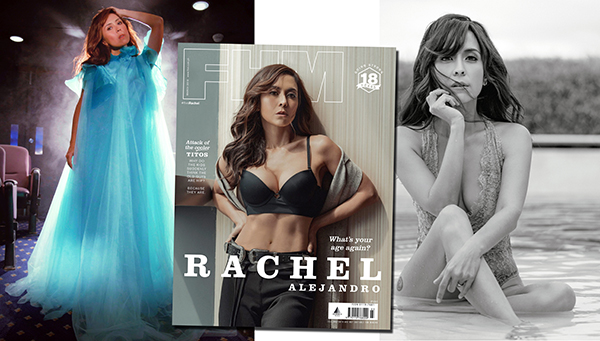 In Monty Python's Spamalot, Rachel reprises her role as Lady of the Lake
"That helped with getting rid of any bloat and bringing out definition on my abs," she explained. "On the day of the pictorial, I also limited my intake of water."
When her date with FHM came, Rachel didn't feel any jitters. "Everyone on the team — from the wardrobe stylist, photographer, to the makeup artist and hair stylist — was very professional. I could tell immediately they had great taste and were at the top of their game."
Posing mostly in lingerie, inside the hotel suite and outside of the banquet hall, Rachel was completely comfortable.
"I didn't feel self-conscious at any point because I knew I was in good hands. Besides, I felt I was prepared. I had put in the work."
Since the shoot was done during the day, there were many guests and employees milling about the hotel.
"We shot some of the layouts in a corridor where a few people would be walking by intermittently," recalled Rachel. "Instead of getting distracted, I was more amused. I saw them do a double take to check if their eyes were not deceiving them and that there was, in fact, a half-naked woman posing just meters away from them. I just found it funny."
Rachel also wanted to use the opportunity that FHM gave her to show women of all ages that being fit and sexy requires hard work but with the right attitude, it can be achieved by anyone.
"It isn't every day one gets invited to grace the cover of FHM, so of course, that took some extra effort. But the way I look at being fit and sexy is not a one-time-big-time thing. It's something I've committed to for life. It's my job as a singer/actor/diet food business owner to be as healthy as I can possibly be," she said.
Not everyone has a chance to land on a magazine cover, but everyone should strive to eat well and keep healthy. As Rachel advised, "If you look at fitness as something to do just to lose weight now, you will always fall back on your old ways. Even if your job didn't depend on always being in shape like in my case, feeling good and being the best version of ourselves are things we have to choose and work on every day indefinitely."
Meanwhile, catch Rachel on stage as she reprises her role as the sassy Lady of the Lake in Upstart Productions' smash hit musical comedy, Monty Python's Spamalot with repeat performances on April 13 to 22 at the BGC Arts Center, Taguig. (For tickets, call TicketWorld at 891-9999.)
(E-mail reactions at rickylophilstar@gmail.com and rickylo@philstarmedia.com.)