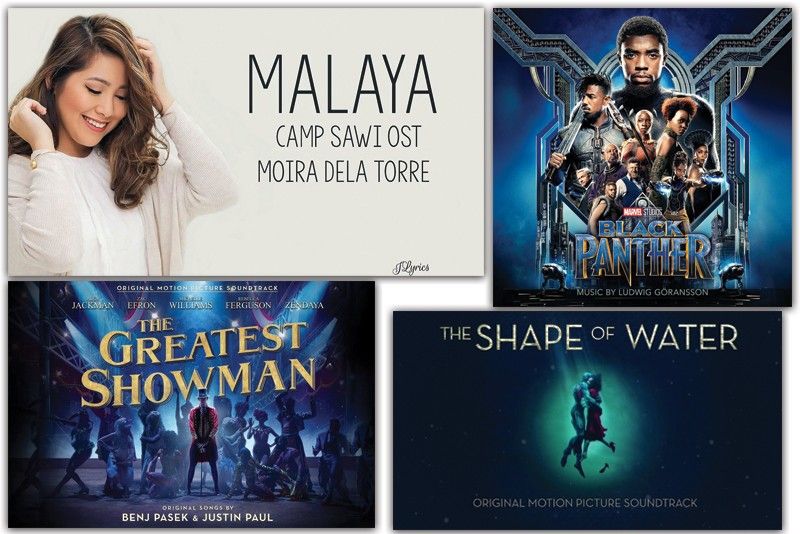 Why do I have more movie soundtracks today? First, because it is movie awards time again. We have only a few days to go until the Academy Awards on March 4, and you all know how excited Pinoys get about that.
Next, this past year has seen soundtrack music back in the local hit lists. Think Malaya from Camp Sawi and Two Less Lonely People In The World from Kita Kita. Why Changing Partners, a movie directed by Dan Villegas with original music including new songs by Vince de Jesus, was named Best Picture at the Star Awards a few days ago. And I was glad to find the soundtrack available online.
There is more. The soundtrack of the blockbuster musical The Greatest Showman with hits like Rewrite The Stars by Zac Efron and Zendaya and From Now On by Hugh Jackman is the biggest selling album of the moment. Then, just a day ago, it was followed by another soundtrack.
Already headed for No. 1 in both the hit charts and the box-office is the latest production from the Marvel Cinematic Universe, Black Panther. Hugh Jackman just acquired a formidable rival, a superhero actor who also sings and dances. Chadwick Boseman, who plays the Panther starred in the James Brown bio pic, Get On Up, where he did the singing and dancing.
Curated by hip-hop star Kendrick Lamar, that means he chose the songs for use in Black Panther. The album is just as unique and exciting as the movie. As the hippest soundtrack of the moment, I expect this not only to make No. 1 but also to stay on top for a long time. Of course, Lamar also performs in most of the cuts.
Tracks included are Black Panther by Lamar; The Ways by Khalid and Swae Lee; Opps by Vince Staples, Lamar and Yugen Blakrok; I Am by Jorja Smith and Lamar; Paramedic! by SOB X RBE and Lamar; Bloody Waters by Ab-Soul, Anderson Paak, Lamar and James Blake; Redemption Interlude; Redemption by Zacari, Lamar and Babes Wodumo; Seasons by Mozzy, Sjava and Reason; Big Shot by Lamar and Travis Scott; X by Schoolboy Q, Lamar, 2 Chainz and Saudi; plus the hit singles All The Stars by Lamar and SZA; King's Dead by Jay Rock, Lamar, Future and James Blake; and Pray For Me by The Weeknd and Lamar.
Those of you going on an Oscar nominees viewing binge will be glad to discover the lyrical beauty of the score created by Academy Award winner Alexandre Desplat for The Shape of Water. Directed by Guillermo del Toro, the film tells the story of the mute Elisa and the strange watery being she falls in love with.
The film is a fable, a fairy tale, a horror flick, Beauty and the Beast in a '50s lab and a lot of other things and Desplat's music performed by the awesome London Symphony Orchestra sewed everything up into a lovely heart-rending package.
The love theme is the Harry Warren classic from the '40s, You'll Never Know, performed by the great soprano Renee Fleming. It made me wonder how something so familiar can now be so moving. When you watch, do take note of the leit-motifs Desplat created for his characters, like that little waltz for Elisa and see how these lead to a deeper understanding of the story.
Desplat has already won the Golden Globe and the BAFTA for his work in The Shape Of Water. So an Oscar will not come as a surprise. But he cannot really be sure as he is up against one of the most formidable sets of nominees this year. Like Desplat, these are the go-to likes for directors when it seems like they have a possible nominee shaping up.
Also up for the Best Musical Score trophy are Hans Zimmer of The Lion King and Gladiator for Dunkirk; Radiohead frontman Jonny Greenwood of There Will Be Blood for The Phantom Thread; John Williams of Star Wars, E.T., Schindler's List for Star Wars: The Last Jedi; and Carter Burwell of In Bruges, Where The Wild Things Are for 3 Billboards Outside Ebbing, Missouri.
The nomination list for the Best Song category is also flooded with giants in the field. Mighty River from Mudbound, performed by Mary J. Blige and composed by Blige, Raphael Saadiq and Taura Stinson; Mystery of Love from Call Me By Your Name, composed and performed by Sufjan Stevens; Remember Me from Coco, performed by Miguel and Natalia Lafourcade, composed by Kristen Anderson Lopez and Robert Lopez; Stand Up For Something from Marshall, performed by Andra Day and Common and composed by Diane Warren and Lonnie Lynn; and This Is Me from The Greatest Showman, performed by Keala Settle and written by Pasek and Paul.