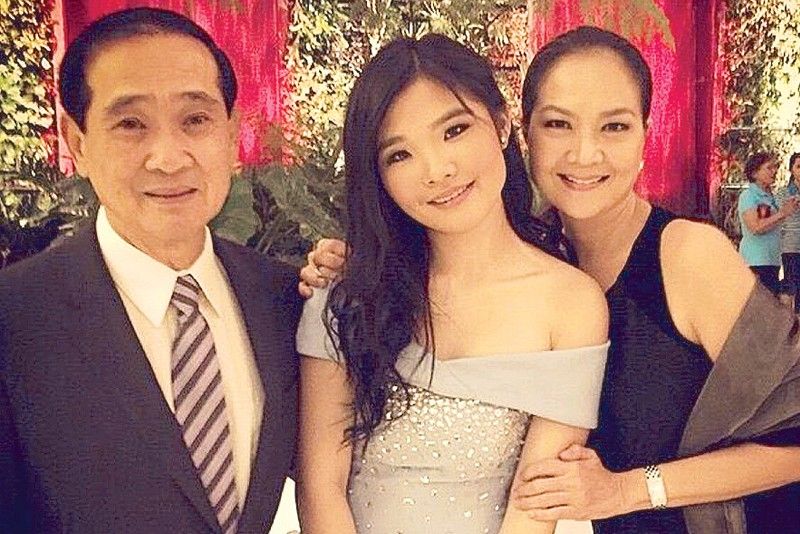 Malu Maglutac and husband Roy Chiongbian with only daughter Anara Noelle
Malu Maglutac: Where is she now?
FUNFARE
-
Ricky Lo
(The Philippine Star) - February 20, 2018 - 12:00am
Remember Malu Maglutac, one of the lady co-hosts of Student Canteen, with icons Eddie Ilarde, Leila Benitez and Bobby Ledesma as main hosts?
That was before the current noontime top-rater show Eat, Bulaga! (now into its 30-plus year) took over the airlanes.
Without much ado, Malu gently slipped away from the limelight and left her fans wondering whatever happened to her.
Guess who, from out of the blue, called Funfare a few days ago — Malu, that's who! So whatever happened to her since her sudden disappearance from Student Canteen?
Here's what as summarized by Malu herself: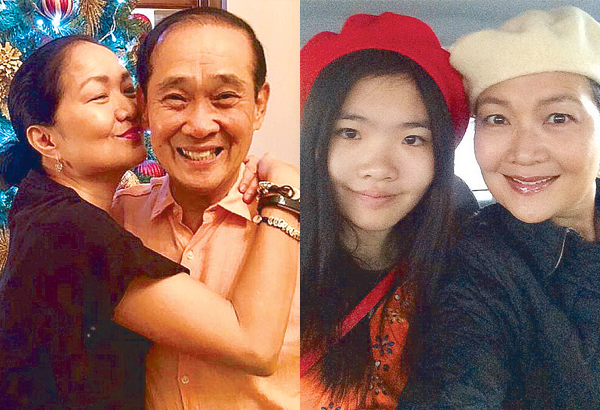 Giving Roy a 'Merry Christmas' kiss(left). With Anara(right): They look alike, don't they?
• 1995 — Married Roy Chiongbian (owner of Eastern Shipping Lines, political family of Sarangani);
• 1996, Dec. 13 — Anara Noelle Chiongbian was born (more on her in a bit);
• Spent time to take care of my family;
• 1998-2012 —Scuba diving and became an underwater model;
• 2009-2010 — Campaigned for my husband in Sarangani for Congress against Pacquiao but we lost;
• 2011 to date — Put up Jelu house of decor selling Lacquer accessories for home which I designed and supplied to five-star hotels; and
• Present: Busy traveling and finishing my bucket list throughout Asia, Europe and America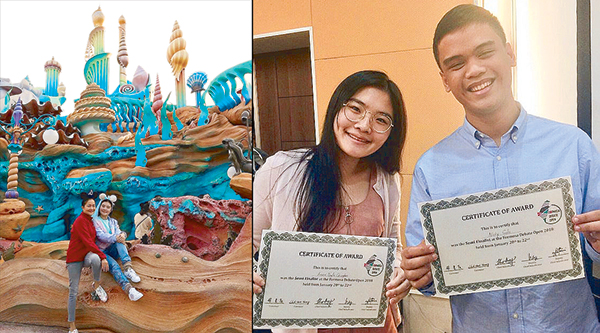 During a mother-daughter 'bonding' trip(left). Anara with Tomas 'Nicky' Solis(right), fellow UP debater and B.S. Economics classmate, with their 'Certificate of Award' after advancing to semifinals at the 2018 Formosa Debate Open last month
As you can see, Malu is enjoying her domestic life to the hilt.
"I dote on our daughter," she said. "She's our one and only child. She's good at debates."
With Tomas "Nicky" Solis, also a B.S. Economics student at UP and a debater, Anara was in Taiwan last Jan. 19 to participate in the 2018 Formosa Debate Open.
"The British Parliamentary tournament, held in National Chengchi University, featured 50 teams from universities and institutions across Asia," said Malu. "The debates were presided over by distinguished judges pooled from past Asian champions and top competitors from World Universities Debate Championship (WUDC)."
The University of the Philippines Debate Society (UPDS) fielded the rookie team to go head-to-head with veteran teams from the likes of National Taiwan University, Korea University and Sogang University. They tested their mettle through six preliminary rounds on topics that ranged from Japanese re-militarization, urban planning in developing mega cities, to strategies in political activism and legislature.
"On the second day," added Malu, "they broke as the seventh highest team to qualify for elimination rounds."
The third day brought an unprecedented victory for the team in quarterfinals, where they argued against the preservation of cultural sites at the expense of development. After advancing to the semifinals following a decisive victory in the quarterfinals, they bowed out to the eventual grand champions, Korea University.
"Their run marks them as semifinalists in their first international tournament," said Malu.
Asked if she or her husband is planning to run in next year's mid-term elections, Malu was mum.
"There's enough time to think or plan for that," was all that Malu would reveal.
A week after her phone call, Malu left for San Francisco to celebrate her mom's 90th birthday.
"We are watching the Golden State Warriors at the Oracle Arena."
Obviously, Malu doesn't miss showbiz.
(E-mail reactions at rickylophilstar@gmail.com. For more updates, photos and videos, visit www.philstar.com/funfare or follow me on Instagram @therealrickylo.)