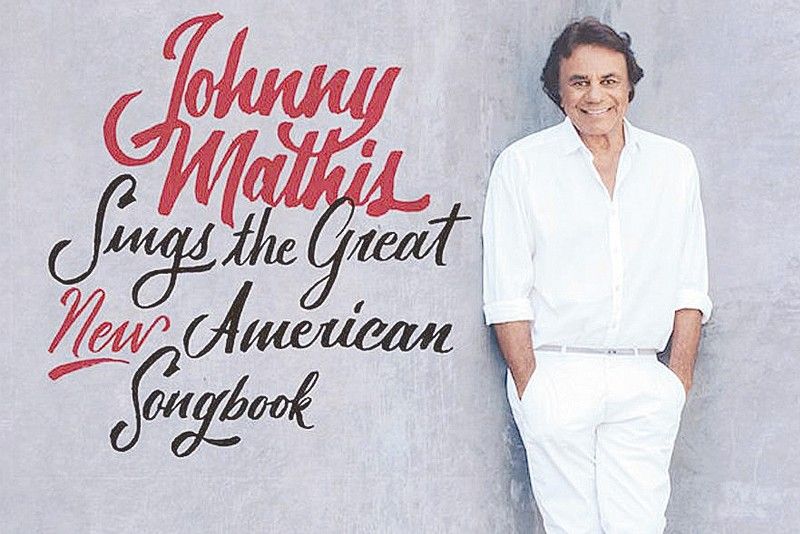 Mathis sings The New American Songbook
Attention all you music lovers out there. Treasure uncovered. Amazing what a lazy day browsing around Amazon can turn up. I was actually in search of Vic Damone CDs when this recently released title came up, Johnny Mathis Sings The Great New American Songbook. Interesting.
You all know Mathis. He is one of the biggest selling artists of all time, up there alongside Elvis Presley and Frank Sinatra. He was the finest soul crooner of the late '50s and early '60s and is still a formidable vocalist to this day. His romantic styling made hits like Wonderful Wonderful, Misty, Warm, A Certain Smile, It's Not For Me To Say, Chances Are, The Twelft Of Never, The First Time I Felt Like This and come the Christmas season, we get to listen to his When A Child Is Born and Sleighride, plus others, of course.
You also all know The Great American Songbook. Those songs by Irving Berlin, Cole Porter, Jerome Kern, Rodgers and Hammerstein, Lorenz Hart and others of their ilk. They first became popular during the early days of recorded music and are now referred to as standards. Frank Sinatra did many of the originals early in his career. Mathis has a lot of versions. Barry Manilow later recorded those songs. So did Rod Stewart. And Tony Bennett and Lady Gaga still sing them.
Now, Mathis' album title has a qualifier that I found very intriguing. New. What does he mean when he says New American Songbook? So I checked out the song line-up and I was floored. What a list it is! Mathis has taken pop hits by various artists of recent times, I'd say the oldest goes back to the '90s and of different types, pop, soul, country, dance has recorded them in his own style. He has turned these hit tunes into the new standards and the result is as always in his case, perfection and one fantastic listen.
This Great New American Songbook was produced by the legendary Clive Davis and Kenneth (Babyface) Edmonds, who got Mathis away from his usual orchestra and to sing with programmed accompaniment. No wonder he sounds young and hip. Just in case you have forgotten, it was also Davis who produced those albums of standards by Stewart and Manilow.
Here now are the songs: Hallelujah by Leonard Cohen; Blue Ain't Your Color, Keith Urban; You Raise Me Up, Josh Groban; Say Something, Great Big World and Christina Aguilera; Just The Way You Are, Bruno Mars; I Believe I Can Fly, R. Kelly; Remember When, Alan Jackson; Happy, Pharrell Williams; Hello, Adele; and Run To You, feat. sax wizard Kenny G and originally by Whitney Houston.
My choice as the best of all though is Once Before I Go. This was composed by the much-lamented Peter Allen. The Australian singer, actor and composer wrote it with Dean Pitchford. The song was later used and became a hit again in the Broadway musical about Allen's life, The Boy From Oz where it was performed by Hugh Jackman. Like most of Allen's works, he also did Don't Cry Out Loud and (You And Me) We Wanted It All, Once Before I Go is sad and beautiful.
So there it is, Johnny Mathis Sings The Great New American Songbook. It is an album you can listen to again and again and love more and more. Come to think of it, a second volume of more current hits, Mathis style would be nice.
Now back to Damone, who I can say truly had great pipes. I still recall some instances wherein I was literally stopped in my tracks because I heard this incredible voice. I do remember one particular song, Wonder Why. It turned out to be Damone, a romantic crooner from the era of Sinatra, Jerry Vale, Perry Como, Dean Martin, Tony Bennett and Eddie Fisher.
Damone, one of the great vocalists of all time, died last Feb. 11 at the age of 89 in his home in Florida. Among the songs he popularized were You're Breaking My Heart, I Have But One Heart, On The Street Where You Live, April In Portugal, Just Say I Love Her, Eternally, Ebb Tide, Stranger In Paradise, An Affair To Remember, Again, My Heart Cries For You and If. Blessed with dark, leading man looks, Damone also appeared in the movies. He was in Kismet, Rich Young And Pretty, Hit The Deck and Athena.