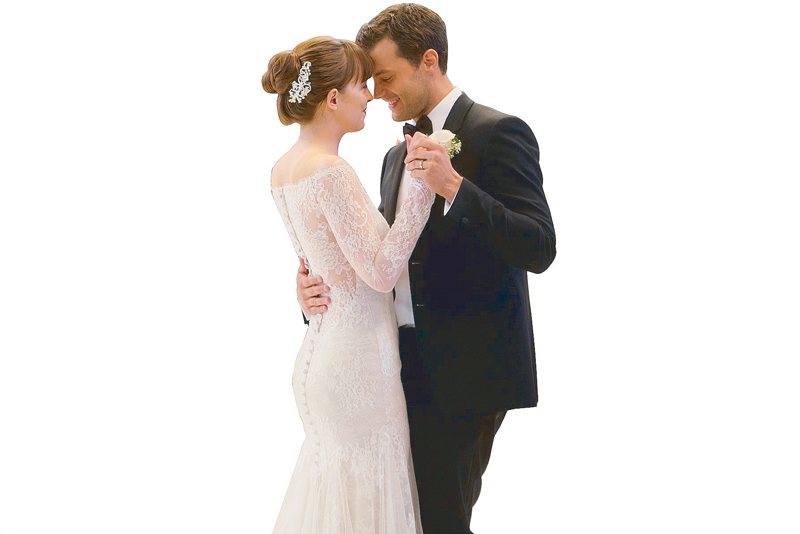 Dakota Johnson and Jamie Dornan in Fifty Shades Freed
Monique designs Dakota's gown
FUNFARE
-
Ricky Lo
(The Philippine Star) - January 23, 2018 - 12:00am
Distinctly Monique Lhuillier.
That aptly describes the wedding gown Monique Lhullier designed for Anastasia Steele, Dakota Johnson's character in Fifty Shades Freed, the newest installment in the Fifty Shades series showing in the Philippines starting on Feb. 7. Steele dons a custom-lace wedding gown and veil by Monique, renowned bridal, ready-to-wear and accessories designer known for her romantic glamour and modern elegance, "that brilliantly captures Anastasia's alluring beauty and vulnerability."
According to the United International, Pictures (UIP) bulletin, "The long sleeve, off-the-shoulder, dégradé Chantilly-lace tulle-sheath gown — with open illusion back and trail of lace covered buttons — exudes femininity and sophistication. A Cathedral-length tulle veil with appliqués of Chantilly lace adds astonishing glamour…" a design that evokes an enchanting and whimsical, yet sophisticated vision by weaving together sensuous and modern elements. The classic, ethereal and effortless silhouette of the dress — topped with the elegantly embellished veil — is distinctly Monique Lhuillier."
Monique was quoted as saying, "I was so delighted to be asked to design an iconic wedding dress for the character of Anastasia Steele for this climactic chapter of the Fifty Shades of Grey series. Further building on the success of the show-stopping look I designed for the masquerade ball in Fifty Shades Darker, it was a wonderful experience to be involved in this production. Once the wedding gown hits the big screen, I know this timeless design will live forever."
***
Hit Korean 'must-read' webcomics is now a movie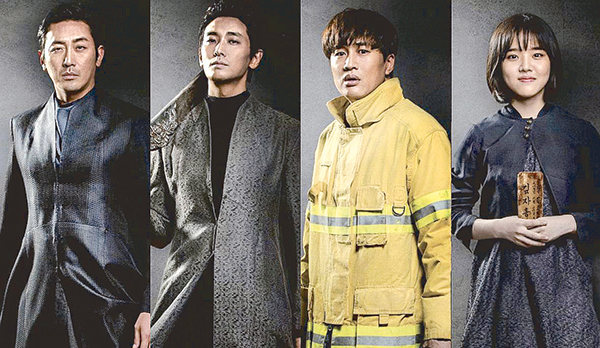 The stars of Along With The Gods (from left): Ha Jung-Woo, Ju Ji-Hoon, Cha Tae-Hyun, Kim Hyang-Gi and Kim Dong-Wook
Opening nationwide tomorrow, Jan. 24, is Along With The Gods (AWTG) inspired by the hit webcomics series that has so far sold more than 450,000 copies. Created by artist/writer Ju Ho-min, the series had been added to the "Webcomic Masterpiece" series and was re-released and scored 9.98, thereby sealing its fate as a webcomic legend, something that, according to the author, "you must read before death."
Directed by Kim Yong-Hwa, the movie stars, among others, Ha Jung-Woo, Cha Tae-Hyun, Ju Ji-Hoon, Kim Hyang-Gi and Kim Dong-Wook in a story that chronicles how an Angel of Death escorts the deceased to the afterworld. There, the deceased is said to have seven trials over a period of 49 days during which the Angel of Death unavoidably takes part in human affairs.
Here are sound bites from the stars:
• Ha Jung-Woo (as Gang Rim, Angel of Death): I always do thorough preparation every time I do a movie. Usually, the main character in a film leads the major storyline and plays the role of messenger who delivers the message placed in the film by the director. For this film, I discussed with Yong-Hwa and try to express my character as a messenger who helps Kim Ja-Hong (the deceased, played by Tae-Hyun) receive his trial in the afterlife.
• Cha Tae-Hyun: The best part of the movie? I would say it's the CG (Computer-Generated) scenes. My character is a bit different on the film from that of the webcomics. My character Ja-Hong is a humorless firefighter and I just tried to portray him as best as I could because he's different from the characters in my previous films.
• Ju Ji-Hoon: The most memorable to me was the Blade Forest scene in which we played action with humor.
• Kim Hyang-Gi: What did I learn from doing the movie? I think that actors learn from every performance. For this movie, I learned to express the bright side of my character; I used a higher voice tone that my own. I also learned to adapt to new environment like performing in front of Green Mat and I believe I can do it better next time.
• Kim Dong-Wook: Well, I guess that the most memorable and talked-about scene among the audience is the climax scene. Personally, I was apprehensive of that scene among all my entire scenes but luckily, I learned from the sweet advice of Cha Tae-Hyun and the scene was filmed with high level of maturity.
(E-mail reactions at entphilstar@yahoo.com. For more updates, photos and videos, visit www.philstar.com/funfare or follow me on Instagram @therealrickylo.)