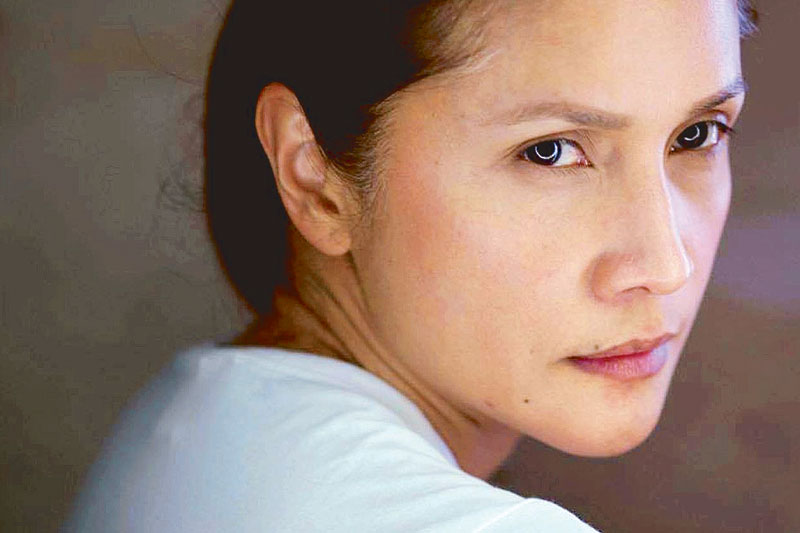 Agot Isidro: Love is love… we should be open-minded.

Agot 'gender bends' in Changing Partners
Jerry Donato
(The Philippine Star) - January 22, 2018 - 12:00am
MANILA, Philippines — As Alex, Agot Isidro "gender bends" (or defies gender stereotypes) in the 2017 Cinema One Originals Film Festival entry, Changing Partners. Her character challenges the binary (male-female) notions about gender as well as those roles played by Jojit Lorenzo, Anna Luna and Sandino Martin. The Dan Villegas musical film will have its mainstream theatrical release starting Jan. 31.
"Alex is a cougar in a hetero relationship," Agot laid the groundwork, so to speak, of her character who finds love in Cris, during a media call. "She is older than her partner. I also play Alex, the gay female, who is in a relationship with a younger gay female." Don't get (mental) cross-eyed. There's more to it.
According to Agot, the female Alex "is successful, career-driven. If that's the case, she is not quite able to focus on love," and, as you and I know, she meets a younger man.
"She has just fallen in love — umibig lang talaga, tinamaan (lang) siya," she added. In the name of love, lovers oftentimes are brave — and blind.
"To the point that she has a bit neglected her career, she is just not bothered whatever one says," shared Agot. "She just shrugged it off because she loves the person. Oo, nag-let go siya kumbaga. Actually, it's a big investment for Alex kasi parang di-ne-fy niya yung sasabihin ng mga tao, pati kasi yung may economic aspect, mas mayaman yung Alex eh. Hindi niya iniinda yung sasabihin ng tao na baka pineperahan ka lang. So, she has really invested a lot in this relationship."
So, what's clear is Agot inhabits two personas and so Alex does. "It's one story. Yes, I played both gay and straight," she said.
Changing Partners, based on the PETA musical created by Vincent de Jesus, is another welcome narrative to the growing gender discourse and its fluidity. It will engender talks to further understand the intricacies of gender — as well as relationships.
"Well, yes. (Perhaps) what the movie says, in the end, wala ng gender eh. (There's no gender). Buradong-burado na yon," replied Agot when asked if culture has an impact on gender. "It's just (about) Alex and Cris. Makikita mo si Jojit (as the gay character), makikita mo ako as the gay (character). It does not matter anymore because it's the story. I think the audience is perceptive enough and understanding enough to see that na istorya na (ito). It's not about the persons, it's not about genders, it's not about age, about economic stature. It's really about the story of love, about two people who are falling in and falling out of love."
Aside from the movie title, what piques one's attention is the "game" being played on the characters' names. There are two Alexes and two Crises. "Androgynous," as Agot put it. The names Alex and Cris can refer to a girl or a boy, and even the name of another character, Angel.
With that, Changing Partners presents an interesting plot ­— laced with twists and turns as for perspectives — that compels audiences to sit down from the beginning till the end.
Whether the story is about a couple or two couples, the audience is given the liberty to find the answer and navigate the narrative that touches on gender and romantic relationships. If Rashomon presents two versions of truth, Changing Partners gives one reality or truth: Love is love — regardless the gender of the giver and receiver of it.
What were her lessons learned about love during filming Changing Partners?
"Ang mga natutunan ko at natutunan ko rin sa totoong buhay that love is sacrifice, love is masakit but also love is masarap at sumasakit in the end," answered Agot. "But I think it's a reality that everyone goes through. It's very universal. Lahat ng tao nakakadama ng ganyan."
As for those who live and love the way Alex and Cris do in the movie, Agot had this to say: "It's a choice. I don't judge anyone (when we speak of) gender choice or preference. Girl na girl ako. But I have strong relations or relationships, friendships with any of the sexes or genders. I'm not judgmental when it comes (to gender preference). I don't see any problems having friendships or good relations with all genders… Hindi natin alam ang ganyang pangyayari. Love is love. You don't know what will hit us. Sana hindi ako i-judge later on, kung ganun ang (mang)yayari. We should be open-minded. For now, I'm a girl."
The latest edition of Cinema One filmfest awarded Changing Partners Best Actress, Best Actor and Best Director awards to Agot, Jojit and Dan, respectively. The filmfest also recognized the works of Marya Ignacio (editing), Vincent (music), the cast (special citation for ensemble acting), and the film itself (the Audience Choice Award and the Champion Bughaw Award for Best Film).