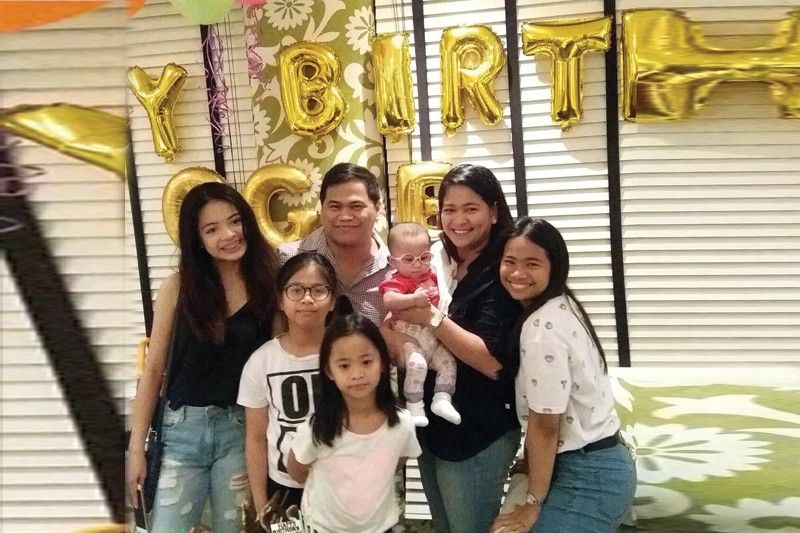 Ogie Diaz and wife Georgette with their five children ages 16, 13, 9, 7 and the youngest born on Feb. 9, 2017: 'Ang mga fans ko,' Ogie wrote at the book's dedication, 'Ang aking mag-iina.'
A book that makes you giggle & shed a little tear or two
FUNFARE
-
Ricky Lo
(The Philippine Star) - January 13, 2018 - 12:00am
Every gising is a blessing.
If you were showbiz illiterate, you probably wouldn't know who coined that five-letter reminder. But even if you don't tune in to his dzMM Saturday-night program OMj (with MJ Felipe), the name Ogie Diaz for sure rings not just one bell but a thousand bells. More than just the manager of Liza Soberano (Darna!!!), Ogie has his own claim to fame: the only movie writer who has successfully navigated the rough waters from daily deadlines to nightly shootings for TV dramas (mostly on the Kapamilya network where he belongs) and occasional movies (cast by director Jose Javier Reyes as Aiko Melendez's houseboy in May Minamahal that jumpstarted his movie career; he even ended up managing Aiko for a while).
Yup, it was Ogie Diaz who coined that catchy phrase and he never forgets to remind his radio listeners that "Every gising is a blessing" at the end of his gossip-laden radio show which is punctuated by his cheerful laughter and "quotable quotes" between generous servings of the stars' comings (don't look now but Ogie can draw another "meaning" to that) and goings that one hour is not enough to accommodate.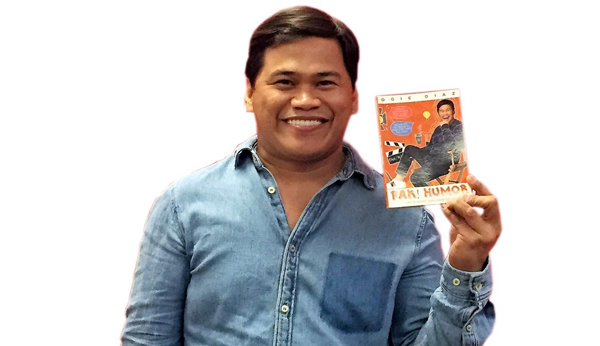 With his book Pak! Humor (subtitled 'Life is short. 'Wag Kang Nega): Say the title aloud and it sounds more than what it wants to say, right?
Late last year, Ogie gave me a copy of his book which is so easy to gobble up that I actually finished reading it even before the nearly four-hour PAL flight from Manila landed at the Haneda Airport in Japan. It is a funny little book, with the author shown laughing on the cover (as if the joke is on him…when actually it's on us!), that I may categorize sans derision as a potboiler because, as I've just said, it's so easy and breezy that you can finish reading it as soon as your bath water is boiling.
The title seems to have double meaning. Pak! Humor (subtitled Life is short. 'Wag Kang Nega). Say it loud (with emphasis) and it sounds more than what it wants to convey.
Wrote Ogie in the dedication: Wala nang marami pang sinasabi — para sa inyong lahat ito. Lalo na sa mga may mabubuting kalooban para sa kapwa. Alam ko, isa ka doon. Higit sa lahat, sa mga "fans" ko — ang aking mag-iina. (Referring to his wife Georgette, who started as his fan during his stand-up-comedy shows, the one who laughed the loudest at his jokes; and their five children.)
Said Ogie, "The book is all about good vibes," and much more. His anecdotes will make you laugh, his "quotable quotes" will make you giggle, his experiences will make you wonder how he survived them all and he will make you cry with his account of how his taxi-driver father was killed by a hold-up suspect who was never arrested.
Lest I spoil the fun and the suspense, that's all I can tell you about Pak! Humor and just let you find out the details. It may not win a Book-Of-The-Month endorsement from Oprah but Pak! Humor is worth your while, an effective stress-buster as long as you don't take Ogie seriously which he himself doesn't, and that's what makes him oh-so-funny-witty.
Oh yes, aside from funny narratives, Ogie's book will also serve as an inspiration to many who are struggling to achieve their dreams. He shared how he started a career as an entertainment writer, how he faced insecurities as a stand-up comedian and how he faced various life roadblocks.
He wrote about handling Liza as a talent, sharing his advice to the Kapamilya actress when she was just starting in the business, "Liza, use the rejections you experienced when you act. One day, we'll have our chance." Also included is an ode to his mother who raised him along with his seven siblings.
(The book aims to raise funds for cancer patients and survivors of the Philippine Foundation for Breast Cancer, Inc. Part of the book sales proceeds will be used to help the beneficiaries of said foundation. Published by ABS-CBN Publishing, Inc., Pak! Humor is exclusively available in all National Book Store outlets nationwide for only P185 per copy.)
(E-mail reactions at entphilstar@yahoo.com. You may also send your questions to askrickylo@gmail.com. For more updates, photos and videos visit www.philstar.com/funfare or follow me on www.twitter/therealrickylo.)