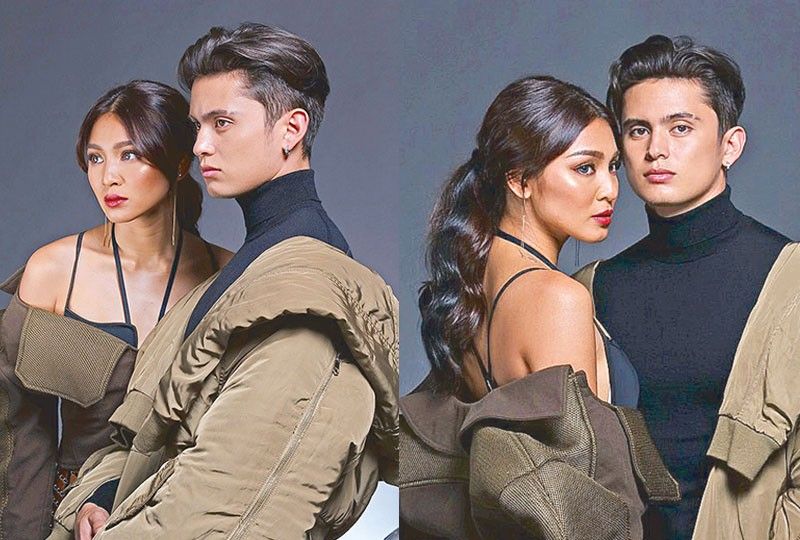 James Reid and perennial onscreen partner Nadine Lustre.
JaDine spreads the love in Revolution
Jerry Donato
(The Philippine Star) - January 9, 2018 - 12:00am
MANILA, Philippines — James Reid and reel-real life partner Nadine Lustre will stage a concert, not a coup d'etat, come Feb. 9 at the Smart-Araneta Coliseum. Perhaps a pre-Valentine's musical treat to fans, Revolution: The JaDine Concert is not making any reference to some grand ideological narrative, but remains true to the word change — and love (check out the playbill and read the four red letters, E-V-O-L, backward).
"Revolution," replied James, the other half of JaDine, when asked about the right way to read the show's title with the hashtag #loverulesjadine, in a brief one-on-one. "But when I read it, I think, love revolution."
Although love could be a recurring theme if one compares their previous concert JaDine In Love, where James confessed his love to Nadine, to the present concert, Revolution has its own agenda for everyone to witness.
"We are just showcasing our music here, not so much based on our teleserye, 'coz last time, it was heavily based on the theme of OTWOL (On the Wings of Love), Till I Met You," he shared. "This one is just original music but the message behind everything really is revolution, a change to go, from we wanted to stop with all the bashing and the hatred. We really want to spread love, a new age of love."
Revolution is a celebration of love through music or music with love. The love affair of James with music came to public when he collaborated with fellow Pinoy Big Brother (PBB): Teen Clash 2010 housemate Bret Jackson on We Are Whatever. As a solo artist, he ventured out with a self-titled album and Reid Alert, an Original Pilipino Music album with touches of pop and R&B. Now, he has Palm Dreams as his third studio album. "I think Palm Dreams is still very pop, it's R&B, pop and a mix of dancehall, a little bit of electronic, a little bit of hip-hop. It's what pop is, a combination of different genres, whatever is now." James' brand of music will be featured, too, in the show. So expect to hear Cool Down and IL2LU as well as Bahala Na and Para-Paraan. During the interview, one could sense James' passion for music. "Well, I'm definitely more comfortable singing and performing," he said. "When I'm on stage, I feel invincible."
In 2017, music was the focus of James, whose creative works will spill over to this year. His hard work paid off when he snagged the Best Southeast Asia Act at the MTV Europe Music Awards. James and Nadine will be seen doing more acting. "I'm not really trying to compete. I just want to contribute," he said. In the pipeline are a contemporary romance-drama Never Not Love You, two movies and a teleserye. James will be paired with Sarah Geronimo in the comedy The Granny (20 Again) and topbill the action-fantasy Pedro Penduko. Meanwhile, Nadine stars in romance-comedy Ulan and thriller The Nurse.
"The movies we are doing this year were supposed for last year," he said. "I asked for more time for my album, I really wanted to push, promote and release it." That's why his tandem with Nadine took a backseat from teleserye and movie acting. However, they started to be seen hosting in It's Showtime.
"I feel like Philippine cinema will always be there, but it's the music industry that's suffering," he said. "I feel like a lot of good artists stay in the underground and they don't like the word mainstream. I'm trying to bridge that gap between the underground and the mainstream. Those artists should be on the mainstream."
Again, the title Revolution can be interpreted in several ways, as James put it.
"My interpretation is a new age of love, of spreading love," he reiterated. "Last (concert, JaDine in Love) (was), of course, (for) Valentine's (season), romantic love. This one (Revolution) is to spread love. Last year, I changed a lot and I really wanted to shift my focus on spreading love… That's what I'm trying to do this year. Another way I'm looking at it is the revolution from music, so many artists here drag each other down to make it to the international stage. It happens all the time but we really need to forget those old ways and move on and work together. Don't compete. Just contribute. It's more fun that way."
Gracing JaDine's Revolution are Vice Ganda, Sarah, Sam Concepcion, Bret and Kiana Valenciano. Paul Basinillo is at the helm with Teacher Georcelle and Jay Agustin as dance director and musical director, respectively.
As much as Revolution is an expression of JaDine's love for each other, it is a presentation of their creativity and artistry. James is into producing and creating music, while Nadine into directing videos and singing. One wants to experience it first-hand.
Since what is out there is a free market of ideas, the artist in James is resolute to set aside competition and to work for contribution.
(The show is presented by Manulife, Champion and Hot Shots. Tickets are priced at P4,770 [VIP]; P3,710 [Patron]; P2,968 [Box Premium]; P2,120 [Box Regular]; P1,272 [Upper Box]. For inquiries, call Ticketnet at 911-5555 or VIVA Live at 687-7236.)