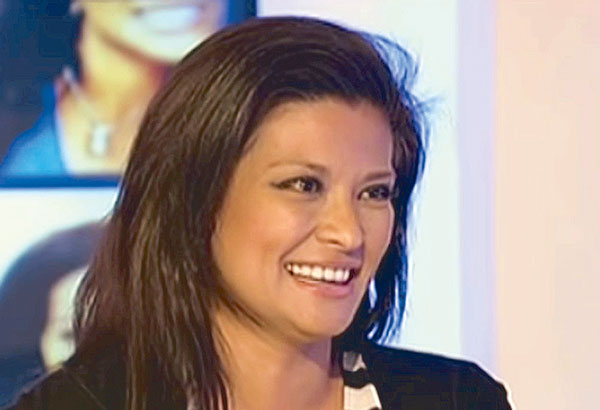 Anjanette Abayari, who now resides in the US, is currently conceptualizing a 30-minute TV show called AJ's Adventures. — TV grab from Tonight With Boy Abunda
Anjanette's new 'adventures'
LOS ANGELES — Anjanette Abayari, who now resides in the US, is trying everything — from a new TV show to a new lifestyle.
She is currently conceptualizing a 30-minute TV show called AJ's Adventures, which will focus on Southern California.
"It will feature places to go to because Southern Cali is so big. It will be one part tourism, then we will have an advice segment on beauty and wellness (as well as) lifestyle. We will also feature personalities and local businesses," says Anjanette (also fondly called AJ), who is best known for her portrayal of Filipino superhero Darna at the height of her acting career in the Philippines.
AJ also wants to highlight the Filipinos in Southern California in the show and then expand it to bigger markets.
"I might get a local celebrity as a co-host, I want to make it interesting and different every time," adds the Bb. Pilipinas-Universe 1991 who has an international capital broker dealership career here.
AJ is working in a company called 1 Heart Care Giving Services, a private home care and medical services company that opened 14 years ago. She is the client care manager in charge of making sure the clients and the caregivers are working together smoothly.
"The owner is a Filipina, her married name is Bell Menberd, but she hails from Bacolod so we are both Ilongga so I feel at home with her. I enjoy working with the company because they are very inspiring. I prayed to have a job that gives back, then my friend called me to ask if I would be interested to work for this company. I never thought of doing something like this but I said maybe this is the answer to my prayer so I tried and so far I like it," shares AJ who has been with the company for four months.
Known for being a sexy actress, AJ keeps her body fit and beautiful by working out at least an hour three times a week. She is now doing workouts with the guidance of boxing trainer Marvin Somodio.
"It's my first time ever doing boxing, this is different oh my God, it is really hard. The first time, after 30 minutes, I wanted to give up. I was barely catching my breath and it was just footwork. But it's a really great workout," says AJ who also wants to try jiu-jiutsu.
AJ wants to do boxing as regularly as her cardio and strength training. She eats one big meal and the rest are small meals to keep her metabolism going.
AJ has two boys — 10-year-old Aden and seven-year-old Ashton — who she says are both growing up too fast.
"I want to slow down their growth if I could. They are doing great in school — Aden is up to 93 percent off his grade level in the whole nation and Ashton is in the upper 90 percent. Ashton is into sports while Aden is into the arts and he wants to be a software developer. He's only 10 but he asked me if I could send him to a coding school for summer," shares AJ.
Aden once asked her, "Mom can we go back to the Philippines and live there for a while?" AJ wants to go back next year and she is eyeing projects like commercials or ads. She also wants to do a cameo.
"I've been wanting to do that for so long. In the US, it's normal to have a former Wonder Woman do a cameo, so 'yun ang gusto ko," AJ says with a laugh. Watch out, Anjanette is coming back in 2018.