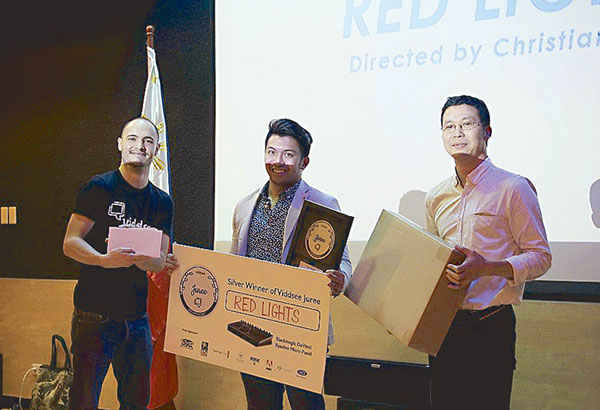 Redlights' Christian Lat (center) with jury members Loïc Valceschini and Marcus Manh
Viddsee celebrates Pinoy stories in short form
Jerry Donato
(The Philippine Star) - November 28, 2017 - 4:00pm
MANILA, Philippines — Judicious use of filmic space and crisp, clear storytelling are paramount in filmmaking, but particularly challenging in shorts. The 10 finalists of the recently-held Viddsee Juree Awards for the Philippines were weighed but found never wanting.
They were Maybe Aliens (Aliens Ata), Caterwaul, Look Through (Dungaw), Mother of Perpetual Help (Inahan Sa Kanunayng Panabang), Companion (Kaulayaw), Lovely is Off Air, Home (Nakauwi Na), Redlights, In His Island (Sa Saiyang Isla) and Slingshot (Tirador). An online entertainment platform engaged in distribution and marketing of short movies, Viddsee initiated this tilt to support the thriving filmmaking in Asia.
Among the entries, Caterwaul, Redlights and Maybe Aliens got the nod of the jury members Loïc Valceschini (festival programmer of Neuchâtel Int' Fantastic Film Fest & Locarno's Semaine de la Critique); Marcus Manh (Vietnamese film producer and founder of YxineFF); and director Antoinette Jadaone. Joining them were Viddsee Juree Philippines awards director Alemberg Ang and Viddsee co-founder Ho Jia Jian.
Caterwaul was adjudged the Gold winner.
"Personal and simple," replied director Josel Fajardo of Far Eastern University when asked about his film approach in an interview with the media. "So that not only the film enthusiasts can understand the film but also the moviegoers. That's how I make a film, hindi ako magarbo sa eksena, dalawang tao lang ang nag-uusap sa eksena."
True to his word, the narrative has two ladies watching an X-rated movie (the dialogues coming from the boob tube give the clue). One asks the other about the latter's first experience. She gives in to the curiosity of the former and re-enacts her sexual awakening. The twist is a tear-jerking revelation that the latter has been gang raped. Then, the erotic feel turns dramatic and personal.
"That's the intention — to titillate the (audience's imagination) and then (surprise) them," shared Josel. "Erotica because I like erotica that does not show (some skin) like (for example) through voice." The director said that when a movie gets more personal, people connect with it more.
Receiving the Silver winner award was Redlights.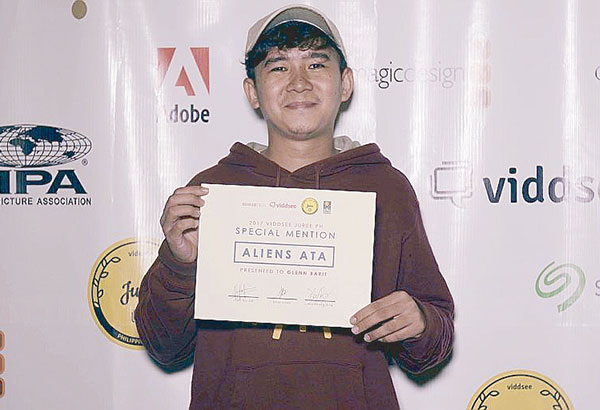 Glenn Barit of Maybe Aliens
"It's more like a political satire," said director Christian Lat of his film. "I wanted to explore like, you know, the cycle between foreigners coming here and how our police forces (take advantage of them)... I'm saying that there's some kind of corruption happening." The narrative exposes that some unscrupulous local policemen and an uber helpful taxi driver are involved in that entrapment. They take advantage of tourists who seek some form of escape. "Poverty, greed" were some of the reasons Christian mentioned why his characters do this gimmick. If there are any victims in it, he added, they will be the uneducated.
"This could be happening to someone like being scammed, being taken advantage of. I want to show in the film that you should be aware that such thing is happening."
Given its ending, the drama thriller is dark as it doesn't offer solutions on how the taxi driver can get out of that vicious cycle of life. "As a filmmaker, it is something I want to explore in the future," said Christian of the genre. "I think Philippines is ready for that."
Maybe Aliens, on the other hand, was awarded the Special Mention citation. Viewers enter into the thoughts of two brothers through top shots — devoid of the usual medium, over-the-shoulder and close-up — using drone technology. "It was based on my personal experience," said director Glenn Barit of the movie inspiration. "It happened to my cousins. I felt I was distant to them — what they were going through. I would never ever feel the way they did. That's what the film is implying in using drone."
All right, one feels distant with the characters through the camera work but their story is close to home. The film sees two brothers who have experienced two different types of separation: Permanent (the dad dies) and temporary (the mom works as Overseas Filipino Worker in Singapore). Their innocent voices allow viewers to eavesdrop in their conversations and make movie watching personal. Since they can't fend for themselves, the siblings have no choice but to let their mom go and resume work abroad. They lie down on the field, look up in the sky and talk while an airplane hovers above them as implied by its sound.