Top-performing candidates at Miss Universe 2017
November 24, 2017 | 9:55am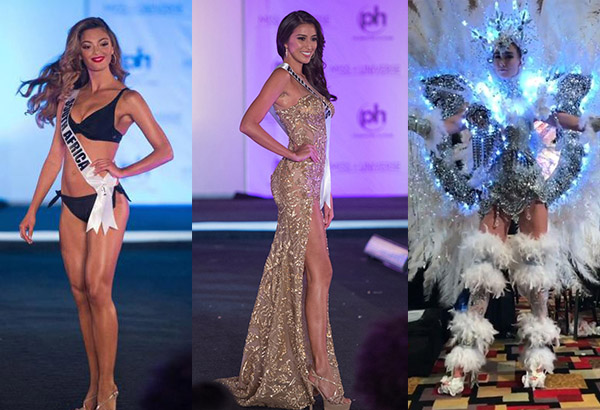 MANILA, Philippines — Excitement was high at the Miss Universe preliminary events, even as the venue for the national costume, swimsuit and evening-gown competitions was underwhelming.
The Miss Universe Organization has not released official videos and photographs from the proceedings, so this story is based on eye-witness accounts of fans, who were lucky to be at the events.
The showcase of culture in dress form (and contraptions) at the national costume competition has no bearing on the preliminary scores, but it offers a glimpse into a contestant's heritage and identity and can propel a candidate's prospects.
In the swimwear section, the contestants wore Yamamay designs in either black or white in two pieces, except for Misses British Virgin Islands, China, Guatemala, Egypt, Israel and Lebanon; and when there was uproar from her countrymen, Miss Iraq will switch to a one-piece suit at the finals.
The evening gown segment was when the audience knew who among the 92 candidates have the strongest stage presence, and therefore have the best chances to advance to the final rounds on November 26 (November 27, 8 a.m. in the Philippines).
The national costume competition was held on November 20 while the swimsuit and evening gown portions happened later on in Planet Hollywood in Las Vegas, Nevada, USA.
With their stellar performances at these events, these candidates are the front-runners, so far. But, because the interviews were held behind closed doors, we have no idea who has the much-needed requirement of having excellent communication skills.
Best in National Costume
The Asians and the Latinas take this more seriously, as they very well know that their lavish presentations can translate to tourism revenues for their countries.
Among fans' favorites are:
Japan - Momoko Abe
Indonesia - Bunga Jelitha
Thailand - Maria Poonlertlarp
Myanmar - Zun Thansin
Venezuela - Keysi Sayago
Canada - Lauren Howe
Mexico - Denisse Franco
Nicaragua - Berenice Quesada
Spain - Sofia del Prado
Best in Swimsuit
The models and athletes, with their toned physiques, have the advantage. But as the Miss Universe Organization, with its wholehearted embrace of body positivity, also celebrates the more womanly Reuben-esque forms such as co-anchor Ashley Graham.
This batch has a fair share of full-figured women such as Miss Ecuador, Daniela Cepeda, taking over the mantle from 2016's Sierra Bearchell of Canada, who finished in the Top 8.
The ones with the best figures, with some having the best walks except for the over-excited Miss Thailand, are:
Angola - Lauriela Martins
Brazil - Monalysa Alcântara
Colombia - Laura González
Croatia - Shanaelle Petty
Indonesia - Bunga Jelitha
Israel - Adar Gandelsman
Italy - Maria Polverino
Mexico - Denisse Franco
Peru - Prissila Howard
Philippines - Rachel Peters
Puerto Rico - Danna Hernández
Romania - Ioana Mihalache
Saint Lucia - Louise Victor
Spain - Sofia del Prado
South Africa - Demi Leigh Nel-Peters
Venezuela - Keysi Sayago
Best in Evening Gown
They were graceful in their evening gowns, though some of the gowns were not exactly the most beautiful. Venezuela, Philippines, Indonesia and Spain also slayed the runway in this portion. South Africa's gown was a misstep though that might not hurt her chances at all.
These are the standouts according to pageant fans:
Australia - Olivia Rogers
Egypt - Farah Sedky
Finland - Michaela Söderholm
France - Alicia Aylies
Great Britain - Anna Burdzy
Korea - Sewhee Cho
Lebanon - Jana Sader
Malta - Tiffani Pisani
Nepal - Nagma Shrestha
Netherlands - Nicky Opheij
Poland - Katarzyna W?odarek
Russia - Ksenia Alexandrova
Sri Lanka - Christina Peiris
Tanzania - Lilian Maraule
Thailand - Maria Poonlertlarp
USA - Kára McCullough
Who among these beauties will be crowned Miss Universe 2017?
RELATED: How to vote for Philippines' Rachel Peters in Miss Universe 2017