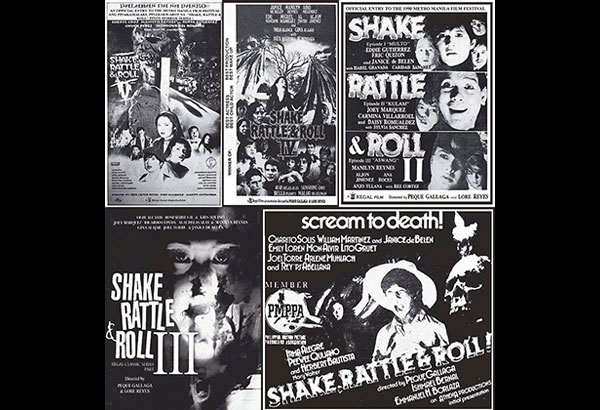 Dreaming of a gothic Christmas
MANILA, Philippines — Mother Lily Monteverde did her magic again.
Filipino films' all-time matriarch just proven the horror genre is clueless of time and timeslot. This is what the impressive rerun of episodes of Shake, Rattle & Roll (SRR) as SRR Sabado Special over ABS-CBN Saturdays at 5 p.m. strongly suggests. This programming innovation kicked off in September and maintains its television ratings lead.
I am still in shock.
Who would think of releasing horror film on Christmas? Mother Lily not once but 15 times at the Metro Manila Film Festival (MMFF). But this did not translate the franchise focused on Christmas content except the Christmas Tree episode of SRR IX.
In alternative mode, SRR features life's intangible realities upsetting the Washington apples on the noche buena table. This gives it the record of the Filipino film franchise with the highest number of installments. And Manilyn Reynes as the Original Horror Queen, not Kris Aquino or Kim Chiu.
SRR is Regal Films' 15-part horror film trilogy with distinctively Filipino narrative-like superstitious beliefs, netherworld characters, urban legends, cults and possessions. This means the Kapamilya Network can broadcast for three seasons with no repeats.
The franchise has always maintained the indie spirit with its untraditional stories, dark mood, excellent production values and non-mainstream cast and crew.
With zero production concern, readily available, lower cost, and a great balancer of programming mix, an SRR episode is perfect fit.
Regal Films having turned the main studio of its time from the independent producer she started with, Mother Lily bundled three 45-minute horror film screened on Christmas season — not Halloween — as a full-length feature in SRR.
First released in 1984 with Emmanuel Borlaza, Ishmael Bernal and Peque Gallaga as helmers, SRR's short form based on the Lino Brocka trilogy Tatlo, Dalawa, Isa (1974), it screened at the MMFF except the sixth installment which premiered in January 1997 until 2014.
The demand for horror shorts is intense. The ratings show viewers are dreaming for a gothic Christmas, endorsing Shake, Rattle and Roll's comeback to the Metro Manila Film Festival.
(Note: Shake, Rattle and Roll newspaper ads courtesy of Simon Santos of Video 48.)