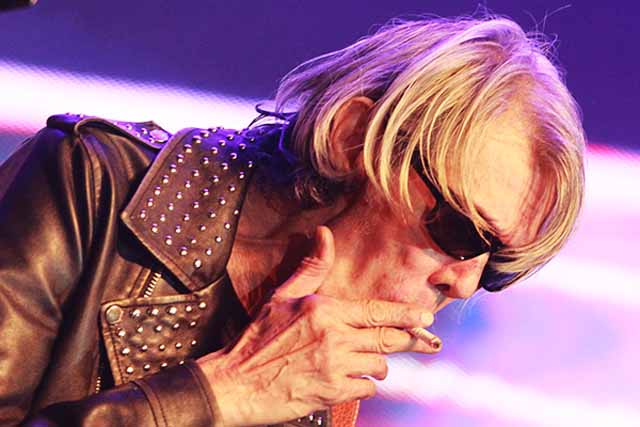 Filipino rock icon Joey "Pepe" Smith is currently confined at the Metro Antipolo Hospital and Medical Center after suffering a stroke. Released
Pepe Smith hospitalized after suffering stroke
MANILA, Philippines — Filipino rock icon Joey "Pepe" Smith got hospitalized on Tuesday after suffering a stroke.
According to Smith's manager, the musician was rushed to the Metro Antipolo Hospital and Medical Center Emergency Room after feeling ill. This was his third time to suffer a stroke.
Reports said that although Smith suffered stroke, "it is not as bad as the last stroke he ahead."
Smith is reportedly conscious.
In a Facebook post early Wednesday, event promoter Dudee Alfonso sought for prayers for the 69-year-old Juan dela Cruz Band member.
Smith was supposed to perform at the Pepe Smith Rockfest on Saturday, November 18, at the Amoranto Sports Complex in Quezon City.
De Leon, however, called the organizers for a meeting and announced that they would issue a statement regarding the matter.
"In view of Pepe's health condition, we would like to inform you that the Pepe Smith Rockfest organizers are currently holding a meeting and would be coming out with an official statement within the day. Please standby," a post on Smith's Facebook page read.
"We also appeal for fervent prayers for our beloved Pinoy Rock legend. Thank you," it added.
Update: Pepe Smith's status is not as bad as the last stroke he had. Naagapan nga daw because hindi sya naputukan ng ugat. He is conscious.
Pepe's manager, Mark de Leon, called the Rockfest organizers for a meeting now in Antipolo.

— Rick Olivares (@rickyolivares) November 15, 2017
Smith, one of the "great grandfathers" of Original Pinoy Music, recently performed at the Full Blast Pinoy Superbands concert . The concert was held last October 20. — With report from Rick Olivares