KZ, Quest recall life-changing moments
October 31, 2017 | 4:00pm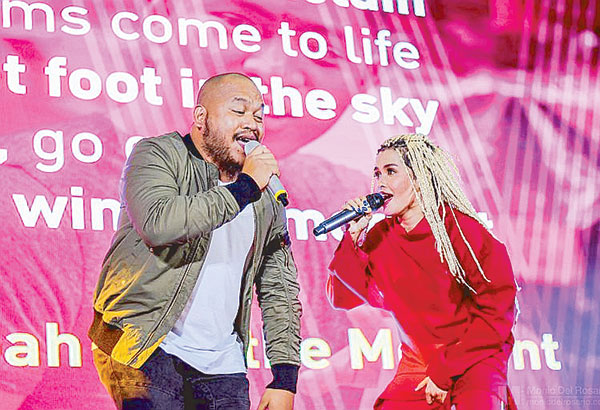 MANILA, Philippines — Most success stories have that one special moment before things turned around.
KZ Tandingan and rapper-songwriter Quest recently collaborated on a song called Win The Moment, giving them the perfect time to look back on their lives, in particular the game-changing points that took them away from the claws of obscurity and identity crisis.
"I grew up an alcoholic, a brawler and a bully. My dad was a drug addict and hostile ang family ko. Everybody thought my life would go left side," Quest shared poignantly.
Then he traveled back to a particular date that led him to the right path, happily stating, "My winning moment happened on Nov. 9, 2002 when I was brought to the church by my sister. That began my spiritual walk. I discovered my faith and my life made a 180-degree turn. I've been walking through this spiritual journey for the past 15 years."
What a walk it is!
Quest, born Jose Villanueva III, is now a sought-after act, having sung jingles that he prefers calling anthems, and being effectively busy in the mainstream gig circuit. He's the voice behind the Smart Gilas cheering song Sige Lang and rapped, co-wrote that catchy It's A Tropa Thing TNT tune. He also performed PBA's current season's theme.
Quest and KZ had wanted to work together, thus, quickly they grabbed the opportunity when it was offered. Win The Moment is BPI-Philam's thrust which, according to its CEO Surendra Menon, "calls on Filipinos to aim for success."
Both artists were on hand during the Win The Moment Festival, an open-to-public wellness event held at Trinoma.
For KZ's part, it wasn't her X Factor victory that changed the ballgame for her. But the point when she found out she had a throat condition. That she was able to address it correctly made it a triumphant moment for her own run.
She explained, "It happened before X Factor. Hindi ko mahahanap ang identity ko as a singer if hindi nangyari ang moment na iyon."
By now, KZ is among the few major artists who came off from reality TV contests. She is recognized for superb live performances accompanied by basic acoustic guitar and drums which clearly emphasize the jaw-dropping force of her vocal acrobatics, clever renditions of popular tunes and norm-breaking outfits.
Of her collaboration with Quest, she said, "It's worth the wait. We finally found the perfect moment to collaborate. Kanta ni Kuya Quest ito. My input is more on the vocal harmonies and I knew the song by heart when I arrived at the studio."
Win The Moment, the song is released in digital format along with an official music video.
Quest, who quipped that he likes rapping since he wouldn't have to worry about hitting flat or sharp notes, noted, "This song is a dreamer's anthem. I want to empower people to fight for their right to win."
KZ added, "As artists who are given this kind of platform where we can be of influence, I think it is important that we encourage people to dream and strive hard for their dreams."
With that, Quest and KZ are no doubt examples of those who fought for their clearly uncertain future and made it big.