Why they give us the creeps
October 30, 2017 | 4:00pm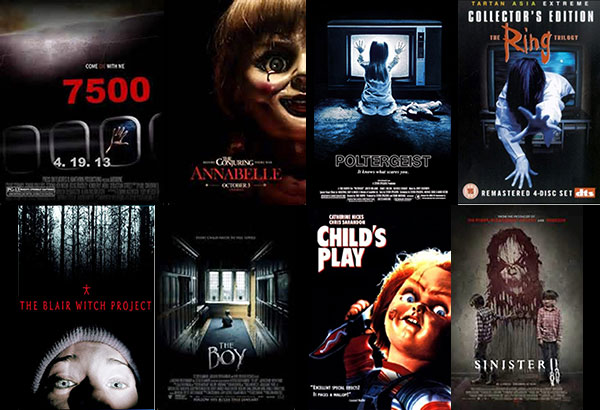 MANILA, Philippines — Ever wonder why you'll never look at some things the same way? There could be a number of reasons, but one would probably be because of a certain film that you have seen. The horror genre surely plays a big part in it. Those cursed objects, possessed beings, creatures from other dimensions or even unseen ones that have scared viewers and caused them to feel a tinge of creepiness towards many things or beings. Here are some of the reasons why the following objects or beings give the creeps: Happy Halloween, everyone!
Clowns. It used to be the sight of clowns means laughs, silliness and tricks. They are the highlights of children's parties or shops that lure the young ones. However, this changed after movies like It written by Stephen King; Clown directed by Eli Roth; the controversial Clownhouse from 1989; and many other films that depicted the dark side of clowns came out.
Dolls. Even innocent dolls do not escape being part of horror movies. What used to be a favorite toy is now not a choice of many. Remember, the porcelain doll which was depicted as an evil doll in the movie Annabelle; the talking doll which was possessed by a criminal's spirit in the 1988 movie Child's Play and its sequels; the ventriloquist doll Billy from Dead Silence; and how about that mysterious doll from The Boy? There are still a lot of such movies about dolls but they are sure enough to send chills down one's spine.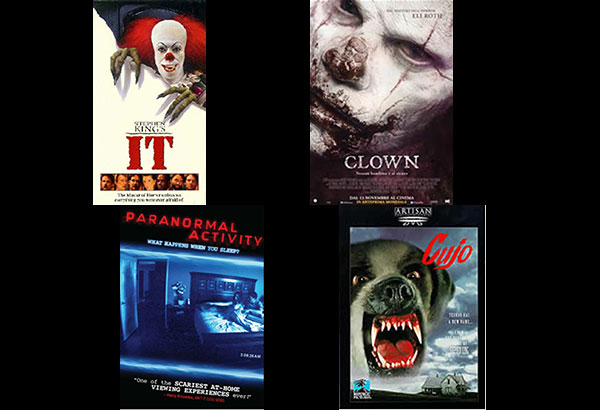 St. Bernard dog. The huge yet cuddly and adorable dog breed was turned into a rabid monster in Stephen King's Cujo. Known to be a harmless and friendly dog became a cause of nightmare, especially for the mother and son in the film. Now, you can't blame others if they associate it to a wild beast — but it is so cute, isn't it? Just wish it doesn't become Cujo.
The birds. Just seeing these creatures fly gives one a relaxing feeling. Well, that is before you'll get to see the 1963 movie The Birds. In it, the birds, for an unexplainable reason, just start attacking people, making them all run for their lives. No wonder, some people just feel creepy being around flock of birds. Could it be that they've seen the movie as well?
Children. What used to be an epitome of innocence has turned into someone no one has ever dared to imagine. Remember the evil boy Damien from Omen and Rhoda from The Bad Seed? How about the killer children of the farm in Children of the Corn, and the possessed kids of Sinister? Such movies will definitely change the way one looks at children.
Shadows. Who among us have never enjoyed playing with shadows? There's just so much fun in forming different shapes and creatures with our shadows. Well, that is until Lights Out, a film about a killer shadow, hit the theaters. Now, what used to be a medium for fun has become a terrifying thing. Should one be afraid of his own shadow then?
T.V. One of the best inventions of all time, television has been the source of entertainment for many people. Once it's on, people stay glued to it. But for some, this habit might have changed after watching films like Poltergeist and The Ring. To recall, both films used the TV as a portal for evil. You probably would not look at the TV the same way again, especially if it's turned off or with the static.
Flights. While taking flights seem tiresome for most people, a lot still enjoy them. However, movies just have their way of getting into viewers' minds. Films like Final Destination, Snakes on a Plane, Red Eye, Flight 7500, Langoliers and many others are just enough to make one paranoid and scared; so it is best to just avoid watching these films before taking flights.
Puzzle boxes. Being able to solve puzzle boxes sounds like something to be proud of, but that's maybe before the time of Hell Raiser. In the film, solving a puzzle box will be equivalent to summoning the terrifying beings in the other dimension. Now, who will still be interested in solving puzzle boxes? Just make sure it is not one of those cursed ones.
Video recordings/footage. What used to be a harmless piece of video footage has turned into a source of fear for many. Ever since after movies like The Blair Witch Project, The Last Exorcism, REC, Paranormal Activity, and some others, watching videos has never been the same again. Now, people just can't help but be observant with what they may see that they actually don't desire to see. A friendly reminder: Be careful of what you watch.