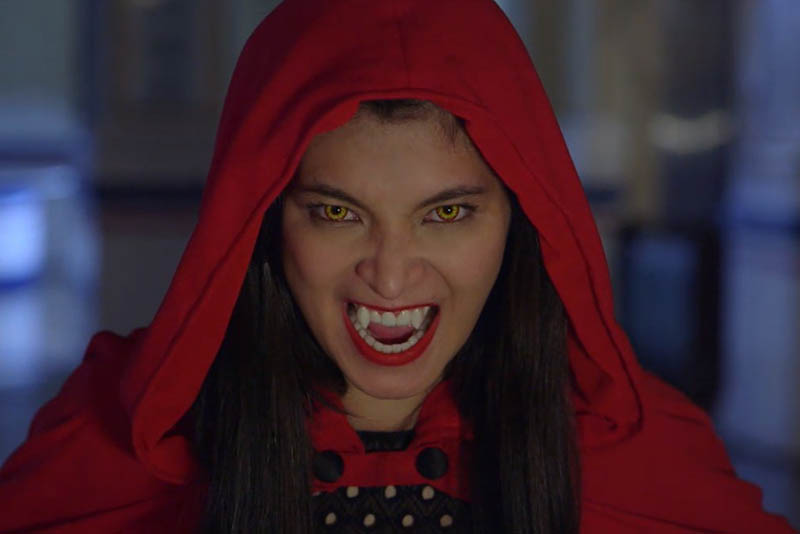 Angel Locsin as Jacintha Magsaysay in "La Luna Sangre." ABS-CBN/Released
Angel Locsin's vampire transformation tops network ratings
MANILA, Philippines — The transformation of Jacintha Magsaysay (Angel Locsin) into a vampire in ABS-CBN's "La Luna Sangre" surprised viewers nationwide as the show hit a national TV rating of 34.1 percent versus GMA-7's "Alyas Robin Hood" (14.7 percent), according to data from Kantar Media released on Monday.
ABS-CBN's hit fantasy action series "La Luna Sangre" continues to keep viewers on the edge of their seats and opened the week with the heart-stopping revelation of Jacintha (Angel Locsin) as the mysterious "Lady in Red."
To everyone's surprise, Jacintha finally showed her true self as a vampire and effortlessly killed Sandrino's (Richard Gutierrez) men, including Boris (Ali Khatibi). It was also revealed that she was behind the shooting of Sandrino by Sen. Paglinauan (Freddie Webb) using a bullet made of wolf fang, which caused the supreme vampire's heart to beat again.
Malia, on the other hand, is slowly embracing her destiny as her powers gradually unfolds. She successfully led La Liga Unida in overtaking Sandrino's lair and even killed Omar (Ahron Villena). Their victory, however, led Tristan (Daniel Padilla) to discover that she has long been working with werewolves and vampires.
Following Jacintha's great unveil, the hashtags Angel and #LSSBagongPinuno became among those top trending on Twitter on Tuesday.
Fans of Angel and "La Luna Sangre" lead love team KathNiel (Kathryn Bernardo and Daniel Padilla) had mixed reactions about the emergence of Angel as a major character in the show. While some are happy for Angel's comeback as an "action star," others were enraged and even alleged ABS-CBN of trying to overshadow KathNiel with ChardGel, the love team Angel shares with fellow "La Luna Sangre" star Richard Gutierrez, who is a villain vampire in the show.
What will be the plans of Malia as the new Punong Bantay? After killing Sandrino's allies, what is next for the Lady in Red? What will happen if she and Malia cross paths? Will Sandrino become a mortal again?