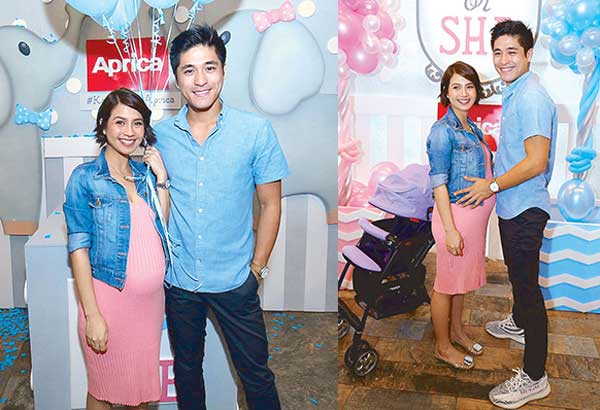 Kaye Abad and husband Paul Jake 'PJ' Castillo reveal the gender of their baby at an event sponsored by Japanese baby brand Aprica. Kaye is due to give birth either late December or early January 2018.
Kaye & PJ soon a Family 3
FUNFARE
-
Ricky Lo
(The Philippine Star) - October 15, 2017 - 4:00pm
The blue balloons gave it away. When the big box marked "He or She?" was opened during a "gender reveal" party sponsored by Japanese baby brand Aprica last week in Cebu City where the couple has been staying since they got married on Dec. 9 last year, Kaye Abad and husband Paul Jake "PJ" Castillo burst into a conjugal scream of joy as blue balloons were released from the box and danced in the air.
As The STAR confirmed in a scoop, yes, the Castillos' first child is a boy due either last week of December or early January 2018.
"We will soon be Family 3," said Kaye in an interview with Funfare.
Describing married life as "so far, OK pa naman, happy, enjoying," Kaye added that she is adjusting to life in Cebu City where PJ's family (among the richest in the city) owns several businesses.
"I have even learned how to speak Cebuano," Kaye proudly revealed. "I didn't have a hard time adjusting to the Cebuano lifestyle because I also grew up in the province"…that is, in Cavite where her family owns a subdivision…"Driving is easy unlike in Manila where drivers are mahilig sumingit, laging nagmamadali. Hahahaha!!! In Cebu, relaxed mag-drive ang mga tao, parang every day is a Sunday."
How good is her Cebuano so far?
"Kasabot nako gamay pero dili pako maka-istorya," Kaye spoke in the dialect to prove it. (Translation: "I understand a little bit but I am not yet so conversant.")
Asked how PJ is as a husband, Kaye gave him a thumbs-up.
"Actually, nothing has changed how he was as a boyfriend and now as my husband and I find it a good thing. Except now, he works harder for our future especially since there's a little one coming."
Until she got pregnant, Kaye helped in PJ's steak house.
"I am not so into business because I get stressed easily. But I tried to help PJ. I was supposed to be assigned to the salad bar but I got pregnant. Medyo I need to be extra careful with my pregnancy especially during the first trimester because I'm not that young anymore, hahaha!!! So we decided na huwag na lang muna. So I just stay home. I make sure that I cook for him. Very housewifey, hehehe!!!"
By the way, how did she find out that she's pregnant?
"I had vertigo two weeks before I got pregnant. I was confined for four days. I couldn't move around because I could not get out of bed. I couldn't even sit down in bed kasi I would lose my balance. I couldn't open my eyes kasi 'yung vision ko parang boomerang sa Instagram. Hahahaha!
"At first, the doctor suspected na baka I was pregnant kaya nahihilo ako and I kept on vomiting, so they did blood and urine tests to check kung positive ako para din they would know what meds to give me in case I was really pregnant. But negative naman lumabas. My OB-Gyne said baka daw kasi early stage pa kaya hindi pa na-detect.
"So after a week that I got discharged from the hospital, I was wondering why there was no sign that I was going to have my period soon. At regular ako, ha! My in-laws said that I was 'delayed' maybe because of the medicines that I took at the hospital, that my 'cycle' might have changed. I was already four days delayed. So nag-try lang ako na mag-pregnancy test." And what was PJ's reaction?
"At first, I didn't tell him," added Kaye. "I was worried that he might get excited pagkatapos negative pala. I tested two more times and both were positive! He was happy at first and then we both got scared because the medicines that I took in the hospital were very strong. So we went to my OB-Gyne (Dra. Marivic Tan) the next day. She told us not to worry."
The couple hasn't chosen a name for the boy because they might change their mind.
"I will breastfeed my baby," assured Kaye. "The baby daw is healthier when breastfed. Plus, makaka-tipid ka than buying milk. Hahahaha!!! At iba daw ang bonding ng mommy and the baby while breast-feeding."
Showbiz will be put on-hold.
"I used to say in my interviews that when I get married and start raising my own family, I would quit showbiz. I really love acting and I'm missing it already. In the meantime, my priority is our baby. Acting can wait."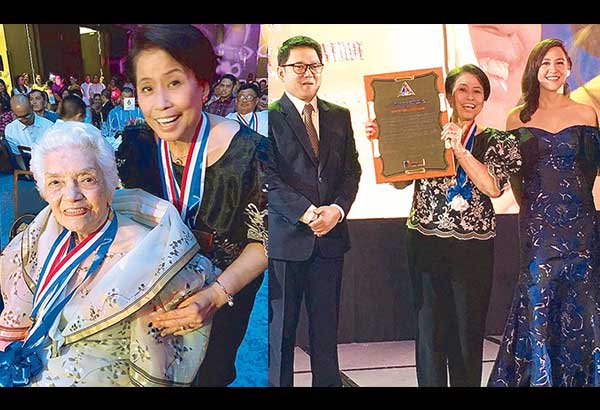 Right: Regal Matriarch receives her Manuel L. Quezon Award from Quezon City Mayor Herbert Bautista, as Q.C. Vice Mayor Joy Belmonte looks on. Above: With Pres. Quezon's daughter Zenaida 'Nini' Quezon-Avanceña.
Mother Lily receives Manuel L. Quezon award
Congratulations to Regal Matriarch Lily Monteverde who received the Manuel L. Quezon Award from the Quezon City government Tourism Board in rites held at the Seda Vertis Hotel last Thursday, Oct. 12.
Quezon City Mayor Herbert Bautista handed Mother Lily the recognition for being one of the more prominent entrepreneurs in the city.
Mother Lily owns the first-of-its-kind hotel, the Imperial Palace Suites, on Timog-Morato Rotunda in Quezon City; and also the sprawling garden events place, 38 Valencia Events Place, which houses the Regal Entertainment offices. The house beside it also belongs to the Monteverde family.
Incidentally, Mother Lily shares the same birthday (Aug. 19) with Pres. Manuel Luis Quezon. The awarding ceremonies were part of the celebration of Quezon City's 78th Foundation Day.
(E-mail reactions at entphilstar@yahoo.com. For more updates, photos and videos, visit www.philstar.com/funfare or follow me on Instagram @therealrickylo.)