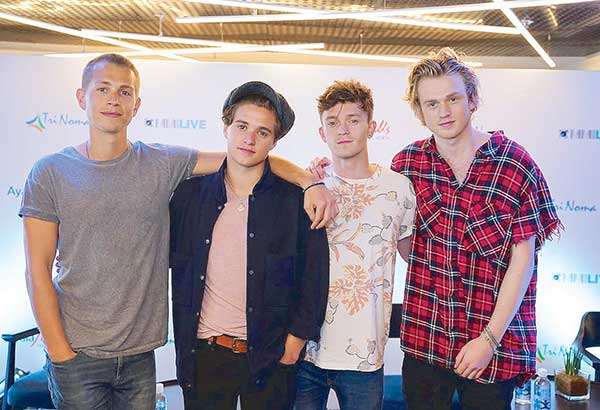 The Vamps' James McVey, Brad Simpson, Connor Ball and Tristan Evans return to Manila for the fourth time. The British pop-rock band headlined a show Friday night launching the Ayala Malls Vertis North in Quezon City, a shopping destination that targets the 'millennial set.'
The Vamps back with big changes
MANILA, Philippines — The Vamps returned to the country over the weekend, showing all and sundry that this British pop-rock band has grown up in more ways than one.
Brad Simpson, 22 (lead vocals and guitar), Connor Ball, 21 (bass guitar and vocals), James McVey, 23 (lead guitar and vocals) and Tristan Evans, 23 (drums and vocals) first became popular in the late 2012 through cover songs uploaded on YouTube. The Vamps performed for the first time in the Philippines back in 2014. Their latest visit was for the grand launch of Ayala Malls Vertis North in Quezon City, a new shopping destination that targets the hip and trendy set. Touring with them was the New Hope Club, a teen pop trio signed up by the band's newly founded record label.
When asked how much they've changed since their first Manila gig, Connor told The STAR, "Musically, we've changed quite a lot. As people as well, we've grown. We're glad to be back."
For James, the band is simply evolving together with the music biz. He said, "I think we've changed a lot in the past three years. The music has changed massively. The music industry in the UK has changed massively. There's streaming now. Spotify has taken over. The music, I guess, has gone from folk to dance."
The Vamps has released a total of three studio albums, with the latest a double record. The boys said that when they started, their music was mainly guitar-based. For one, the band's 2014 debut, Meet The Vamps, waxed folk and acoustic with hits like Oh Cecilia (Breaking My Heart), Somebody To You (feat. Demi Lovato) and Last Night, which won them the Best British Single at the BBC Radio 1 Teen Awards. The 2015 sophomore effort, Wake Up, was somewhat steeped in rock tradition.
The newest outing titled Night & Day features more obvious changes as the music taps into the EDM genre. In an interview for Reuters, The Vamps explained why they came up with a twin album: "We wrote about 40 songs and you have to cut down 40 songs to a 12, 13-song album. And you kind of lose a lot of songs that are quite personal to you, and your heart is quite close to. So, it's always sad to see them never released into the world…. By doing this two-part album means that we're able to release more music and our fans are able to get more music."
While it has "the roots of the first album," new instrumentation has been incorporated into their music like digital amplifiers and synths. The Night edition was released in July with the Day edition to follow later this year and according to Tristan, it's going to be "a little bit more rough. I don't want to spoil anything, but it's going to be a little different."
Connor said, "We never had synths before. Now, it's synths and guitars. A little bit (yes, we went with the trends). Going with the trends is always good to a point. But I think we just wanted the changes as a band and to make different persons interested."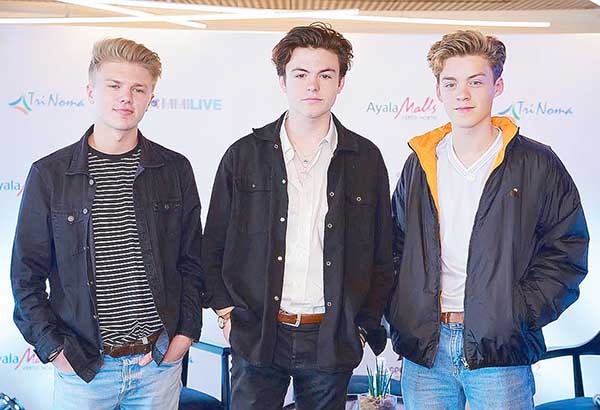 Front act New Hope Club consists of George Smith, Blake Richardson and Reece Bibby. The teen trio is signed up with The Vamps' own record label.
"Everything's changed for us now," James added. "It's about keeping up with the times, especially for us, we're trying new things. We're definitely in a different place now than we were then. We're really enjoying it."
Nevertheless, some things never change. Brad said that their songwriting still draws inspiration from real-life experiences.
Another thing that remains the same? Their bond on-stage and off. Call it friendship goals. "Friendship is key. Whatever is happening around you, as long as you're friends, then I think you're going to last forever," Tristan said.
Sure, they have had some down moments. "Yeah, we'd feel that way, but after a week, we'd tell each other, should we do that again?" mused Brad.
"Many times it's been hard to be travelling with a band because you're going to be away from family and stuff, from our dogs and pets, comfort food from London," Tristan reflected, adding, "but all the positives outweigh the negatives. You can complain about not getting a certain type of food but then you kick yourself (once you realize) that there are many people who get inspired by your music. It's extremely touching, it's powerful. That drives me to keep on going."
After touring Europe with the girl group Little Mix, The Vamps has been doing shows in South America, Australia, New Zealand and Asia these past two months.