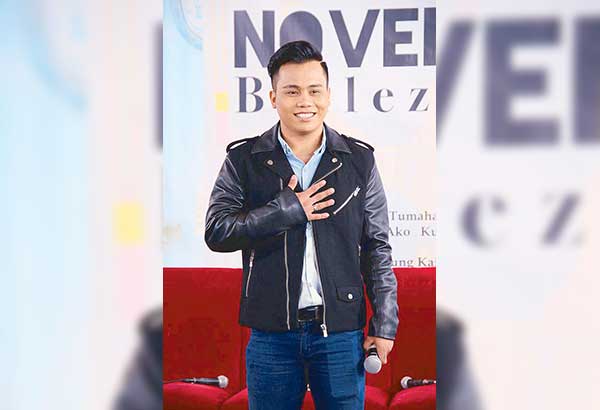 Noven Belleza releases his debut album Ako'y Sa 'Yo under Star Music. It features a timeless and distinct Pinoy sound and brings together the compositions of some of the country's best songwriters
Noven learns painful lesson
Bot Glorioso
(The Philippine Star) - October 7, 2017 - 4:00pm
MANILA, Philippines — Perhaps, you already know by now that Noven Belleza was the first grand winner of It's Showtime's Tawag ng Tanghalan (TNT). His voice quality is a perfect fit for kundiman tunes.
That's why many agree that Noven can be rightfully bestowed with the title as the new Kundiman King. In the '50s and '60s, four singers were billed as Hari ng Kundiman: Ruben Tagalog, Ric Manrique, Cenon Lagman and Armando Ramos.
Asked for a comment, Noven smiled and shared that he used to sing kundiman songs during contests way back his elementary days. He recalled having often sung Kapantay ay Langit, Marikit and Pakiusap as contest pieces.
"But I am not familiar with the names of the singers because I was just listening to them singing on the radio," Noven said in the vernacular.
However, curious minds are wondering how come his winning song in Tawag ng Tanghalan was not a kundiman but a medley of Air Supply hits.
Star Music audio content head Jonathan Manalo had the answer. He said, "It just so happened that the lyrics are in English but if you notice, Air Supply songs are Pinoy na Pinoy — the lyrics, the melody and the song are filled with emotion na Pinoy na Pinoy and many of us can easily really relate to the message of most of Air Supply hits."
Back in his hometown Victorias City in Negros Occidental, Noven shared that he used to practice singing Tagalog and English songs while working in the farm. But neither did he dream of one day becoming a singing star or releasing his own album.
"All I was thinking then was to earn money in order for me to support my parents and siblings; 'yung may makain lang kami sa araw-araw ay sapat na," he revealed.
The release of his debut album Ako'y Sa'Yo under Star Music marks another milestone in his singing career. According to the release sent to media outfits, the album features a timeless and distinct Pinoy sound and brings together the compositions of some of the country's best songwriters such as Vehnee Saturno, Jungee Marcelo and Rey Valera. Jonathan also contributed in the album his composition titled Nais Kong Ibalik.
"There are inspirational songs, there is a prayer, there are songs for the broken-hearted, for those who are in love and those who have to leave their family to provide for a better future."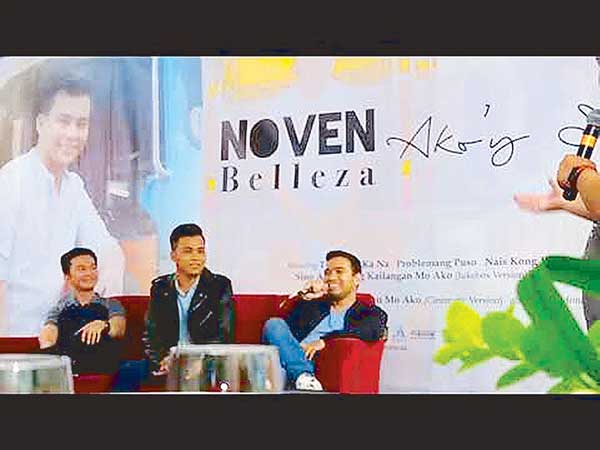 With Star Music audio content head Jonathan Manalo and Kiko Salazar
His carrier single titled Tumahan Ka Na, written by Vehnee, has dominated the MOR 101.9 charts for several weeks now, peaking at the No.1 spot. Thus, he can't say anything but be grateful for all the blessings coming his way.
In fact, Noven was a picture of calmness while he performed cuts from Ako'y Sa 'Yo at a media call recently. What he had been through a few weeks back can be likened to a furious storm that hit him so bad.
But the trying and "disastrous" times are over, making Noven stronger with his family who served as his strength for its unconditional love and support no matter what.
"They stayed by my side and truly cared for me. My supporters didn't leave me behind," said Noven who admitted to almost quit his singing career due to the controversy.
It can be recalled that Noven was charged with sexual assault filed by a 19-year-old female complainant in Cebu City. But she withdrew her complaint after several months that led to the dismissal of the case.
Did the experience help him become a better singer?
"I was tested how much I could bear. I am grateful for the people who stayed by my side and my supporters who were there for me."
Good thing, it didn't affect the completion of the album although Jonathan and Noven admitted to have done some adjustments prior to the formal launch of Ako'y Sa 'Yo.
Other tracks included in the album are Problemang Puso, Lupa, Sino Ako and Kung Kailangan Mo Ako with its cinematic version as a bonus track.
(Ako'y Sa 'Yo is available in all record outlets nationwide and all digital stores worldwide.)