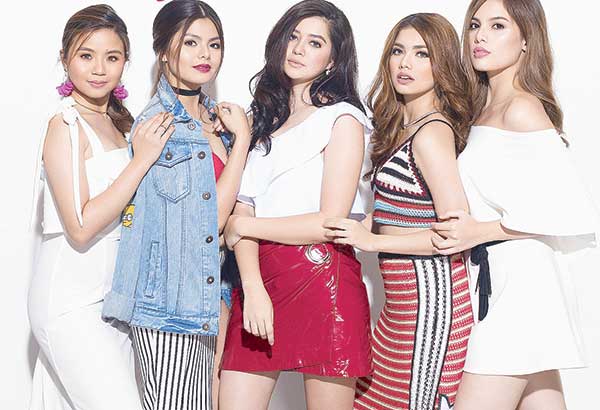 The so-called 'It Girls of Horror' (from left: Miles Ocampo, Chanel Morales, Sue Ramirez, Jane de Leon and Michelle Vito) are launched in The Debutantes, a movie that reinvents the meaning of 'coming out'
Regal's Millennial Babies
CONVERSATIONS
-
Ricky Lo
(The Philippine Star) - September 30, 2017 - 4:00pm
Lest we spoil the suspense, Conversations is not giving any hint on what The Debutantes is all about. Find out for yourselves when it opens nationwide on Wednesday, Oct. 4. Starring in the movie produced by Regal Films and IdeaFirst Company and directed by Prime Cruz are the so-called "It Girls of Horror" Miles Ocampo, Chanel Morales, Sue Ramirez, Jane de Leon and Michelle Vito.
Here are thumbnail sketches about them: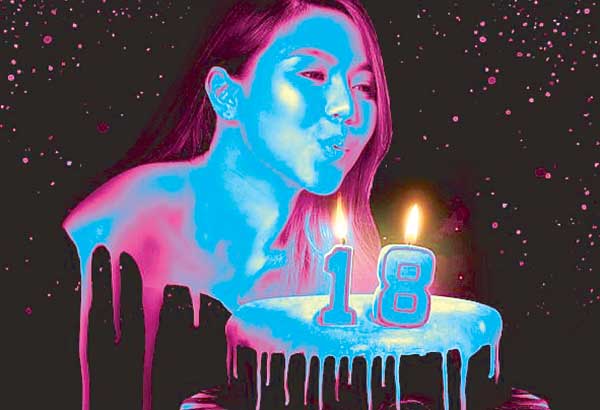 Miles (Camille Tan Hojilla), 20, a singer and commercial/print ad model (discovered via a hotdog commercial), is a Star Magic member who started in the kiddie show Goin' Bulilit. She starred in the ABS-CBN soaps Krystala (with Judy Ann Santos), Mangarap Ka (with Piolo Pascual and Angelica Panganiban) and Mga Anghel na Walang Langit, and in the Star Cinema movies I've Fallen For You (with Kim Chiu), A Very Special Love and You Changed My Life (with Sarah Geronimo and John Lloyd Cruz), BFF: Best Friends Forever and Paano Na Kaya (with Kim and Gerald Anderson).
Chanel, 21, was discovered via Artista Academy, TV5's reality-based talent search (Wilma Galvante's brainchild), who is now with ALV Talent Circuit headed by Arnold Vegafria. In 2011, she was crowned Junior Prom Queen of Diamond at St. Scholastica Academy where she graduated the following year. The Debutantes is the Bacolod lass' first movie with Regal.
Sue (Sue Anna Garina Dodd), 22, appeared in the ABS-CBN remake of Mula sa Puso (2011), followed by Angelito: Batang Ama (with JM de Guzman), Angelito: Ang Bagong Yugto, Annaliza, Pangako Sa'yo, Dolce Amore and currently in La Luna Sangre. She was named New Movie Actress by the 32nd PMPC Star Awards for Movies for her performance in Just The Way You Are. Born to an American father, James Peter Dodd (a retired senior officer of the US State Department), and a Filipina mother (Concepcion Garina of Sipalay City, Negros Occidental), Sue is the Honorary Tourism Ambassador for Korea to the Philippines.
Jane, 18, has been competing in beauty pageants since 2009 and finished semi-finalist in the 2013 Supermodel Philippines search. Formerly represented by GMA Artist Center, Sue signed up with Star Magic in 2015. She has starred in Wansapanataym and is a member of the Girltrends dancers of It's Showtime.
Michelle, 19, is a model-actress who has appeared in three episodes of Maalaala Mo Kaya? (MMK) and in the afternoon teleserye Aryana and Halik sa Hangin. She began modeling at a young age and had her acting debut in Nita Negrita (2011). A graduate of St. Mary's Academy, Michelle has over 750,00 followers on Instagram and 340,000-plus on Twitter.
Conversations asked the "It Girls of Horror" to answer five questions:
What was your fondest wish when you turned 18?
Showbiz is described as magulo and maraming temptations (drugs, unwanted pregnancies, etc.). Give three reasons why you chose to enter showbiz.
Describe the family where you come from and where you are studying.
Who are your role models and what do you admire about them?
Who are the actors na gusto ninyong makapareha?

Miles
1. Every girl dreams of a grand debut — nice gown, 18 candles, 18 roses and whatever. But in my kind of work, I am given a chance to experience all those, so when I turned 18, I requested not for a big party but for a trip abroad. Mama granted my wish. ?
2. It's all up to you. Kahit maraming temptation around me at sa mga kasama mo, I should know what's good for me and what is not. And what I love about our work is that, you get to explore things. I'm fond of talking to older people because I learn a lot from them. Also, I consider my co-workers not just friends but already a family.
3. I am currently studying Creative Writing at UP Diliman. It's really hard to combine showbiz and school but if you really love what you do, you can make it. And I am very lucky and blessed to have a supportive family.
4. Toni Gonzaga, my Ate Tin for more than three years now in Home Sweetie Home. Between takes, I enjoy exchanging stories with her. I admire her also for her passion and dedication to work. Ang pinaka-hinahangaan ko yung respeto niya sa kanyang parents.
5. John Lloyd Cruz. I have worked with him in his three films with Sarah Geronimo, and now in Home Sweetie Home. Even when he's doing a light scene, nakakaiyak sya! Hehehe! Sobrang galing na actor.

Chanel
1. To have my own sports car.
2. I chose to enter showbiz because:?1). My parents saw my potential in becoming a good actress; 2). I had been entering dance classes, workshops (Star Magic), voice lessons and more to hone my God-given talents; and 3).?I want to be a Hollywood celebrity/concert artist like Britney Spears, J.Lo, Beyoncé, etc.
3. I come from a family of three. I'm an only child and only apo from my father's side. I grew up in Bacolod City. I studied at St. Scholastica's Academy Bacolod until fourth year high school. I moved to Manila for a college degree at UST. But I didn't finish college because I joined Artista Academy. I enrolled in a few short courses two years ago at SOFA (School of Fashion and The Arts) and took up Fashion Styling, Fashion Design and Construction of Clothes. I also enrolled in Basic Make Up Artistry in late 2016.?
4. Victoria Beckham and Angelina Jolie. I admire their dedication to their craft and their concern for humanity.
5. John Lloyd because he's a good actor just like Coco Martin, Jake Cuenca and Richard Gutierrez.

Sue
1. My fondest wish before I turned 18 was to dance with my dad on my debut. But unfortunately, he didn't make it. He passed away when I was 17. So I wasn't that much interested to celebrate an extravagant debut. Instead, I had a simple party with close family and friends. No regrets. It's always amazing to celebrate important days with the people I love.
2. Indeed, showbiz is very magulo. But I think it only will be if you make it. The best reason to stay in this industry is happiness, the fulfillment of getting to entertain and inspire people. Another is PASSION, "Do what you love, and you never have to work a single day of your life." And last is love. Love for the craft, love for the industry and most importantly, the love I get from the people who support me.
3. I come from a very closely-knit family. I am the youngest of five kids. My mom is a labor leader and my dad was a retired labor attaché from the US State Department. I studied in a Catholic school, graduated high school and now planning to hopefully start my college education soon to maybe take up psychology/dentistry.
4. My role models are my parents. They strived and worked hard for whatever it is that they have achieved and their stories will forever inspire and motivate me to work hard for everything, be independent and never forget the people along the way. To help as many people as I can, and never ever ask/expect for anything in return. To always be humble, and always keep in mind that you are never above or below anybody.

Jane
1. My fondest wish when I became 18 was for my dad to be there with me in my most special day and for him to witness my journey in showbiz and personal life.
2. Because it is my wish and desire since I was a kid to be in the industry and be known as a good actress and be successful in this field... and hopefully, get awards.
To learn and experience how it is to be in the industry and share what I have, my talents and skills to others. To be an inspiration to some.
To meet and get to work with artists that I admire.
3. I love my family so much. We are only three now because my dad passed away two years ago. Like any other family, ours is not a perfect one. We have gone through so many hardships; sobrang hirap talaga. Despite that, we have remained strong with our faith in God. My mom and kuya are very supportive naman sa career ko.
I studied high school in San Pedro, Laguna, sa isang public at Christian schools kasi dun na rin ako lumaki. Masaya. Right now, I'm on a home study program here in Quezon City.
4. My role model is Jess Conte simply because she's young, beautiful, talented and a great inspiration. She knows how to handle any situation, a great blogger and a Christian. The other is Sarah Geronimo. She's a very good singer and dancer, maintains her good image — a role model talaga. I just love the way she is.
5. Well, it's an open book naman that I really want to work with Paulo Avelino if given the chance. I admire him so much not just because of his looks but because he is a very good actor. Parang napaka-challenging n'yang katrabaho.

Michelle
1. More projects. That's all. At sana, the Lord will bless me. Also, that I stay healthy.
2. Nasa sa inyo 'yon kung ano ang dapat mong gawin; you should know what is right and what is wrong. I entered showbiz because, first, I love to act; second, acting talent is God's gift to me; and third, I feel that I was meant to be in showbiz and that's where I want to stay.
3. I grew up in a family which is complete; anywhere we go, the five of us are always together. I am the youngest among three siblings. My parents always give us (pieces of) advice. I'm taking up Human Resource Management at De La Salle College of Saint Benilde. And planning to take more courses in Business and Psychology.
4. My role models are my parents. I admire 'yung discipline nila sa sarili nila and the way they discipline other people, the way they see things, the way they work hard for what they want in life and for what they want for me and my two siblings.
5. Sam Milby, Jericho Rosales and John Lloyd Cruz. They are also my crushes. I want to see how they work and learn from them.
(E-mail reactions at entphilstar@yahoo.com. For more updates, photos and videos, visit www.philstar.com/funfare or follow me on Instagram @therealrickylo.)