Ariel & Gelli: A perfect match
September 22, 2017 | 4:00pm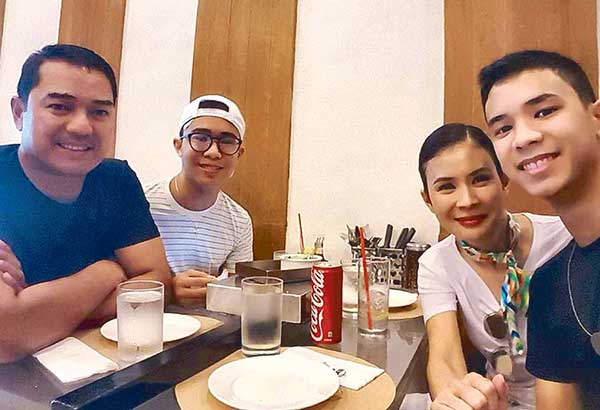 The marriage of Gelli de Belen and Ariel Rivera is among the few stable unions in showbiz, and Gelli tells why.
"We've been together for 25 years," counted Gelli, "and 20 years of which as a married couple. We are celebrating our 20th wedding anniversary in December."
They are blessed with two sons, Joaquin (18) and Julio (16), who are currently schooled in Toronto, cared for by Ariel's family. The boys had their early education here and, initially against Gelli's wishes, decided to study abroad, Julio in high school and Joaquin with two more subjects to complete before he goes to college.
"I think that more than me," continued Gelli, now pushing 44, "it's Ariel who should get more credit. You know us women, we want to be the last, we want our relationship to last, so we do anything and everything to make it work. I think it's natural with us women. We are naturally loving and nurturing. It's a different story when it comes to men. I am blessed lang na nakatagpo ako ng lalaking ganoon din ang gusto sa buhay, prioritizing family. Feeling ko I have found my perfect match in Ariel."
Asked in jest if Ariel is faithful, Gelli replied, "Yes naman," adding also in jest, "and I hope so!" (In fairness to Ariel, since he got married, he has never been rumored to have, well, "gone astray.")
As a mother of teenagers, Gelli has taken to heart her role as the aunt of Daniel Padilla and Maymay Entrata in the ABS-CBN action series La Luna Sangre.
"I feel as if they are my real children," said Gelli. "Maymay is such a darling, malambing na bata, mabilis mag-pick up, mabilis maka-intindi. When she is in doubt, she asks around and I love her for that. She's willing to learn. I think that she will go far, that she will go the distance.
"With Daniel, well, he's such a sweetheart, madaling maka-connect since he has acting in his genes. When I am in the scenes with Maymay and Daniel, feeling ko kausap ko lang ang mga anak ko."
Congratulated for the show's consistent rise in the ratings game, Gelli begged our pardon.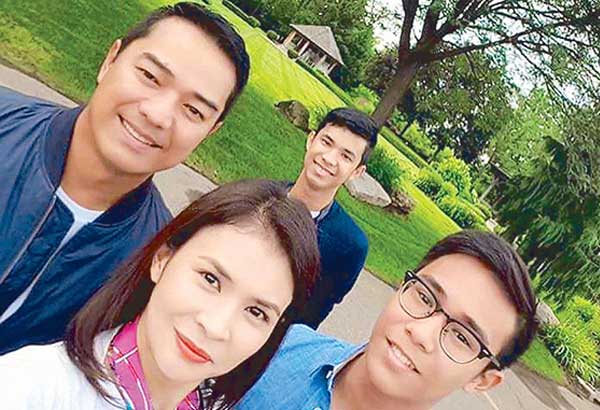 "I am not the top-rater," she qualified. "Sabit lang ako d'un."
Joaquin and Julio were home during this interview, taking a break from school. They have been away for more than a year and Gelli, as well as Ariel, miss them so much.
"I'm pampering them," related Gelli. "I'm more makulit than I was when they were still here, kasi miss na miss ko sila, eh, although we would visit them in Toronto for three weeks or one month when we have free time. We also communicate with them regularly through Skype.
"I am the makulit kind of nanay…you know, 'anak, nag-toothbrush ka na ba, naligo ka na ba, nagugutom ka na ba?' This time around, while they are here, I would cook for them. Or I would ask them what they want to eat and we eat out."
Years ago, Gelli confirmed that she and Ariel did plan to migrate to Toronto (where Ariel lived before he ventured into showbiz).
"We thought that it would be best for our sons to study there," said Gelli. "In the end, we decided to stay because our means of livelihood is here, anyway, and let the kids go. I become emotional when I talk about them being away. Excuse me if I cry as I keep talking to them now."
Here, the boys are forever identified as the sons of Ariel and Gelli while in Toronto they have their own identity and can move about without the sound of "anak ni Ariel at Gelli" ringing in their heads.
"There," said Gelli, "they can be themselves. They enjoy playing basketball without people being curious about them. Joaquin is old enough to drive and Julio is usually his passenger. Joaquin wants to be a pilot. Magastos na course pero susuportahan namin siya dyan."
Have the boys started having crushes?
"Wala pa," Gelli almost screamed. "Thank you, Lord!"
She conceded that the boys are embarking on their journey as young adults and Gelli said she (and Ariel) are ready to embrace their roles as parents of adults.
"Soon, they will be making their own decisions and we can't be imposing on them. I always remind them to treat girls the way their dad treats me — you know, respect girls as well as they must respect the family. When it comes to girls, they don't usually volunteer information but they talk naman when asked."
(E-mail reactions at entphilstar@yahoo.com. You may also send your questions to askrickylo@gmail.com. For more updates, photos and videos visit www.philstar.com/funfare or follow me on www.twitter/therealrickylo.)