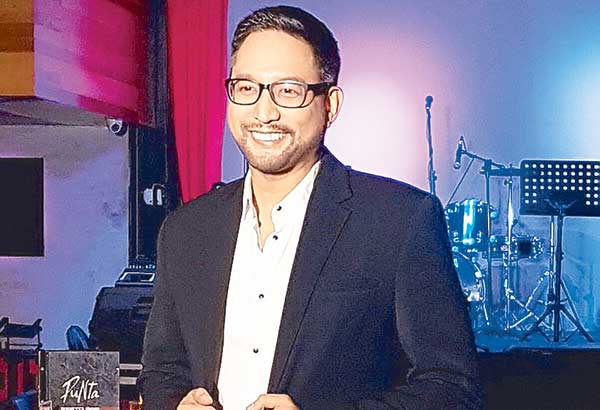 This year has been 'a year of dreams' coming true for Paolo Bediones, host of Good Vibes with Paolo.
MANILA, Philippines — When he was still pre-occupied with television work, Paolo Bediones had his hands full. It was next to impossible to go back to school and pursue further studies. He finished his college degree of AB Interdisciplinary Studies (Dean's Lister) at the Ateneo de Manila University, then was immediately given the chance to make a name for himself as a TV host.
"In the 12 wonderful years I was in GMA, my schedule was so packed and there was no way I could squeeze in any kind of masteral education," Paolo asserts. "When I moved to TV5, I was even busier. I remember that at one point I had five television shows and a radio program as a Kapatid for five great years."
Paolo was nonetheless happy he was blessed with work. "It has always been a dream of mine to pursue further studies since graduating from the university," Paolo offers. "I found that I actually had so much time on my hands, so I decided to chase my dream and apply at the Asian Institute of Management (AIM), mastering in Entrepreneurship. I'll graduate in March next year. Going back to school has been one of the best decisions I have ever made in my life."
He was prompted to take up entrepreneurship after putting up his restaurant and bar, Punta Mandala, in Mandaluyong City. "The place was originally a Latin American (grilled foods) themed restaurant that we put up in October 2014," Paolo shares. "We now serve unique bar chow and ice-cold beverages in a classy ambiance at an affordable price. (6+1 beers with pulutan at P300 during Happy Hours).
"There is nightly entertainment, where customers seated indoors or in our al fresco area can enjoy the music of the performers and even jam with the band. We have hassle free parking in Mandala Park (formerly Liberty Center), along Shaw Boulevard in Mandaluyong."
Paolo also markets Punta Mandala as a customizable venue that can cater to any party or events needs. Although regular restaurant-bar hours are from 4 p.m. to 3 a.m., the place can open as early as 6 a.m. for events, parties and other functions.
"It's basically a one-stop shop, where I have all the audio-and-video equipment, musical instruments, food, drinks, tables and chairs, decorations, entertainment roster to choose from, photographers, videographers and competent staff."
Cliché as it may sound, but Paolo knows things happen for a reason. After the controversy he got involved in back in 2014, Paolo took a self-imposed hiatus from mainstream TV.
"I don't mind talking about it because it does serve as therapy for me and in many situations, it is the elephant in the room," he asserts. "In 2010, I had my laptop fixed that had very sensitive content I had deleted. Three months later, I started receiving extortion letters for P3M. I lived in anguish and fear for the next four years until July 27, 2014.
"The stolen material went viral and there was nothing the PNP or the NBI could do, because it spread too quickly with too many uploaders. Yes, I did suffer from severe depression and I despised myself. For the next few weeks, I isolated myself from the world and started reading social media posts and messages. Good, bad, nice, nasty, encouraging or scathing, I read each one whether it came from a person I knew, a friend, family member, fans, strangers, posers, trolls and all sorts of avatars.
"It was when I read and appreciated the words of comfort and love from so many people that I realized it was truly not the end of the world. With each message I felt myself feeling better and my desire to pick myself up became stronger. I decided to end my self-imposed exile and step back out into the world. I was surprised that the affection I received online was what I also received in person."
He thought he could walk away from TV or the entertainment industry after the trauma, but he proved himself wrong. "There's absolutely nothing that I don't miss about TV," Paolo stresses. "I miss the daily grind, the 24-hour tapings, the adrenaline rush of being on camera and the creative juices that flow endlessly."
Fast forward to 2017. Paolo is thankful that he is back on TV. This year has been "a year of dreams" coming true for him. "I've finally produced and created new content for my own television program. I'm also conducting a series of workshops on hosting, risk and redemption and how to deal with cyber bullies."
Last January, Paolo started a project that married his two passions: Hosting and music. "Without a clue as to how I could possibly monetize it, I invited 12 OPM bands and recorded them at my restaurant-bar," he relates. "Using my stint as an MTV VJ as inspiration, I created a show where we could hear the stories behind the songs and witness the organic nature of music, while showcasing the undeniable global talent and creativity of the Filipino artist. After putting together the show and showing some episodes to Cignal TV, they decided to partner with me in my endeavor and now I am back on television with my program, Good Vibes with Paolo."
Recently, Paolo also signed up with Viva, in what he describes as a "true partnership of interests and goals," where he can pursue his love for TV hosting and for events, conduct workshops on various topics and subjects, and co-produce high-quality content for the company.