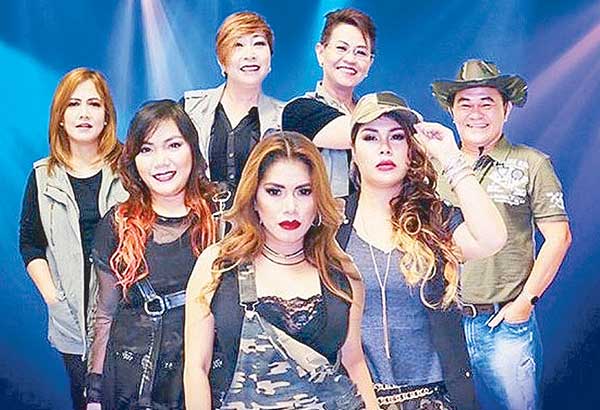 Tonight at 8, Aegis will have a show titled Aegis Na Aegis: A Story of Us at the Newport Performing Arts Theater of Resorts World Manila
What to admire about Aegis
MANILA, Philippines - A record label executive, speaking before professional songwriters, recently pointed out that songs with hugot lines easily connect with sentimental Filipinos.
That must be halfway the truth in assessing the lofty status rock ballad band Aegis enjoys. Its songs' lyrics surely do hit deep. And the words get through to the everyday Pinoy who falls in love or gets hurt in the process of embracing romance.
Such words combined with lonely melodies that simply cut through, with no pretensions of sounding artsy, give the band the kind of material that fits basic power ballad arrangement. It is a formulaic concoction every critic may call safe or accuse of not exploring the gadgetry of modern music.
Yet, it works for Filipino listeners.
Besides, Aegis' repertoire of originals is for people so in touch with their emotions, those affected or who pretend not to be affected by, as we know it, hugot lines.
"We're glad that people don't forget us. Sa US tour namin, sobra ang pagtanggap nila at puno lahat ang 15 shows namin," said Juliet Sunot, one of the band's three singers and certainly a major piece of the band for her high-pitched vocals.
There's humility in her tone, almost as if she doesn't know she possesses that superior vocal gift spelling the difference.
So true, the powerful vocals that come off the band set them apart from most mainstream group acts. Most female voices in the music scene either sing sexy or soft, smooth-operators so to speak. Many of them sound too girlish, or always trying to portray themselves as pretty-looking damsels in distress.
The singers in Aegis would have none of that. They don't need to be taken as hot, lonely women who want to be saved by boys-next-door or rich widowers from the upper floors. They're sisters and they can really sing, in over-the-top harmonies and hold-your-breath pitches. They're letting it all out, weeping and wailing. They simply sound wistful, ultimately wonderful.
Juliet shared, referring to how they take care of their golden voices, "We avoid cold drinks — maligamgam lang — and sweets. Getting sleep is important."
Backing up Juliet and her sisters Mercy and Ken are keyboardist Stella Pabico, guitarist Rey Abenoja, bass player Rowena Adriano and drummer Vilma Goloviogo. Why there's a thorn among the roses can be somehow traced to Rey's surname. The band's classics were written by one Celso Abenoja.
Another thing to admire about Aegis is that they stick to the group's brand. The Sunot sisters could have easily gone into a trio, or Juliet may have found a way to go solo. But they have kept themselves together under the Aegis name.
Fortune goes to the ones who keep it together. And for them that luck came in the form of a musical called Rak of Aegis that became a breakaway hit when launched in local theater stage in 2014, a decade and a half since Aegis entered the public consciousness. That the band members have a string of timeless hit songs and a name that sounds like "ages," and there's Rock of Ages, with Tom Cruise starring in a film version of it, is the whole universe conspiring?
Isay Alvarez hit the right note when she said that it's difficult to sing Aegis songs and that in reality, most people are not always heartbroken in the name of romantic love. But then the catch is, as she noted, Aegis music is very Pinoy.
"Next year, it would be our 20th year," Juliet happily reminded.
Longevity is its success. Blowing kisses to the magic of second-wind gives more meaning to such a long run.
Tonight at 8, Aegis, a big draw of an act by Alpha Music, is bound to fill up the Newport Performing Arts Theater of Resorts World Manila for a concert dubbed Aegis Na Aegis: A Story of Us. The show is under the direction of Lambert de Jesus and co-presented by RWM in cooperation with Ultimate Shows, Inc.
Last Wednesday, the same venue became the site of a benefit concert called Kaya Natin 'To, featuring a star-studded list of concert and stage play acts, including folk-acoustic artist Noel Cabangon, whose digitally released anthem of the same title aims to donate download fees to children of RWM Foundation.
What a way to wrap it up with the hottest classic act of today on board, expected to sing Luha, Halik, Sinta and Basang-Basa Sa Ulan. Often we hear these songs sung on videokes by countless wannabes. It's sure a different story to hear these songs in a concert venue with Aegis.