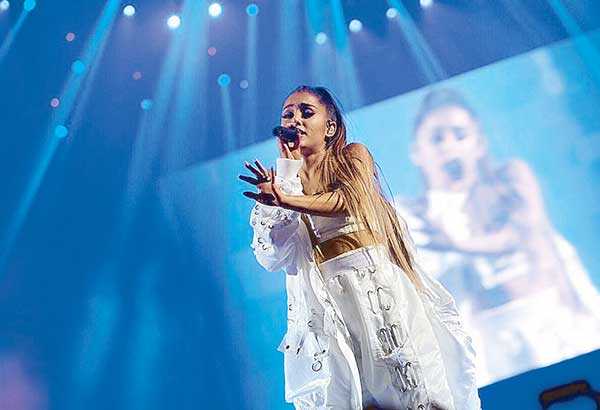 Despite feeling a bit under the weather, singing super star Ariana Grande showcases her on-stage charm and sweeping vocal talent
Millennial mayhem at the MOA Arena
MANILA, Philippines - Holiday Monday (Aug. 21) was extra fun for numerous young souls who packed the Mall of Asia (MOA) Arena as super singing star Ariana Grande sang and danced to her own hits. It was a night to remember for millennials, many of them dressed to the fashion of their idol and looking every bit carefree, definitely enjoying the party atmosphere with big balloons and specially-made miniature dollar bills falling from somewhere up.
Cheers and pretty screams dominated the show right from the get-go, or precisely from the moment the screen stage backdrop started showing Ariana's facial close-ups along with a 10-minute countdown. It was an ingenious way of inciting excitement.
"I'm really sick today so you guys made me feel so much better. Thank you so much," she told the delighted crowd, a lot of whom wearing blinking bunny ear-headbands.
The fans, who fondly call her Ari, gave their hearts out, too, for the 24-year-old star after giving up their bags. The security was expectedly tight after a terrorist blast marred her Manchester, England show last May. The Manila gig was still part of the same Dangerous Woman Tour that began last February.
Ariana, who delivered a fine vocal performance even if she had to dance in most numbers, replied to a shoutout, "I love you, too! Thank you for being here."
The concert, featuring spectacular digital graphics and a lighting direction befitting an EDM party, still banked heavily on Ariana's on-stage charm and sweeping vocal talent. It didn't matter that she often wore oversized clothing; the sound of her voice bared her soul and it easily connected. If that move inspired some of the young girls in the crowd to refrain from wearing short shorts in the days ahead, then that should be a sure thumbs-up for the parents.
One could observe the teenagers singing along to almost every song. But the energy was raised notches higher on the most familiar ones, namely, One Last Time, Problem, Break Free, Bang Bang, Into You and Dangerous Woman, the night's encore piece. Near the end, she did her rendition of the Wizard of Oz classic Somewhere Over The Rainbow. That number may have provided more meaning after a weekend ignited by public sentiment over a Filipino teenager's death at the hands of drug war authorities. And the fact the holiday commemorated the death anniversary of freedom fighter Ninoy Aquino.
Of course, the audience were titillated after hearing Ariana speak in Tagalog, "Manila! Mahal kita!"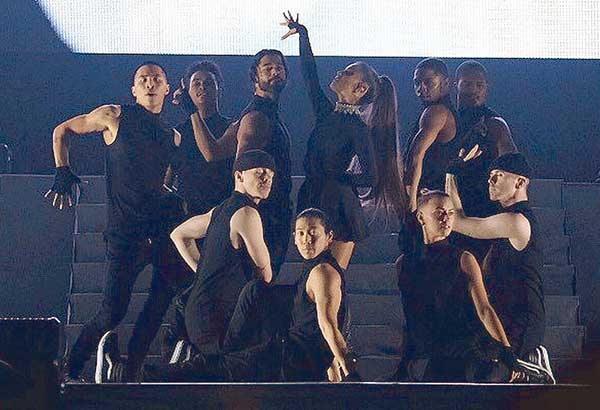 The MOA Arena concert is part of Ariana's Dangerous World Tour
She sounded sincere. Even if she put out her tongue from time to time, it looked innocent. She was just having a good time like any of the minors in the crowd.
The Florida-born American star who released her first album in 2013 posted on her Instagram, "Manila, thank you for your love, your sincerity, your sense of humor and overall you-ness. I appreciate you more than you know!"
Before Ariana, Pinoy millennials also came in droves last Thursday night, Aug. 17, at the same venue for this year's In The Mix, a music festival featuring an engaging roster of international acts. Artists Dua Lipa, Daya, DNCE, Two Door Cinema Club, Zara Larsson and 5 Seconds of Summer took the stage one by one to fill the night with mood-setting, danceable and rocking tracks.
Daya's performance of Don't Let Me Down, a hit from The Chainsmokers she's featured in, was a like a sugar rush for the crowd. They were hyper from then on; those with their escort-parents looking amused and happy that their kids are alright and enjoying the night.
Swedish singer songwriter Zara oozed with charm performing while 5 Seconds of Summer was worth the anticipation.
(Both shows had coolly-designed Smart Music Live booths that fans went in for picture poses as Smart gave perks and privileges exclusive to Smart subscribers. Some fans watched the concert for free via Smart Music Live and #SmartArianaGrande promos. These Smart subscribers were also able to live the concert day a la Ariana on tour via the Smart Party Bus.)