Candy shines as suffering mom of a child with Down Syndrome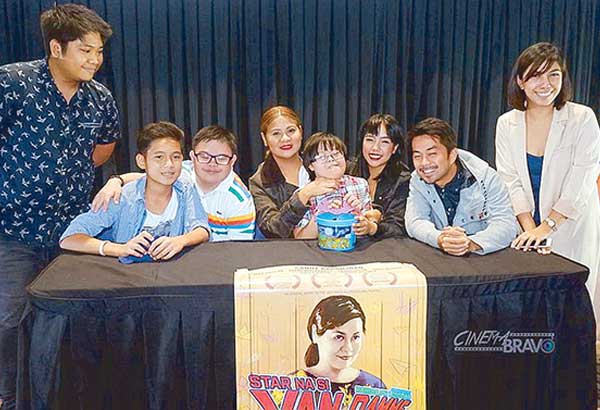 MANILA, Philippines - What kind of mother would wish for her offspring to die first before her? What kind of mother would attempt to end her baby's life in order to spare him from this cruel world?
These are some of the dilemmas Nadia, a mother of a Down Syndrome child, has to face in the powerful and heart-wrenching indie drama Star na si Van Damme Stallone, topbilled by comedienne Candy Pangilinan in a compelling performance as a devoted mother, who would do everything to protect her differently-abled son.
Written by Alan Habon and megged by Randolph Longjas, Star na si Van Damme Stallone is one of the 12 official entries to the ongoing Pista ng Pelikulang Pilipino (PPP) of the Film Development Council of the Philippines. The nationwide festival runs until Aug. 22.
"We made this film not for the families who have a member with Down Syndrome," said Randolph, who also directed the comedy Ang Turkey Man Ay Pabo Rin and the horror Buy Now, Die Later, "but for Filipinos who don't have. They are the ones who lack awareness and who don't have interaction with them."
The movie had a press screening Monday at SM Light Cinema in Mandaluyong City.
Based on real-life characters and events, the movie centers on VanVan (played by Paolo Pingol as the adult Van Damme Stallone; and Jadford Dilanco as the younger version) and his mother Nadia who would give her all for him, including his dream to become an actor. Their world will be tested by circumstances that will only strengthen the unconditional love that binds them.
Candy, better known as a comedienne from laughtrip flicks like Apat Dapat, Dapat Apat and Lumayo Ka Nga Sa Akin, almost singlehandedly carried the movie with her subtle but intense acting.
The 43-year-old actress credited her once autistic son, Quentin, for inspiring her play Nadia with utter conviction. (Quentin's autism was totally ruled out three years ago, she noted.)
"I was able to relate to so many things in this movie," she confessed. "There are so many challenges a differently-abled child faces like their speech and motor skills. Then you look for something to blame like what went wrong or why the child turned out that way, then you ask the doctor if it's the genes… I went through all those things."
For Candy, the most difficult scene is when she attempts to drown her innocent baby while bathing him in a basin. Her character Nadia stares blankly at the child submerging slowly until, seconds later, she comes back to her senses. She quickly pulls her son from the water, hugs him and begs for his forgiveness.
"Hindi na, hindi na uulitin ni Mama (No more, Mama won't do it again)," she repeatedly tells the wailing infant, tears also flowing in her face. It was an emotionally-charged scene that could be Candy's best performance of her career.
Randolph added that the actress' vast experience and unique skills as a mom to a special child made it easy for everyone on the set to ensure the welfare of the two boys, Paolo Pingol and Jadford Dilanco, who both have Down Syndrome.
"Candy's kind of parenting was manifested on the set and ang laking tulong ang nagawa niya (she was of big help)," said the 28-year-old director.
"And because of Paolo and Jadford, we adjusted our shooting style," he proudly shared. "For the first time, we have a set that was quiet and peaceful, positive lang, walang sumisigaw, walang nagmumura at puwede pala yon (nobody's screaming or cursing and it's possible)."
Randolph said the production closely coordinated with the Down Syndrome Association of the Philippines to guide them with the script's sensitivity toward all differently-abled people.
Star na si Van Damme Stallone also stars Sarah Brakenseik, Ebong Joson, Acey Aguilar, Mara Marasigan, with the special participation of TJ Trinidad and Jasmine Curtis-Smith as themselves.
Also in the cast is Isaac Aguirre, who plays with aplomb VanVan's older brother Tano, who is secretly jealous of the kind of love their mother gives to Van Damme Stallone (especially that beautiful name from two of Hollywood's action legends). Tano loves and protects his younger brother, nevertheless.
Isaac gives a scene-stealing performance only seasoned actors can do. His striking looks and strong screen presence, complemented by his brilliant acting chops, are what film heartthrobs are made of.
The Ramon Magsaysay High School student has appeared in a number of indie films, including Sundalong Kanin, after he was spotted by a discoverer at ABS-CBN compound accompanying his father who joined a TV contest in It's Showtime.
Star na si Van Damme Stallone was originally part of the 2016 CineFilipino Film Festival, where it won Third Best Picture and Best Actress and Best Supporting Actor, respectively, for Candy and Isaac. Randolph said the film was fortunate to have been selected for Pista ng Pelikulang Pilipino, which has a wider audience reach across the Philippines. It is currently shown in at least 80 cinemas nationwide.