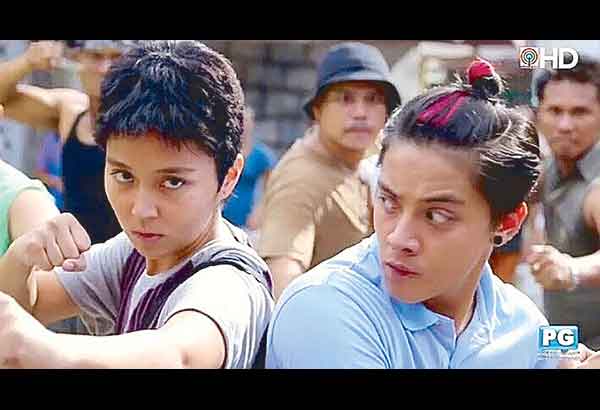 Kathryn Bernardo and Daniel Padilla as Miyo and Tristan, respectively, in a fight scene from La Luna Sangre.
La Luna Sangre sets bar higher in TV fight scenes
MANILA, Philippines - Millions tuned in to the high-rating horror-fantasy series La Luna Sangre are going gaga over the impressively gritty "realistic" stunts and fight sequences executed almost nightly by its powerhouse cast led by Daniel Padilla, Kathryn Bernardo, Albert Martinez and the deliciously frightening vampire supreme leader, Richard Gutierrez.
Thanks to international wushu champs and fight directors Lester Pimentel and Wang Yan Bin (of Singapore) for giving viewers another reason to enjoy primetime TV (and love KathNiel even more) while setting the bar higher for fight scenes in Philippine television.
Both wushu athletes, stuntmen, choreographers and action directors, Pimentel and Bin bring the needed intensity to the ABS-CBN series with spectacular kung fu exhibition that have become one of the show's major strengths. Thanks also to its meticulous editing and remarkable cinematography and scoring.
"In every era, there's a trend in action genre," explains Bin in Chinese and translated into English and Tagalog by Pimentel during a press conference at Wang Fu Restaurant at Il Terrazo on Timog Avenue, Quezon City. "In the era of Crouching Tiger, Hidden Dragon, it's (fight scenes) not realistic but it's very graceful and very pretty."
With the popularity of MMA (mixed martial arts) and street fighting, "the trend now is very realistic fighting," Bin said. "Not necessarily graceful, but it must look realistic."
But Pimentel said the action scenes have to be beautifully woven to the script and to the emotions of the story. "It cannot just be action for the sake of action," he said. "We already know what Star Creatives (content creator team of ABS-CBN) wants."
Fortunately for the fight directors, both Daniel and Kathryn, as well as the big cast that includes Ina Raymundo, Victor Neri, Joross Gamboa, Ahron Villena, Khalil Ramos, Polo Ravales, Tony Labrusca (with Romnick Sarmenta, John Lloyd Cruz and Angel Locsin in early episodes), can pick up the Chinese martial arts choreography quickly.
"Surprisingly, Daniel and Kathryn can learn very fast," revealed Pimentel. "They can deliver it the way we expect them to deliver it in a very short period of time."
A one- or two-minute running time of an action sequence can eat up eight to 10 hours of strenuous practice and execution, according to Pimentel. One large-scale fight scene that ran for seven minutes on screen — where the characters of Victor Neri and Nikki Valdez were killed by the Supremo (Gutierrez) — took four days to shoot, he added.
The vigorous scenes, nonetheless, can pose danger if an actor, for example, veers away from the agreed choreography, Pimentel explained.
"Moves should be very precise," he said. "That's how they (actors) are trained. We remind the cast and crew, and they understand, that we are shooting an action sequence and all of us are taking a risk. We tell them this is not zero risk… It's actually a high risk endeavor."
Pimentel said that it's part of the fight directors' job to ensure the safety of the actors. They have a "system" in place to do the trick, he said, which includes the presence of a qualified medic and stunt doubles on the set, among other things.
KathNiel and some cast members, however, would rather stage the difficult scenes for authenticity, according to Pimentel.
He recalled one scene where he preferred a stunt double for Kathryn, whose character Malia (disguised as Miyo) would jump out of a vehicle.
"The double showed how it will be executed, but Kathryn eventually did it herself," Pimentel said. "She was the one who jumped out of a moving car."
Pimentel also said different "action designs" are in place that suit each and every character.
"You will notice Tristan (Daniel's character) uses things around him to defend himself even though they're not actual weapons," he said. "There's one chase scene in Quiapo in which Tristan used a broomstick, a towel and even water to fend off a robber. That's how we designed his character."
"A vampire is not trained in martial arts but they are savage, they're like beasts and they're always wanting to bite you," Pimentel said. "Gusto ka nilang sakmalin. So that's their action design."
Interestingly, Pimentel's 18-year-old son, Lance Pimentel, himself an international wushu gold medalist, is cast as one of the Moonchasers, a secretive vampire-hunting organization led by Albert Martinez's Professor T.
The younger Pimentel's character Rambo displays a fantastic flair in martial arts to the viewers' delight. But just as the character is starting to have a following, Rambo has to be killed in the series.
Lance, who was present at the press conference, explained that he is bound for Canada in September to pursue his studies at the University of British Columbia, but is hopeful that he could come back in the show's future episodes having been given an open-ended exit.
Meanwhile, Pimentel and Bin assured that there will be no shortage of thrilling hand-to-hand combat and stunts in La Luna Sangre as they have created a new pool of stuntmen "handpicked" from dance groups that won in various talent shows of ABS-CBN that will service the needs of Star Creatives.
"If they (stuntmen) don't have martial arts background, we look for somebody who is a good dancer when we're casting," Pimentel said. "A dancer is very well-coordinated, very graceful. The advantage of a dancer is what his or her eyes can see. The dancer's body can automatically execute a movement even if you don't actually teach it."