30 vie for 2017 Mr. & Miss Chinatown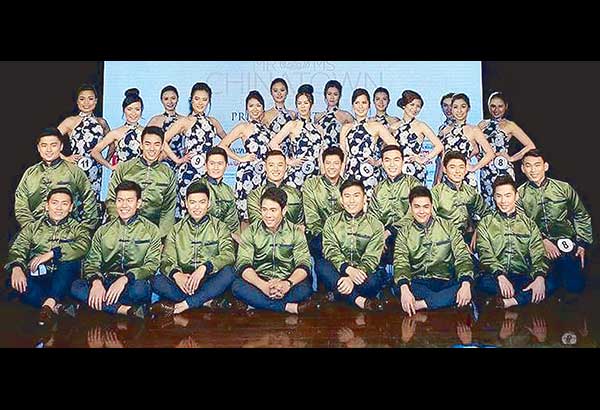 MANILA, Philippines - Thirty Filipino-Chinese hopefuls vying for the prestigious Mr. and Miss Chinatown were presented to the members of the press last Aug. 8 at Eclipse Bar of Solaire Hotel and Casino in Pasay City.
This year's delegates come from different regions of the country, namely Metro-Manila, Baguio, Cebu and Davao, who are epitome of the Chinoy brand of beauty and excellence. The search aims to strengthen Filipino and Chinese relations, as well as the fusion of modern and traditional customs and pride in the Chinoy heritage.
They are (above): Philipp Licaros, Melany Sy, Jonathan Lim, Kate Au, Justin De Jesus, Jillian Chua, Clarence Lim, Audrey See, Jacob Munez, Patricia Claire Balay, Michael Cocabo, Unity Ong Tan Ka, Derrick Pua, Angela Elpa, Lance Soriano, Charmaine Hong, Allen Wu, Shelby Hernandez, Morgan Gan, Maryss Ong, Andrew Ryder Co, Conikka Lagamayo, Vic See, Kency Ongkeco, Patrick Rogando, Jesslyn Lee, Stanly Quisora, Ivy Shi, Martin Sy and Joy Wu.
Joy Wu and Jacob Munez (far right) were selected as Darling of the Press at the culmination of the Press Presentation.
This year's theme is "New Dynasty" which seeks to create a new image of the Chinoy that is characterized by the graceful combination of traditional values and a contemporary progressive stance with the belief that the modern Chinoy is open minded and ready to brave change and conquer new heights.
Brace yourselves as a new Dynasty emerges! Catch them in the different Mr. and Miss Chinatown 2017 events: Chinatown Ball, Aug. 16, 7 p.m. at Solaire Ballroom; and Talent Competition, Aug. 20 at Lucky Chinatown Mall Atrium, Binondo, Manila.
The Grand Coronation is on Sept. 1, at The Theatre at Solaire. The winners and runners-up will receive cash prizes of P200,000 and P100,000 and P50,000, respectively. Miss Chinatown will compete at the Miss Chinese International pageant.
The pageant is being brought to you by Chinoy TV, Miss Chinatown Foundation and Oriental Group and presented by Solaire Resort and Casino and Federation of Filipino-Chinese Chamber of Commerce and Industry, Inc.
The pageant will be telecast on Sept. 10 over ABS-CBN's Sunday's Best.