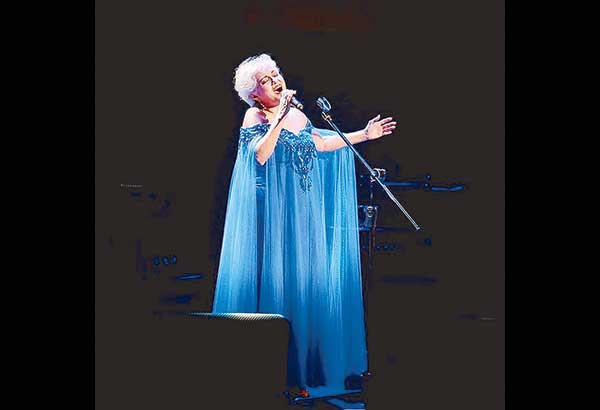 Celeste resplendent in her Paul Cabral gown. —Photos by Gian Carlo Vizcarra
How Celeste broke the 'spell'
MANILA, Philippines - Everyone is certainly familiar with Celeste Legaspi's Saranggola ni Pepe and Mamang Sorbetero, but when was the last time we heard the pop icon render those tunes live onstage? That was 30 years ago, when Celeste performed with the Philippine Philharmonic Orchestra (PPO) in 1987.
However, Celeste herself broke that long "spell" of performing live again when she agreed to the offer of Solaire Resort and Casino entertainment director Audie Gemora, to headline her eponymously titled concert last Aug. 5 at The Theatre at Solaire.
Easily setting aside plaudits for herself at the start of the show, Celeste pointed out to her full-house crowd, "Tonight is my contribution to my father's legacy," said the daughter of National Artist Cesar Legaspi. The latter was celebrating his birth centennial this year. That was also the reason Celeste agreed to do the concert at Solaire.
"My songs were about love and the best persons who taught me real love were my parents," Celeste shared. Her father would walk from Cavite to Tondo when gas became scarce, just to visit her mother, Vitaliana Kalugdan. "Without my mother, there would be no National Artist (in Painting)," Celeste pointed out.
The concert's musical director, Ryan Cayabyab, composed a musical ode to Cesar that opened the show. This was upon the request of Celeste's daughter, Lala, who asked Mr. C "to write a song in the key of C" three days before Cesar's centennial exhibit. The melody was beautiful and Mr. C created a baroque style counterpoint.
That came before Celeste belted out her powerful opening number, Gaano Ko Ikaw Kamahal, which she segued to Tuliro, a song penned by her hubby, Nonoy Gallardo. In only her second number, Celeste instantly admitted to her audience that she forgot the lyrics of Tuliro. But no one seemed to mind.
"Who is 67 here?," she asked proudly, laughing. Yet, that all the more endeared Celeste to her audience. There was apparently no effort to hide her flaws. Everything came out naturally. Towards the end of the show, she even took off her high heels.
"When I was 11, I was very maarte growing up," Celeste shared. "I got the lead role in the musical operetta, Maria Makiling, at St. Paul's College Manila in 1961. It was a truly diva moment for me. My Papa said I sang very well and I had every right to be onstage."
She gave heart-wrenching renditions of Love Is Stronger Far Than We, A House Is Not a Home and Loving You, with Tagalog prose translated by the late Rolando Tinio, National Artist for Theater and Literature. Later in the show, Celeste also sang the hilarious Kahit Ako'y Bakyang Bakya, the Tagalog lyrics translated by Rolando to The Lady Is a Tramp.
Works of Cesar served as backdrop onstage. His Gadgets II painting done in 1947, was recreated by Freeway and printed in bags, shirts and even Celeste's top that night, as well as the shirts won by the band, back-up singers and the dress of guest artist Margarita Roco, Celeste's niece.
"I saw the amazing capacity of the Filipino genius in the arts," Celeste noted. "I saw it in my father's paintings and heard it in Rolando's words."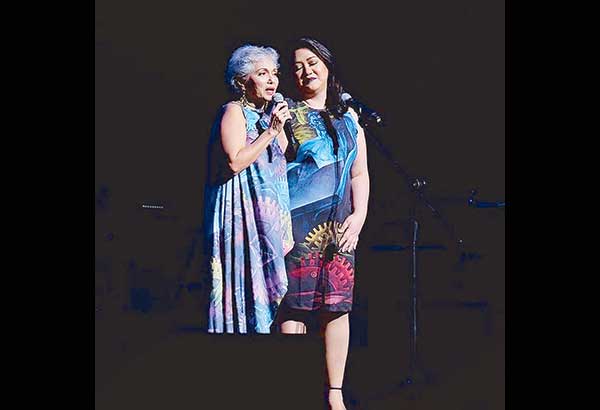 Celeste and guest, niece Margarita Roco, both in their Cesar Legaspi's Gadgets II printed outfits
Backing up Celeste was the vocal trio of Baihana, led by Ryan's daughter and Celeste's goddaughter, Krina Cayabyab, with Anna Achacoso and Mel Torre. The trio rendered the Tagalog version of One Less Bell To Answer.
Revisited in the concert were Celeste's signature songs — Mamang Sorbetero, Saranggola ni Pepe, even Ang Pipit with Margarita and a mean version of Sabado with Baihana and the latter's rendition of Mamang Kutsero.
Celeste rendered La Vie en Rose in three languages — French, English and (Rolando's) Tagalog. "That was the favorite song of my mom," Celeste told the crowd. "I used to sing it to her on Feb. 14, her birthday."
Then, Celeste crooned another English song, Close To You. Her vocal tone and timber were the same, as when she was first heard onstage in the early years of her singing career. She also belted out Nonoy Zuñiga's powerful ballad, Never Ever Say Goodbye.
The memorable musicals that Celeste produced under Musical Theater Philippines (MTP) with Girlie Rodis — from Katy to Alikabok, Kenkoy Loves Rosing, Sino Ka Ba, Jose Rizal, Saranggola ni Pepe, Fire, Water, Woman and Ang Larawan — were likewise revisited that night by Celeste and guest artist Carlo Orosa. Kay Sarap ng Buhay, a snippet from the film version of Ang Larawan, with Rachel Alejandro and Joanna Ampil, was also previewed.
Minsan ang Minahal ay Ako, the emotional ballad from Katy, was dished out in a cappella fashion by The CompanY (the vocal quintet of Moy Ortiz, Sweet Plantado, Cecile Bautista, Annie Quintos and OJ Mariano), with Carlo and Margarita. Celeste and The CompanY also paid tribute to the late composer, Willy Cruz.