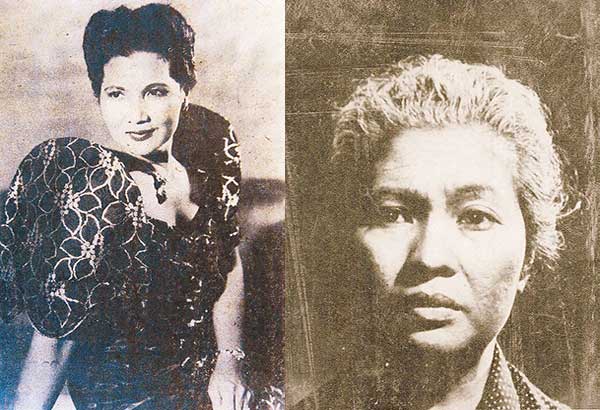 (The Philippine Star) - July 29, 2017 - 4:00pm
That's the title of an article penned by Rene Geronimo in the May 30, 1956 issue of Kislap-Graphic. 'They are never too old' in reference to the character actresses of the '40s and '50s doing mostly grandmother, mother, aunt and other supporting roles. They can be rich or poor, kind or cruel, cultured or uncouth.
Geronimo noted that the big screen is not only for the young and beautiful. 'Advanced age, maturity and even real honest-to-goodness crinkles can be assets for a movie break, too.'
Needless to say, they didn't (and still do) enjoy topbillings and high talent fees. But without them, a movie couldn't be complete. In other words of Geronimo, 'Imagine a motherless or auntless young heroine struggling by herself all the time. Or a rootless, homeless young hero kicking through life all by himself.'
Let's name these character actresses, in no particular order.
Rosa Aguirre, Amelita Sol, Nella Alvarez, Leonora Ruiz, Priscilla Ramirez, Ched Bermudez, Leonora Ruiz and Rosa Mia usually played kind-hearted and martyr mothers. Mater Dolorosa the entertainment press called them.
Rosa turned director for Sampaguita Pictures, while Nella, during her younger years, was leading lady. Nella was the mother of one-time actress Rebecca Rocha: The mother of Niño Muhlach.
Then there were the cruel stepmothers or madrasta and other wicked parts. Into this category fell the likes of Etang Discher, Isa Riño and Naty Bernardo. They made the lives of the leading ladies miserable. In the end, they either paid for their sins or repented.
Etang once did a title role for Sampaguita, Ang Biyenang Di Tumatawa, but still paid for her evil deeds in the end. She was the mother of Panchito Alba.
There were the comediennes led by Chichay (Amparo Custodio), who also did lead parts. The others included Herminia Carranza and (not mentioned by Geronimo) Aruray, Menggay, Monang Carvajal, Patsy, Dely Atay-Atayan, Metring David.
Not typecast in either comic or dramatic roles were Aring Bautista, Dadang Ortega and Felisa Salcedo. They could switch characters as called by the script.
Aling Aring, as she was fondly called by Sampaguita stars and staff, was the mother-in-law of National Artist for Visual Arts Francisco Coching.
To date, this columnist still remembers a contravida like no other: Naty Rubi. With her sharp Spanish features, stern voice and big body, the character actress 'terrorized' leading ladies of the '30s and '40s. To name some: Rosario Moreno, Purita Santamaria, Elsa Oria, Norma Blancaflor and Rosa del Rosario. Not to forget the child star Tita Duran. — RKC