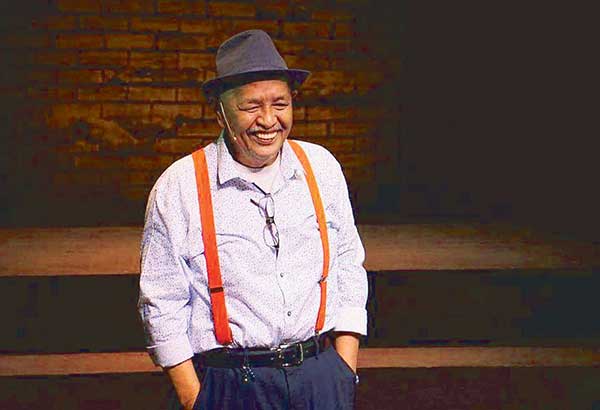 Soxie Topacio has worked with the titans of the legitimate stage; directed and appeared in PETA dramas now revered as classics; and immortalized himself to the masses with sitcoms and soaps.
Soxie's last curtain call
MANILA, Philippines - When my husband and I went to see Soxie Topacio at the PETA-PHINMA Theater Center last Sunday for the special run of the highly-acclaimed Pinoy musical Care Divas, we did not want to think that it would be the last. Once his student at PETA-CITASA, Teddy touched his arm and despite the cumbersome oxygen tank hanging by his wheelchair, he brightened up and nodded, a benign smile in his lips. Sadly, we remembered how wider that smile was when we went to see the special screening of his 2009 film Ded na si Lolo, also at the theater in New Manila, Quezon City of the ensemble that was Soxie's professional home.
PETA's 2011 Season Ender's Presentation, Care Divas, which dominated Philstage's Gawad Buhay Award that year, centered on transgenders' uphill battle for acceptance, but also affirmed their prodigious gift — their oblation to a world that would not dignify their worth. Luckily, Soxie's gift found affirmation from those who respected the thespic art, whether on the stage, boob tube or silver screen. The standing ovation at the end of the musical was an obeisance to the actor, writer and director whom other artists fondly called "Mother," for whose honor Care Divas was remounted in partnership with the Overseas Workers Welfare Administration (OWWA).
Soxie received such abundance of grace in his lifetime. He has worked with the titans of the legitimate stage: Cecile Guidote Alvarez, Lutgardo Labad, Lino Brocka, Nonon Padilla Jr., Dandy Nadres, Jonas Sebastian and Joel Lamangan, among others. He has appeared in PETA dramas now revered as classics: Ang Paglilitis ni Mang Serapio, Kabesang Tales, Hatol ng Guhit na Bilog, Flores Para Los Muertos (Nadres' Filipino adaptation of Tennessee Williams' A Streetcar Named Desire, directed by Brocka), Bombita and Panunuluyan, to name some.
For the stage, he has directed Indarapatra, Joe Hill, Canuplin, Pilipinas Circa 1907 (starring the late Rick Segreto), Macli-ing, Halik ng Tarantula (an adaptation of Manuel Puig's Kiss of the Spider Woman), Minsa'y Isang Gamu-Gamo (a stage adaptation of the Lupita Aquino-Kashiwahara classic film, starring Nora Aunor and the late Jay Ilagan), Hanggang Dito na Lamang at Maraming Salamat, Ang Palasyo ni Valentin and Bona (adapted from the Nora Aunor movie and starring Eugene Domingo), among others.
He has immortalized himself to the masses with TV sitcoms and soaps like Duplex, Dear Diary, Pira-pirasong Pangarap, Ikaw Lang ang Mamahalin, Nuts Entertainment, Marinara, Impostora, Takeshi's Castle, Family Zoo and more.
Editor Ricky Lo bannered in his column dated Sept. 23, 2009 Soxie's Ded na si Lolo as the country's bet in the Best Foreign Language Film category of the Academy Awards, referring to it as a satire on Pinoy mourning rituals. Though the film did not make it to the Oscars, it nevertheless created ripples for the Filipino talent in the leviathan movie factory that is Hollywood. Soxie acknowledged that the character of BJ Forbes was biographical as the spectacle of his aunts fainting during the wake of his own grandfather was deeply etched in his memory. Roderick Paulate's character in the film resonated those in Care Divas, an individual trying to find his/her place in the sun, at the same time struggling for love and respect from his/her own family, the individual emboldened by his contribution to the clan coffers, yet still being censured for wearing a red gown in the wake.
Prophetic might be his last directorial work for PETA — Noli Fili Dekada 2000, a reimagining of Jose Rizal's novels into a contemporary wasteland of a disjointed Philippine society as Soxie is leaving behind a country polarized by politics as in the patriotic plays of the PETA he loved. But his oracle for a world divided by prejudices finds hope in the redemptive turn in the lives of the dramatis personae in Care Divas and Ded na si Lolo, the last two opuses we will associate with him. Enough that we saw him leaving with a beatific smile and a heart full of gratitude before his wheelchair was lost in the noisy throng. More than enough that he valiantly projected in his best stage whisper at the theater lobby, Maraming salamat sa inyong lahat after his last curtain call.