Alive & well at 79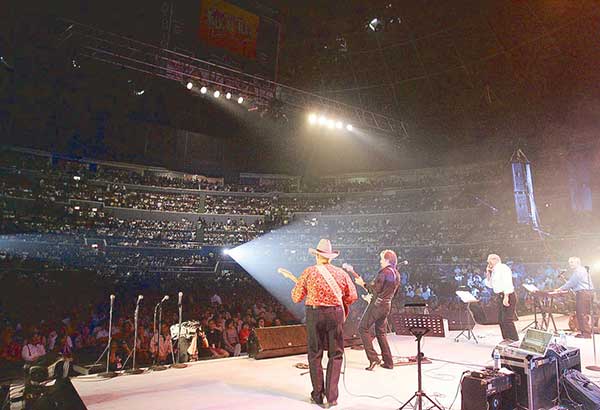 MANILA, Philippines - How many almost 80-year-old singers can dance and sing the hits in the original key as recorded over five decades ago? I could only think of one — John Claude Gummoe — the original and only lead singer of the Cascades who recorded and sang the hits Shy Girl, My First Day Alone, Punch & Judy, Dreamin', Was I Dreamin', Let Me Be, Angel On My Shoulder, The Last Leaf, There's A Reason, I Wanna Be Your Lover, First Love Never Dies and the ninth most performed song of the past century exceeding over seven million performances in the US alone, Rhythm Of The Rain, which John wrote among others. They were recorded in 1962 and have been called the Magic 12. The 12 songs most baby boomers listened to and handed down to their kids and grand kids.
After a few years of touring in the mid-'60s, John gave up life on the road and concentrated on recording. He moved from the Valiant label (a subsidiary of Warner Records) to RCA after the first album. During the move, a rumor spread that the Cascades died in a plane crash that is why there were no other albums that followed. I firmly believed in that for four decades until I found out in 2004 from musical director Chuck Crews that the rumor was false, and John was alive and well residing in Los Angeles but much retired.
I immediately contacted John and asked him if he would consider touring again and the answer was a flat NO. It took me over a year and several trips to Los Angeles to convince him reluctantly to make the comeback. Because most members of the original line-up as pictured on the first album have gone to rock 'n' roll heaven, he picked members of the second generation Cascades Gabe Lapano and Tony Grasso to join as members of the new group plus musical director Chuck Crews who became the newest Cascade. Needless to say, the 2005 Alive tour broke many records, including most attended music concert at the Araneta Coliseum exceeding the full capacity of 10,000.
The new Cascades group toured for three years until personal differences caused the split. Since John was and is the one and only lead singer, he decided to put together another band to back him up in 2009 and has continued touring to the present.
John's current Cascades group is all-Pinoy with whom he is very satisfied. This year, John returns to the circuit with Back in Asia, which will tour the Asian region and start with a concert in Manila on Aug. 3 at the Newport Performing Arts Theater at Resorts World. Special guest is former Lettermen singer Mark Preston. After Manila, John will be performing around the region, including four shows in Tokyo.
The Manila concert is guaranteed to be another night of reminiscing, sing-alongs and lots of fun. Song line-up definitely includes the earlier mentioned Magic 12 plus songs he has specially handpicked exclusively for the Manila show on Aug. 3 at 8 p.m. Tickets are available at Ticketworld online, National bookstores, Ayala Malls, Robinsons, Platinum List and the Box Office at Resorts World.
Back in Asia with the Cascades featuring John Claude Gummoe and Mark Preston is presented by Resorts World and Steve O'Neal productions in collaboration with TrendSpotting, Malaya Business Insight, IBC 13, Telenovela Channel, Chef Laudico's Guevarra's, Quezon Spanish Buffet, Skin Nouveau and RJ100.3 FM the official concert station.