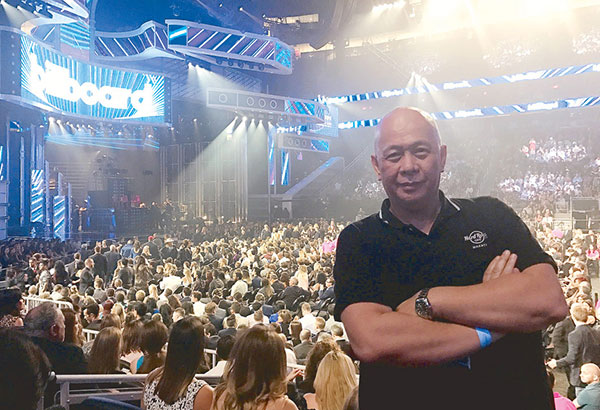 That's me inside the 20,000-seater T-Mobile Arena in Las Vegas
Covering the Billboard Music Awards
MANILA, Philippines - Having produced FAMAS and Aliw Awards in the '90s — the local counterparts of the Oscars and Grammys, respectively — I've always dreamt of being invited to witness an awards show of international stature like the Billboard Music Awards. That privilege came this year — exactly four decades after I started reading Billboard, the Bible of the music industry. Billboard was established in November of 1894 long before there was a music recording industry. One hundred twenty-two years later, it still is considered to have the last word in the music and entertainment industry.
As DJ and A & R (Artist and Repertoire) executive at the now-defunct Villar Records (which distributed almost 90 percent of US record labels like RCA, Warner, CBS, Motown in the '70s), I had the weekly privilege of reading Billboard magazine from cover to cover to keep me abreast of what was going on in the music industry. I even visited Billboard Magazine headquarters at 9900 Sunset Blvd. in Beverly Hills on several occasions. One of my most unforgettable experiences was meeting Billboard's then editor-in-chief and publisher Lee Zhito who was a legend in the industry.
The invitation requested us to be seated at the venue an hour prior to the world broadcast at 5 p.m. from the 20,000-seater T-Mobile Arena in Las Vegas. Unlike the "nose bleed" seats we occupied at the Paul McCartney concert in Tokyo, our seats were a handshake away from the artists and stage area. There wasn't any boredom, too, with the hour wait prior to broadcast because every few seconds, an artist or celebrity would arrive from the red carpet and we'd start guessing the identity. They came in tuxedos, shimmering gowns, short mini-skirts that left nothing to the imagination and colorful outfits that ranged from tasteful to outright obnoxious.
Half an hour into the live telecast, pandemonium broke loose and the fans were shouting at the top of their voices when a group of young guys strolled in. I thought it was One Direction but I was gravely mistaken. It was K-pop group BTS attending the event to accept an award. K-pop is really worldwide. Fifteen minutes into the opening number, a host appeared at center stage and gave instructions on how and when to applaud. The massive stage was subdivided into three sections (left, front and right stages) fully adorned with LED screens from top to bottom including the sides. Below the left and right stages were mosh pits filled with pre-selected fans who were dressed to the nines.
The show opened with a prolonged Nicki Minaj song medley supported by a bevy of dancers. If it looked fabulous on TV, multiply that by 10 when you witness it live. The whole three-hour show-cum-telecast was punctuated by three-to-five-minute breaks to accommodate the sponsor commercials and station breaks. The show was hosted by half-Pinay Disney sensation Vanessa Hudgens who would change costumes every commercial break and hip-hop artist Ludacris.
During the commercial lulls, awardees and celebrities would stand, gossip and take lots of selfies with the other celebrities. It made me realize that despite their stature in show business, they are as ordinary as you and me when it comes to taking selfies and photos. I loved the breaks because it gave me a chance to witness how they would move gigantic props from one area to another and prepare the music instruments that would be used by the next performing artist. I particularly loved Celine Dion's portion that was presented in the middle of the theater with a gigantic 360-degree chandelier that hung from the ceiling of the arena. It was the 20th anniversary of her million-seller single My Heart Will Go On which she masterfully sang nary any effort. People in the audience were all ooohs and aahhs as the giant screens around us displayed scenes from the movie Titanic featuring a young Leonardo DiCaprio and Kate Winslet.
For sentimental people like me and my wife, we shed tears with matching goosebumps. At the end of the song, there was thunderous applause that lagged for minutes long after the elegant Celine has left the stage. Miley Cyrus was presented by her dad country star Billy Ray Cyrus (Achy Breaky Heart) accompanied by her younger sister Noah. For a change, Miley looked decent and matured in her outfit. There was no twerking, nudity or sexual innuendos. The Chainsmokers and Drake stole majority of the awards and performed their hits with gusto.
Some performances I found boring. I wish John Legend performed All Of Me instead and Lorde, the Kiwi sensation, did not sing her hit karaoke style in a box-like setting. Another lady who stole the show was Cher. At 71, she still looked youthful and sexy. People gave her a standing ovation the moment she appeared and never sat throughout her performance of Believe. My major disappointment was when the finale artist Bruno Mars sang his hit Versace On The Floor via satellite from Amsterdam. Had I directed the show, I would have put legends Celine or Cher at the finale to end on a high instead of projecting an MTV of Bruno. It was a great experience though and I'm ticking it off my bucket list. The 2018 Grammy Awards is next!