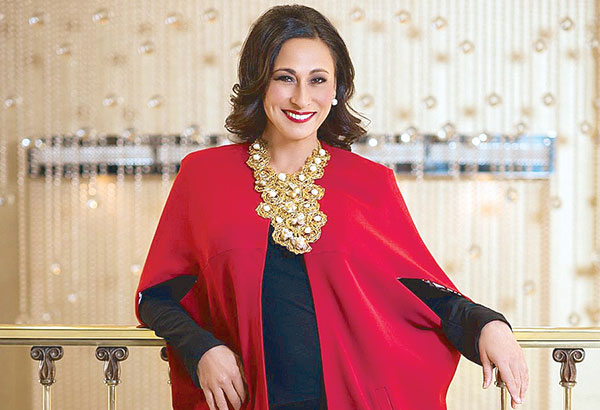 Cherie Gil, who starred in REP's season opener Vanya and Sonia and Masha and Spike, recalls some of her fondest memories with REP— Vincent Gotti
Stars tell their REP stories
Repertory Philippines, more popularly known as REP, is now on its 50th year, and the theater company has many reasons to celebrate.
REP has made a lasting impact on the lives and careers of many people by dedicating itself to staging the best productions and developing Filipino talent. Some of which are well-known personalities a lot of us admire.
Heart Evangelista, for instance, gained experiences as an actress by learning under REP talents. When asked of the greatest lesson she learned from the company she says, "I think it was facing my fears of performing in front of a live audience where there are no cuts or cures."
Sen. Risa Hontiveros also talks about theater as her first love before entering politics. "The arts help us to reveal ourselves to the world, to bare our souls without pretentions and in all vulnerability," she says. "Being with REP ties you for the rest of your life to that space and time where we may constantly create and recreate our good selves, a better country, the best world."
Cherie Gil, who starred in REP's season opener Vanya and Sonia and Masha and Spike, recalls some of her fondest memories with REP — from performing with her daughter in the Sound of Music to acting alongside lauded performers like Michael Williams and Roselyn Perez. "I have always enjoyed doing theater as it makes me really happy. I recall there was one faux pas I made on stage and Michael Williams and I just couldn't stop laughing," she says. "I bloomed after that."
Singer, actor and host Markki Stroem, who starred in REP's rendition of Disney's Camp Rock, shares that the camaraderie shared by the cast makes up his fondest memories being with the theater company. "The cast is one big family," he says, as he adds that he would love to come back to the REP stage.
Cocoy Laurel, who started his career by playing roles in several REP productions, also looks back on the mentors who have inspired him. "The love, passion and hard work that Zeneida Amador instilled in us live on from generation to generation," he says. "REP's talents and energetic mentors make it possible for us to grow in excellence and adapt to the changing times."
Up to today, Filipino artists with REP-training under their belt impress the likes of Cameron Mackintosh, the renowned producer behind Miss Saigon and Les Misérables. "He was unsure how they would perform in front of a large audience. I assured him that the bigger the audience, the better they would perform," says REP co-founder Baby Barredo. "That was the REP training."
On its golden anniversary, REP sees it fit to celebrate the achievements of these talents and personalities it has trained in a grand one-night only musical gala titled REP: 50 Years of Telling Stories. REP's stars and acclaimed alumni will #ComeHometoREP to tell the theater company's story in song, dance and visual history tomorrow, June 11, at the Theatre at Solaire.
REP's 50 Years of Telling Stories is directed by Bart Guingona, Jaime Del Mundo, Miguel Faustmann, Audie Gemora, Menchu Lauchengco-Yulo, Raymond Lauchengco, Freddie Santos and Michael Williams, with musical direction by Ejay Yatco and writing by Luna Inocian.
Don't miss the chance to see why REP dares to continue honing more Filipino talents for years to come. Purchase your tickets by calling REP at 843-3570 or Ticketworld at 891-9999, or log on to www.ticketworld.com.ph.
For updates and show schedules, log on to www.repertoryphilippines.ph, like and follow @repertoryphilippines on Facebook and Instagram, and follow @repphils on Twitter.