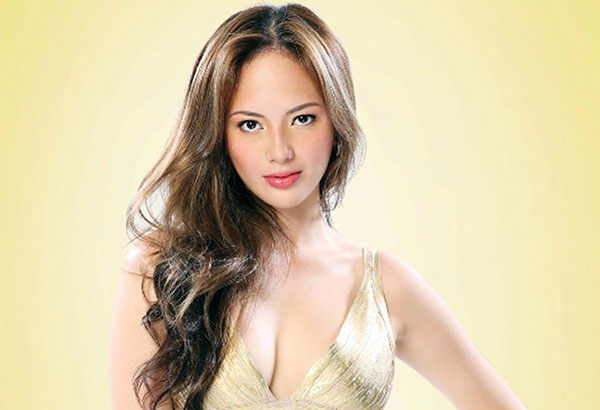 Ellen: Friends say that she will be a good mom
FUNFARE
-
Ricky Lo
(The Philippine Star) - May 30, 2017 - 10:13am
Curtain-raisers:
Funfare's DPA strictly reminded me not to hint at the venue or date of this hot item. A director won an award but missed his moment of glory because the night before he was too drunk and was unable to attend the ceremony. Good thing somebody in the Philippines received the award in his behalf. "Also," added the DPA, "a cast member was dropped from the delegation in favor of the director's girlfriend." Moral of the story? To paraphrase the reminder to drivers: Don't drink if you are scheduled to receive an award.
Have the TV-host/actor and his dancer boyfriend broken up? His socmed posts seem to confirm it. When the actor visited his boyfriend's house in a nearby province, the guy's Born-again family would pray over him. Didn't the prayer help in strengthening the bond between the lovers?
The biggest wish of a pretty starlet was to be paired with her favorite actor. Easy does it. Her politician-lover made her dream come true by investing a huge amount on the movie. The starlet was above the clouds with excitement even if the movie fell way, way below expectations.
* * *
If Ellen Adarna suddenly disappeared from the showbiz scene in the near future, her friends would call it a (forced?) "maternity leave."
You see, Ellen's friend confirmed unapologetically to Funfare that Ellen "could be possibly pregnant."
"I'm happy for Ellen," swore the friend. "If ever, a baby would help keep Ellen grounded."
However, the friend didn't mention who the equally happy would-be father might be. Ellen confirmed that she and First Son Baste Duterte had split up a few months ago after a controversial romance. Unconfirmed reports have linked Ellen to John Lloyd Cruz whom she has known before she got into showbiz and they became closer on the set of the Kapamilya soap Home Sweetie Home. But both of them kept mum on the matter, neither denying nor confirming any rumor. Of course, Ellen has also been linked to non-showbiz rich guys. Would anybody come forward to be recognized and claim that he is "it"?
"Ellen would be a good mom," said her friend. "I'm sure of that."
(Note: Calls to Ellen Adarna for her comment on the good news remained unanswered. Her reply is welcome anytime.)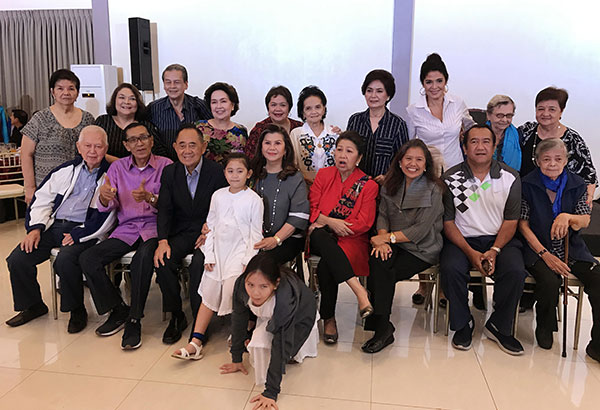 At the commemoration of Mama Nene Vera-Perez's 100th birthday last Sunday, (back row, from left) Bernadette Cruz Perez, Baby O'Brien, Pepito Rodriguez, Susan Roces, Lillbeth Vera-Perez, Nori Dalisay, Barbara Perez, Evangeline Pascual, Nikki Ross and Pempe Rodrigo; and (front row, also from left) Benjie Tarnate, director Maning Borlaza, former Speaker Joe de Venecia (now Special Envoy for Inter-Cultural Dialogue of DFA), a Vera-Perez granddaughter, Manay Gina de Venecia, Marichu 'Manay Ichu' Maceda, Chona Vera-Perez, Cocoy Vera-Perez and Angie dela Cruz.
Sampaguitans reunite at Mama Nene's 100th-birthday dinner
Last Sunday, the Vera-Perez children (Manay Ichu, Manay Gina, Betchay, Chona and Cocoy) invited friends to the commemoration of their mom, Azucena "Mama" Nene Vera-Perez's 100th birthday. Mass was held at the family events place (where the Sampaguita Studio used to be), followed by dinner.
The affair served as unplanned reunion of some Sampaguitans, including Susan Roces, Barbara Perez, director Maning Borlaza, Baby O'Brien, Pepito Rodriguez, Evangeline Pascual (who starred in Gemma, Babaeng Kidlat), Nori Dalisay and the Wing Duo (Angie dela Cruz and Nikki Ross).
Other guests were Luz Valdez, Gloria Sevilla, Lollie Mara, Robert Arevalo, Danny Dolor, Rex Cortez, and Vera-Perez family friend Pempe Rodrigo. Among those missed were Gloria Romero and Eddie Gutierrez (with wife Annabelle Rama).
We talked to Nori who is fondly known as The Eternal Starlet. Asked if she's offended by the "title," Nori said, "No. Totoo naman, eh," recalling that she was indeed Miss Movie Starlet years ago in a readers' poll conducted by the Graphic magazine. After appearing as extra at Premiere Productions (the Efren Reyes starrer Pedro Penduko, etc.), Nori joined the Sampaguita Pictures search for Miss Number One, placing No. 4 to Amalia Fuentes (Nos. 2 and 3 quit even before starting in showbiz).
When the 10-year contract with Sampaguita expired, Nori worked as telephone operator at a multi-national company while studying AB English. Then, she worked as secretary to the president of a big company which granted her a monthly pension when she retired.
"I never married," admitted Nori, "kasi I took care of the four children of my brother. I supported their studies and, thank God, they are all degree-holders and now have families of their own."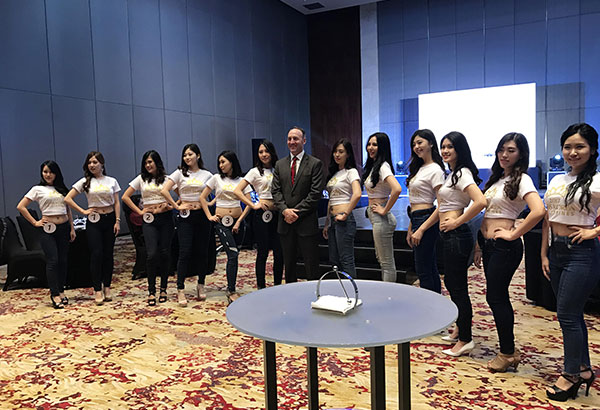 Geoff Andres, property president of City of Dreams, with the 12 beauties competing in the 2017 Miss Korea-Philippines tonight at Chaos, City of Dreams
Who will be 2017 Miss Korea-Philippines?
To be picked tonight from among 12 beauties (Koreans who have lived and/or studied in the Philippines) is the 2017 Miss Korea-Philippines who will compete with winners from other regional searches (Japan, China, etc.) for the Miss Korea representative to the Miss Universe pageant (rumored to be held again in the Philippines, with Okada Hotel as the official home). The coronation will be held at Chaos, City of Dreams, presented by City of Dreams and BDO-SM, organized by ShowBT.
Sponsored by the The Korea Times, the first Miss Korea Pageant in 1957 broke the longstanding image of Korean women who had been locked up in their homes and who had not dared show their beauty. Now, it is the stepping stone for the participants toward good opportunities and fame.
The 2017 Miss Korea regional preliminaries in the Philippines have gathered Korean ladies currently residing in the Philippines who took on the challenge to be part of the search. They underwent beauty and personality trainings, including stage performances coached by a professional Korean trainer.
The organizers also aim to foster the relationship between South Korea and the Philippines, serving as a medium of cultural exchange between the two countries. Also, to encourage the change of prejudices and perceptions about Philippine safety, promoting the countries beautiful environment and heart-warming people.
At the press presentation of the candidates, Geoff Andres, property president of City of Dreams, said that the winner will be known as Miss City of Dreams before she goes to Seoul for the main competition.