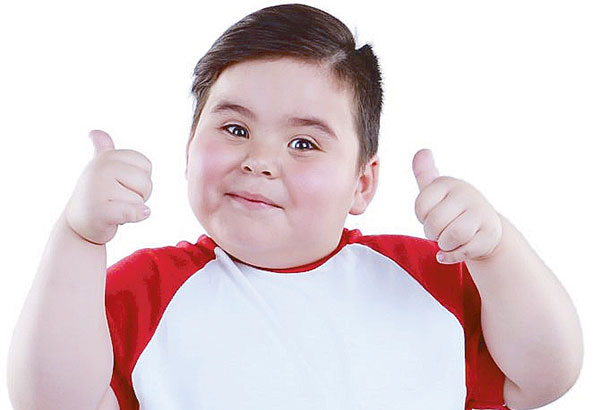 Sebastian Benedict Granfon, a.k.a. Bae-by Baste, is not only big in talent. He's also big in kindness. His parents are doing their job well.
Bae-by Baste (real name: Sebastian Benedict Granfon) may be earning much more than other four-year-old boys like him. But his parents — Daddy Sol and Mommy Sheila — know their cute son won't be a little boy forever. He'll grow up and shed that lovable baby fat.
Besides, you'll never know where the fickle wind of showbiz will take him — or anybody — many years from now. And so, this early, they're prepping him for the future. They're enrolling him in school.
"I'm enrolling him this school opening," Mommy Sheila announced to the press who watched closely as the boy made his own NeuBake Super Slice sandwich by Gardenia bread.
Mother and son endorse the brand.
Mommy Sheila added that school will help Bae-by Baste become a better Dabarkads (as celebrity members of Eat, Bulaga! are called) because it will teach him how to read more and make things easier for his coach on the show.
Bae-by Baste already knew the alphabet, shapes and colors at age one. But of course, he needs to sharpen those skills by going to school.
"Education is very important," Mommy Sheila explained.
And Baste will surely find school a breeze because his parents are there to help him.
Away from the glamor and glitz of the camera, Bae-by Baste can lead a normal life and see how the real world looks, smells and feels.
Mingling with non-celebrity kids his age will teach him what the average schoolchild does and enjoys. It will show him how things work in the less complex world of non-showbiz children.
Not that Bae-by Baste needs to be reminded about staying grounded. The child star has one million followers on Instagram. Moms want to pinch his chubby cheeks. Everyone who has seen him finds the precious kid cute.
But this doesn't keep Mommy Sheila from making sure her eldest son's feet are firmly planted on the ground.
She scolds him when needed. Like all good moms, she wants her son to grow up humble and disciplined.
"I always tell him that he should never change, even if he's now a big celebrity. I tell him he's still Baste, my son, that he should follow Mama, and do what has to be done at home."
Mommy Sheila doesn't stop there. She knows education also takes place outside the home. So she brings her celebrity son to the orphanage to show him that many children out there are hungry for a parent, or anybody else's love.
"I tell Baste how pitiful these kids are. They don't have a Mama like he does. So he should love and respect Mama."
Most of all, Mommy Sheila tells Baste to feel for the little orphans. She tells him to show them his love because they don't have a mom to take care of them.
The boy shows that he's listening, so far. Mommy Sheila proudly reports that Bae-by Baste shares what he has, especially with his little brother Samsam.
So generous is Bae-by Baste, his mom admits turning red whenever he innocently asks people who give him things to get some for Samsam as well.
Mommy Sheila is quick to instruct her son when she hears him asking extra stuff for his brother. She tells Bae-by Baste to just share his things with Samsam when they get home.
The kind kuya does that, and more.
"He tells Samsam he has a surprise for him. Then, Baste lets his brother take what he wants and is happy with whatever's left," reveals Mommy Sheila.
The boy is not only big in talent. He's also big in kindness.
His parents are doing their job well.