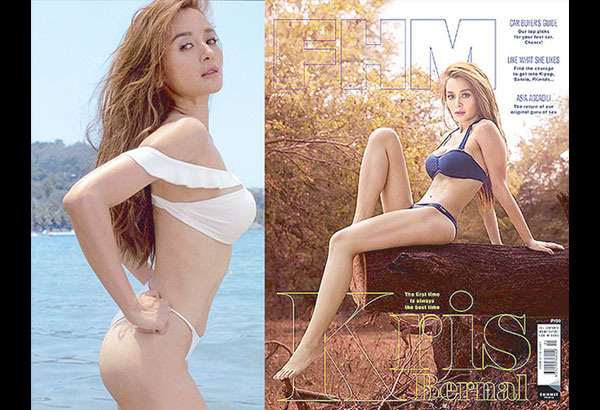 Kris Bernal is both the bida and kontrabida in the soon-to-premiere GMA Afternoon Primetime Block drama —Photos by Doc Marlon Pecjo, from FHM magazine
Kris takes up the Impostora challenge
MANILA, Philippines - The objective of any actor is to deliver a nuanced performance, especially in playing a dual role. Kris Bernal takes up that challenge in the upcoming GMA Afternoon Primetime Block drama Impostora.
"I studied the characters well," said Kris of her preparations for the not-so-two-peas-in-a-pod roles in a recent pocket interview with print media. "I spent time to write down their differences for me to show their (personality). I attended workshops and watched movies. (I made myself understand) that this character will have her own manner (of walking and talking), which is different from that character — siksik at (detalyado) yung ginawa kong (pagkakaiba) ng characters." The dramatis personae Kris is referring to are, of course the Impostora main characters Nimfa and Rosette. In the story's intriguing twist of fate, the former, a kindhearted lady, will be transformed into an impostora of the latter.
Unlike the original Impostora, starring Sunshine Dizon and Iza Calzado and directed by Maryo J. delos Reyes, the remake, according to Kris, is "more dramatic and focuses on family, like (exploring) the husband-and-wife relationship." However, it still echoes resemblances to the 2007 TV drama and the 1994 movie, Sa Isang Sulok ng Mga Pangarap, with Alice Dixson as the female lead. "The names and the sequences are almost patterned after (them)," she added. "It's (an updated) take on the story since the first was made 10 years ago." This is perhaps the most demanding project Kris has accepted in over the last few years.
"The other character requires me to wear a (facial) prosthetic (make-up). Putting it on takes two hours and taking it off takes another two hours," she said. It is a routine she has been doing for weeks.
During the round-table interview, Kris never showed any signs of exasperation, but only enthusiasm, in sharing the nitty-gritty of her "behind-the-scenes" work.
"I like Nimfa but Rosette is challenging because she's the kontrabida. I'm not used to it. Rosette is very elegant, very sophisticated, a role that I rarely get. I usually play impoverished characters or I'm usually being maltreated. Since she is the antagonist, being her requires me to hurt others in the story (including my other character, Nimfa). Yun din yung di ko rin ginagawa dati and in most of my scenes, I'm also hurting myself (you know when Rosette fights with Nimfa). Mahirap umarte ng magkabilaan (It's tough to act double). I'm doing the scenes without any body double (stand in). Hangin lang ang kausap ko; wala akong makuha na emosyon pabalik. Paulit-ulit naming ginagawa (ang mga eksena). It takes us an hour to finish a scene. May nabanko na kami, mga four weeks na yung nagagawa namin."
As an acting trooper, Kris has learned the ropes of this type of acting in no time — and she enjoys the creative process.
Doing Impostora is not the only latest development in her career. One that fans cannot simply ignore is Kris' sexy image, immortalized in the FHM (May issue) pages. The GMA press release states that Kris celebrates her "sexuality and womanhood" as cover girl and considers it a career move and gift to herself. She gets varied reactions from showbiz watchers and netizens.
"I know myself better. I always see myself in the mirror," said Kris. "Kita ko naman kung anong bagay sa akin at hindi. I made an effort to improve myself. Lagi naman akong payat ever since, maliit ako talaga at may laman, laman... I wanted to improve how my body looks — di naman sobrang payat pero toned, may muscles na."
Kris is happy with the results. After all, her parents and management gave their nod of approval on her gracing the men's magazine's cover, baring some skin and showing her own brand of sexiness, and confidence.
"I agreed to it," said Kris, who turned 28 last May 17. "So isa na itong lift (boost) na pwede kong gawin sa sarili ko. I'm more confident now. I'm confident wearing sexy clothes." Kris was also quick to clarify that becoming — and looking — healthy is part of it. "I go to the gym not to lose weight. I do heavy lifting to make my arms bigger and squatting to make my legs bigger. There's a weight gain program, too, at the gym."
Away from the klieg lights, Kris is a hands-on entrepreneur overseeing the operations of Meat Kris, which will have another branch in Ortigas soon. She checks on the delivery, inventory and sales of her burger joint.
With that financial stability, Kris can give her personal life a priority. "May mga nanliligaw naman," she said. But she looks for a special someone, who is in for a long-term relationship.