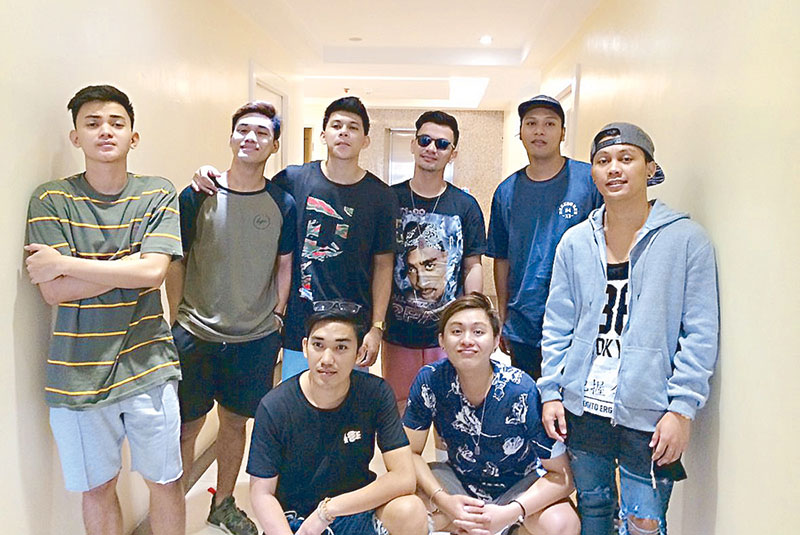 Mastermind members (seated, from left) Raymund Arago and Dale Odicta; (standing) Bryan Abunda, Ericson Apelado, Jester Brozas, David Inere, Pao Gonzales and Adam Bagares. Not in photo is Rey Baylon.
Mastermind: Synchronized moves and sexy dance routines
Reality shows and talent searches have already become part of TV programming here and abroad. They are instrumental in exposing hidden talents waiting to be tapped, and luckily, one of them is Pilipinas Got Talent (PGT) Season 5 finalist Mastermind that caught the attention of viewers and judges with its synchronized moves and sexy dance routines.
The nine-man urban dance crew from Borongan, Samar wasn't hailed the grand winner but it has continued to get a fair share of the spotlight for excellent dancing skills. The street-dance styles like locking, popping, house and dance hall seem effortless and easy for Mastermind, but the group devotes long hours of practice just to perfect those moves.
"It always starts with the music," says the group's leader Pao Gonzales about the creative process involved. "And we let the beat inspire us to achieve the complete sequence of our dance steps."
Pao adds that members of the group, which includes Bryan Abunda, Ericson Apelado, Jester Brozas, David Inere, Adam Bagares, Raymund Arago, Dale Odicta and Rey Baylon, bring their own enthusiasm and high level of energy to the stage.
"We brainstorm to come up with ideas that are appealing to the young and old. We do our own choreography just like we did when we joined PGT," shares Pao.
The dance crew's experience in PGT taught them to easily adapt to any situation. Jester recalls the time during PGT auditions that they had to do last-minute changes for their dance piece "pero dapat aprubado muna ng taga-PGT bago namin maisayaw. May time pa nga na kinabukasan na 'yung sayaw pero ipapabago pa nung gabi."
"We were too stressed on the actual day of performance because we weren't told earlier on what piece to perform. Fortunately, we surpassed the challenge," David discloses.
The group also experienced changing the dance choreography every day. "Naiiyak kami nun sa hirap," says Pao. Thankfully, not one of them had thought of giving up. Each one was determined to make it until the finals.
Ericson is glad that they were able to endure tough audition legs. Now, it feels easy for them to create visual masterpieces for TV shows in just a short time.
"Perhaps, there is no need for us to be motivated in order to be creative because we have a common goal and that is to realize our dream to be recognized in this field," says Pao.
He continues, "The key there is to enjoy and love what you do. Dancing is our passion so it never feels like work at all but of course, we never stop thinking something new to offer to the people."
While Mastermind enjoys dancing, its skill levels stem from hard work and the eagerness to learn more. Pao attended the workshop of Ian Villanueva who mentors for the street dance style locking, and shared his learnings from the other members. "We usually practice the whole day and we also do workouts to maintain our stamina kasi sobrang nakakapagod magsayaw. Do we have time for leisure? Ask Dale," Jester says.
"Yes, we do," laughs Dale, and continues, "I go out to meet some friends."
David says they either play basketball or computer games during free time. But it is Raymund who acts as the funny guy in the group. "Pinapasaya ko sila para di ma-stress," the latter says.
But did you know that the boys, whose ages range from 19 to 26, were rivals on the dance floor before they decided to form Mastermind? David shares that their respective groups intended to join in an underground dance competition in Samar but their other co-members had lost interest and eventually left. "Kaya ginawa naming mga natira, nagsama-sama kami kaya nabuo ang Mastermind. We planned to join in the Hip-Hop International but we had no funds so we instead tried out for PGT."
Adam and Bryan never deny that their lives have changed after PGT as doors of opportunities started to open one by one.
"We now appear in ASAP," Adam says. "Kung dati pangarap ko lang makasayaw sila Enrique (Gil) o Billy (Crawford) ngayon nangyari na. We also get invites for out-of-town shows."
"That's why my parents have become more supportive of my career as a dancer," Bryan says. "We also act as dance mentors for celebrities."
Things are really looking up for Mastermind — from the growing fan base to gigs and perks. Its supporters in social media multiply in numbers, too. Proofs to that are the number of views, shares and likes of its dance cover videos that reach millions.
By the way, Mastermind created a dance craze to the tune of Sidekick. It even earned a nod from its singer Dawin and also shared its video online.
"We take pride in creating our own dance choreography," says Pao who also loves watching performances of dance international choreographers. He looks forward to the day when Mastermind plays back-up dancers to American singer, songwriter and dancer Chris Brown either for a show or music videos. "Pero s'yempre gusto muna namin makapagpasaya dito sa atin."
Asked to describe Mastermind in three words, the boys commonly answered, "Hard work. Teamwork. Fun."
(Mastermind is under the stable of Asian Artists Agency, Inc.)