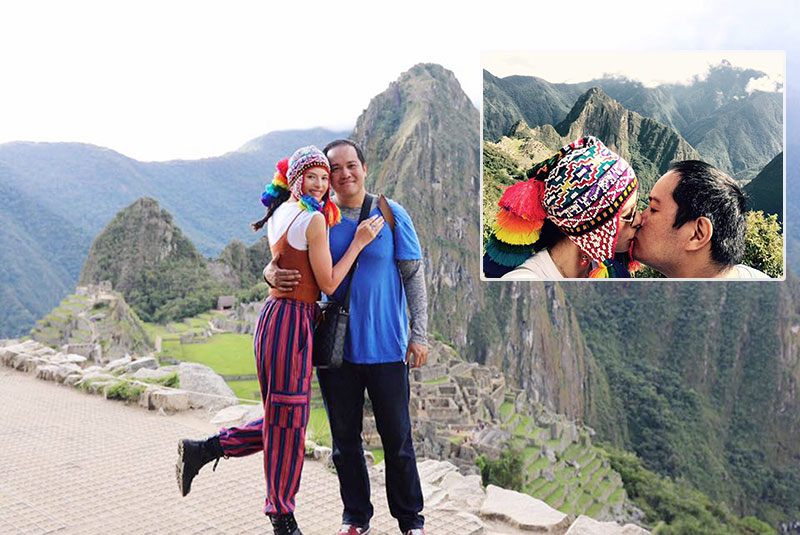 2014 Miss World Philippines Valerie Weigmann and lawyer-businessman Bodie Pulido seal it with a kiss (inset) after he proposes to her at the Lost City of the Incas in Peru, located in one of the highest peaks in the world… – Photos from Valerie Weigmann's Instagram
Valerie says 'Yes!' at Machu Picchu
FUNFARE
-
Ricky Lo
(The Philippine Star) - May 15, 2017 - 4:00pm
Curtain-raisers:
Anne Curtis and fiancé Erwan Heussaff (photo) have been stingy with information about their wedding, giving only vague hints here and there while whetting the curiosity of the public. But like her so-called "amigas ricas" (Isabelle Daza, Solenn Heussaff and Georgina Wilson who have gotten married abroad to ward off "gate-crashers?"), according to a Funfare DPA, the Anne-Erwan wedding will be held in New Zealand (date confidential) and Anne will march down the aisle in a Monique Lhuillier.
Happy birthday PLDT's Butch Jimenez (photo) who, according to his friend Peachy Guioguio, "still looks boyish even if he is past…" oops!..."please don't mention his age. Basta, Taurus siya. One of the best bosses I ever worked for." Butch is still active in helping and discovering new young talents for STAGES.
Now it can be told: Did you know that when Jonathan Demme, the award-winning director of the Jodie Foster starrer The Silence of the Lambs who died recently, shot a film titled Night of the Cobra Woman in the Philippines? That's not the whole story. Demme was badly smitten with a pretty young Filipina who belonged to the production staff. But the girl, so naïve and so probinsyana (from the Visayas), was so terrified (daw!) that she resigned and hid in the province. If she only knew that Demme would be a superstar director…if only, if only! Now into her senior years the Mrs. Jonathan Demme who never was is still active as a journalist, that's why Funfare is not saying who she is.
***
While other celebrities propose by falling on their knees at a mall on a busy street or inside a TV studio (a wornout style already), lawyer-businessman Bodie Pulido put one over all of them by proposing to 2014 Miss World Philippines Valerie Weigmann, hold your breath, in Machu Picchu. It's a real "first" for a Filipino couple, although others from the Philippines (including Dr. Vicki Belo and Dr. Hayden Kho, and FDCP chairperson Liza Diño and husband NYC chairperson Aiza Seguerra) have been there only for a visit.
Now based in New York, Valerie has been busy with fashion shows and pictorials. She recently got engaged to Bodie (brother of GMA news lady Maki Pulido) after going steady for seven years. The couple loves to travel and has toured 18 countries together. The venue of the proposal was made memorable by the fact that visiting Machu Picchu is on top of their bucket list. Machu Picchu is known as the Lost City of the Incas, one of the highest peaks in the world, located in the Andes Mountains in Peru. They were in the middle of a tour when Bodie surprised Valerie with the proposal.
Valerie had no inkling that Bodie would be proposing. Bodie invited Valerie to one of the chambers of the Inca ruins and Valerie thought Bodie was just setting up their usual timer set couple photos. Then Valerie said, "I knew it by the first words that came out of his mouth." And so Bodie knelt and popped the question while he put the engagement ring on Valerie's finger. They thought they were by themselves but almost instantaneously the silence was broken by the applause of other tourists who were actually watching their beautiful moment.
— With a report from Gerry Diaz
***
NY-based Pinay wins an award
Congratulations to Kaisania Calubaquib whose film Reuben won Best Short Film Award, the grand prize at the Universe Multicultural Film Festival (UMFF).
Kaisania grew up in the Philippines and studied Filmmaking and Producing in New York Film Academy where she wrote, directed and produced Reuben as thesis.
"Reuben is about the unconditional love from a person with autism to his father who fell into depression after the death of his wife," said Kaisania in an e-mail. "The idea started with a broken glass that even if you put it back together piece by piece can never be the same again.
"But those cracks are what make it beautiful because of what they have gone through. In this movie, you will witness the struggles of Reuben trying to bring his father out of depression through his unconditional love. Reuben is a non-dialogue film, narrated solely through visual story telling and symbolism."
Last April, Kaisania and her co-producer Sebastien Dulac flew to Los Angeles to attend the Universe Multicultural Film Festival where they met a lot of filmmakers, producers, actors from around the world.
"It was already an honor to be part of it and be one of the official selections of this prestigious festival, but luckily with God's grace we also received the highest award for shorts," said Kaisania.
Kaisania plans to shoot her first full-length feature in Quiapo, Manila.
"I work mostly as a producer/production manager during my OJT in the US," added Kaisania, "I produced a promotional short for a non-profit organization called Cyberversity that premiered in IBM Midtown Manhattan and in Symantec in Silicon Valley. I was also a production manager in a project called Pain and Suffering, a big production which had a lot of locations and people working on the film. I also co-produced Red Sweat, a short film that also won the Platinum award in NYC indie film awards; Bittersweet, another short where I was a production manager that was screened in Cannes at Palais de Festival; and many more."