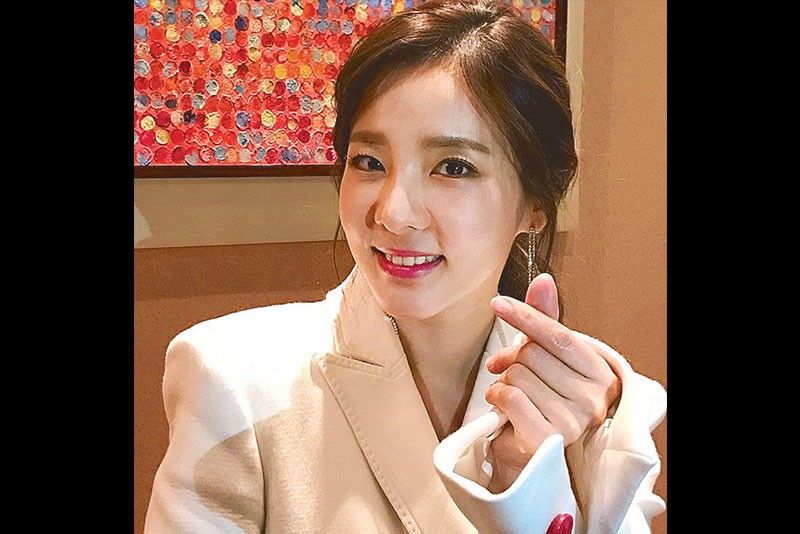 Sandara makes the 'love sign' during a one-on-one with The STAR.
Sandara: Yes, Robi & I are close!
FUNFARE
-
Ricky Lo
(The Philippine Star) - May 8, 2017 - 12:00am
Unlike Robi Domingo, heir to the Denial King throne (once held by Aljur Abrenica and many others) who keeps mum even about things that are already obvious, Sandara Park openly talks about anything, including the persistent rumor that links her to Robi (who broke up with his girlfriend of three years Gretchen Ho early this year).
Sandara flew in early Saturday morning to promote her movie One Step, released locally by Viva International Pictures & MVP Entertainment Philippines and showing nationwide starting on Wednesday, May 10. Sandara stars with Han Jae-seok (of Speed Angels) and Cho Dong-in (of The Stone). With Korean dialogue, the movie is subtitled in English.
Prior to the press conference followed by a meet-and-greet, Sandara sat down for a one-on-one with The STAR at the Crowne Plaza Hotel where she and company were billeted. She talked in a delightful mix of English and Tagalog (which she learned during her long stay in the country, until 2007, after she joined the ABS-CBN Star Circle Quest in 2004). She invented the word krung-krung (crazy), which has become a part of Filipino vocabulary. She's fondly known as the Pambansang Krung-Krung.
First thing I noticed as soon as Sandara took a seat was the glow about her.
"Oh," she blushed a bit, "it's my make-up," adding, "and the Jollibee that I had just taken. 'Yon talaga ang hinahanap ko…Jollibee. I'm really happy when I am here."
Any special someone making her glow like the morning star these days?
"Marami naman," she sounded somewhat evasive at first. "Friends like Joross (Gamboa, an SCQ bet), mga kabarkada ko."
Really...no special someone? (According to reports from Seoul, Sandara is fancy-free since she has broken up with her K-Pop boyfriend.) Somebody making her special?
"Wala naman…ano ba 'yon? Hmmm, what are you trying to tell me?"
I told her, "You might want to comment about Robi who was reported on social media as having met you when he went to Seoul?"
Oh, Sandara loosened up, "yes, close kami ni Robi since three years ago when I guested on PBB (Pinoy Big Brother). That's where I first met Robi, where I met Bianca (Gonzales); they were the PBB hosts. Naging close friends kami."
Nothing deeper than friendship? (Robi prefers singkit girls. Like Gretchen, Sandara is singkit.)
"Wala talaga," she said, blushing.
When Robi was in Seoul, Sandara said that they did meet.
"He was with a group and I acted as their guide. I brought them to several Korean restaurants. Enjoy talaga kami."
Directed by Juhn Jai-hong from a screenplay by Hong Seung-pyo, One Step features Sandara as Si-hyun, a girl who loses her memory in a car accident that renders her able to see sounds in color (synesthesia) which is often disorienting, forcing her to cover her ears so she's unable to hear music. Si-hyun meets Ji-won (played by Hong Ah-reum) in the hospital and decides to live with him as soon as she's discharged.
One day, Ji-won's brother Woo-hyuk (Jae-suk) hears Si-hyun humming a strange tune while asleep. Hoping that it will help her remember something from her past, Woo-hyuk writes the lyrics down and turns them into a score and gives it to her. Meanwhile, Jee-il (Dong-in), a struggling songwriter, stumbles upon the score and offers to find the story behind it. As they collaborate to complete Si-hyun's song, the trio embarks on an inspiring healing journey.
Asked what she found interesting about the movie, Sandara, turning 33 in November (while Robi will be 28 in September), said, "Unang-una, the movie is about music kaya I just decided to do it. When I found out that the character Si-hyun was hard to play parang medyo nung una, OMG how can I do it? The girl loses her memory in a car accident at mayroon pa siyang…ano ba ang tawag dun, color hearing ba yon? She can hear sounds in color. I thought, 'Ano ba itong pinasok ko?' I was not afraid pero marami akong inisip how to play the character."
No, Si-hyun is not krung-krung, the exact opposite of Sandara.
Laughed Sandara, "So different from me, kaya mahirap. She lost her memory so she's always sad, depressed and quiet. She wants to find herself. She cannot hear music so takot siyang lumabas, afraid to mix with people."
The shoot took only one month but the preparation took quite a while.
"We had script-reading and we discussed things with our director and my co-actors. The movie was shot entirely in Seoul early last year."
That was before she came back to sit as co-judge of Yeng Constantino, Vice Ganda and Aga Muhlach in the ABS-CBN talent search Pinoy Boy Band Superstar and stayed for six months with short breaks that allowed her to visit her folks in Seoul.
Unlike Si-hyun, she hasn't turned amnesiac about the Philippines that's why Filipinos love her so much. (Actually, Sandara's family came here in the early 2000's and her father put up ma business.) So how much of the Philippines is in her heart?
"Hmmm," she mused, "naiisip ko ang Philippines every day. It's a good thing that there are Kakao, Viber, Instagram and Twitter, so I am able to connect with my friends. Manila is very near Seoul, only three hours and a half away by plane," adding, "The experiences that I had in the Philippines were such precious memories. After I left in 2007, I became very homesick so every time I have a chance, I come for vacation." (Sandara left at the height of her career and joined an all-girl band called 2NE1 that broke up after six years, prompting her to embark on a solo career.)
How does she feel when people continue to call her krung-krung?
"I take it as a sign of love, so very happy ako," she admitted. "When I go to other countries like the US, and wherever I go and I meet so many Filipinos and they call me krung-krung, I say, 'wow, feel at home.' Some people also call me Dara but the majority call me krung-krung, and I love it"
What about her Korean fans, do they know what krung-krung means?
"I'm not sure but I tell them that it means cute, crazy, unique. I have matured but I still have a krung-krung side. When I come to the Philippines, I still become krung-krung," she laughed. "The Philippines brings out my krung-krung side."
In One Step, a song helps bring back her character's memory. What about in real life, what song would be like it?
"In & Out, 'yung kanta ko. It reminds me of the time na mahal na mahal ako ng fans. That was one of the happiest seasons of my life." (And the season when he was briefly linked to Hero Angeles, the Star Circle Quest winner, and then to Joseph Bitangcol.)
If she were a song, what would she be?
"A novelty song; yon ang bagay sa voice ko, sa image ko at sa personality ko. Something like Otso-Otso and Bubuka ang Bulaklak. Pang-masa. That's the image that I want…girl next door, hindi suplada. Cute. And, of course, In & Out."
And what color would she be?
"Orange," she replied, breaking into a wide smile. "I'm neither black nor red nor gold. Orange can be cute, fresh and also sexy. Kakaiba sa ibang colors."
(E-mail reactions at entphilstar@yahoo.com.)