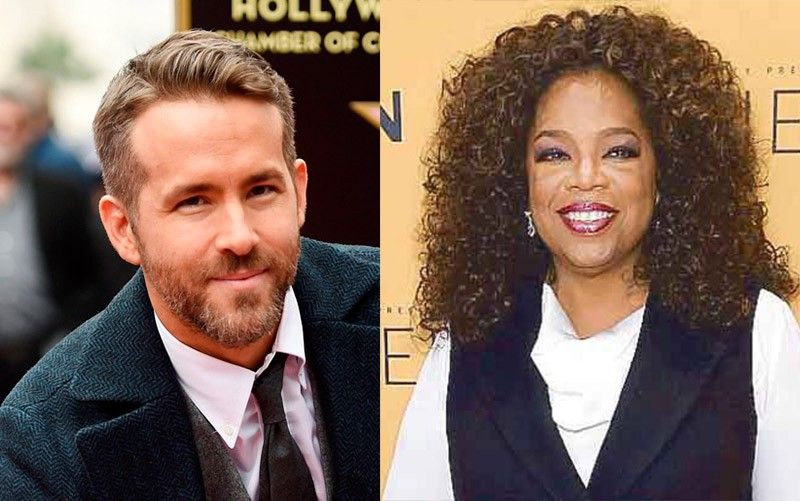 Actors Ryan Reynolds (left) and Oprah Winfrey are among the celebrities who topped TIME 100's 2017 online poll.
Philstar.com/file
Ryan Reynolds, Oprah Winfrey top TIME 100 poll
MANILA, Philippines — Philippine President Rodrigo Duterte might have won the TIME 100 poll among politicians, but among entertainment industry personalities, actor Ryan Reynolds and actress-TV host Oprah Winfrey are at the top of the list.
Although mentioned first in the list, Reynolds and Winfrey, however, are not the only ones who got two percent of the votes. Also garnering two percent are other Hollywood celebrities Lady Gaga, Beyonce, J.K. Rowling, Emma Watson, James Corden, Viola Davis, Emma Stone, John Legend and Rihanna.
At close one percent are Kanye West, Melissa McCarthy, RuPaul, Kim Kardashian West and Drake.
Though given a zero percent rating, Selena Gomez, Fan Bingbing, Alec Baldwin, Ryan Gosling, Ashley Graham, Gigi Hadid, Jennifer Lopez, Katy Perry, DJ Khaled and Demi Lovato are also on the roster.
The TIME 100 is the US-based magazine's annual list of the most influential people in the world. It features a number of leading artists, politicians, lawmakers, scientists, and leaders in technology and business. Although TIME's editors will choose the final list of honorees, readers can share their choices with as well through an online poll.
Voting closed at 11:59 p.m. on April 16, and the winner of the reader poll was announced immediately after. This year's official TIME 100 list will be revealed on April 20.