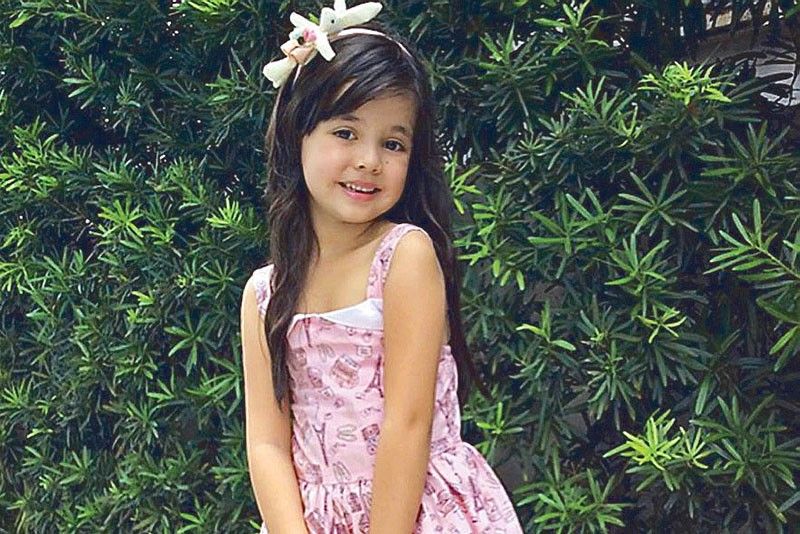 After her impersonation of Taylor Swift in Your Face Sounds Familiar Kids, Xia Vigor and mother Christy have since been interviewed by countless radio and TV hosts. —Photo from Xia's Instagram
Xiamara Sophia Vigor, also known as Xia, is ecstatic to be cast in a starring role in Langit Lupa, a family drama that airs daily as part of ABS-CBN's PrimeTanghali noontime block.
But it was Xia's Your Face Sounds Familiar Kids stint that brought the talented seven year old to the attention of international media, including blogger Perez Hilton.
?After the Filipino-British performer impersonated Taylor Swift in the show's second week, Perez — a noted Hollywood gossip blogger — took to Twitter to rave about her performance. Xia did You Belong With Me and ripped off a marching band costume to reveal a sparkly silver dress underneath, similar to what Taylor did on her Fearless tour in 2009.
After Perez posted his tweet, several foreign media outlets picked up the story and ran with it. Xia and her mother, Christy, a Filipina, have since been interviewed by countless radio and TV hosts. Magazine and newspaper reporters from America, the Philippines and the United Kingdom — where Xia's father, construction worker Alan is based — have written features on her as well.
?According to Xia's mother, the calls just keep on coming. "Actually, my phone is still ringing off the hook. I recently talked to people from a British newspaper called The Daily Mail and a British TV show called ITV News. So many people have asked to interview Xia, however, they can, like via Facetime. Normally I would've granted their requests, but Xia would have had to wake up early due to the time difference. Since I want her to get as much rest as she can, I did some of those interviews myself."
"I'm really happy," Xia replied when asked for her reaction to the attention she continues to receive. "I'm doing this because I love it. It's really my dream. I also want to thank Taylor Swift's fans, the Swifties, because I trended worldwide. Thanks to them. Thank you so much!"
She also posted a photo on her official Instagram account several days afterward and captioned it, "I just did what I love to do and magical things started to happen."
Most of the comments on Xia's performance have been favorable, save for those made by British journalist and television personality Piers Morgan, who called it "disturbing," among other things.
"He's wrong," Christy said when she appeared on a British TV show to discuss Xia's performance. "We know the bigger picture over here so we don't worry about Piers Morgan. Xia's not really like that on a day-to-day basis. She has to dress up like that and put on make-up for the show because she has to copy someone else — an icon. Our culture is different so I don't expect people from other countries to understand what we're doing. I respect them. If they know me as a parent, they won't say those things. People may say she's on TV and I'm exploiting her, but she does many things people don't see. For instance, we gave away toys to disadvantaged kids recently. Xia's a very nice girl."
According to her father, Xia is reportedly being considered for the lead role in a planned movie about the life of American child star Shirley Temple. ("I can't tell you who the director is — it's top secret at the moment," said Alan.)
?Wherever she goes from here, one thing is clear: Xia definitely belongs to the limelight.