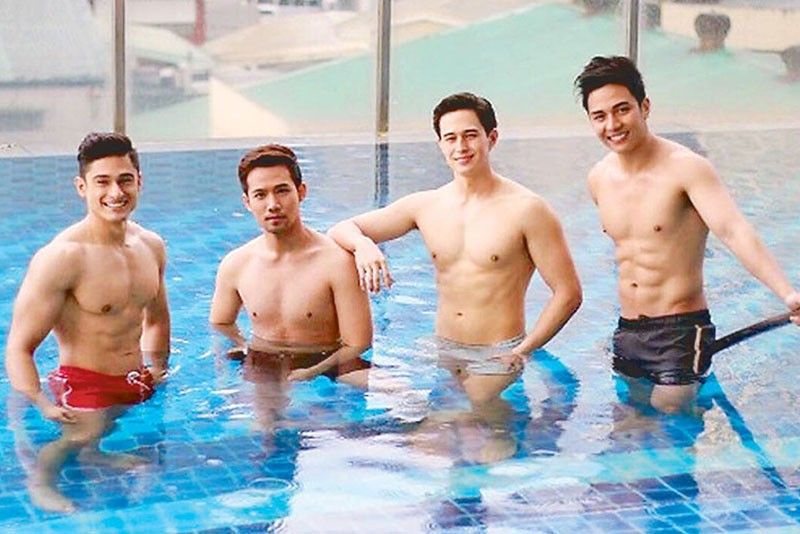 From left: Meant To Be's Addy Raj, Ken Chan, Ivan Dorschner and Jak Roberto vie for the attention of one lucky girl played by Barbie Forteza
The new boys on the Primetime Block
Fans of Meant to Be, one of the Kapuso Network's newest evening primetime programs, can't get enough of the young and fresh-faced cast that includes Ivan Dorschner, Addy Raj with Jak Roberto and Ken Chan. The four boys vie for the attention of one lucky girl played by pretty and versatile actress Barbie Forteza.
The pilot episode of Meant to Be, which aired on Jan. 9, scored a 16.8 percent household rating (AGB Nielsen Nationwide TV Audience Measurement). Since then, over 25 Meant to Be high-rating episodes have aired with the popularity of the cast continuing to grow as evidenced by their legions of fans.
Now, they are recognized wherever they go with fans screaming their names during mall shows. The boys, however, don't let this get to their heads, preferring instead to focus on their work and enjoying each other's company when their schedules permit. They also spend their downtime hitting the gym (one of them does kickboxing or Muay Thai) or chilling at home and watching Netflix.
As young actors, they look up to both Hollywood and local talents. Ivan likes George Clooney, Brad Pitt and Gary Valenciano but the one actor he really looks up to is Matt Bomer, star of the hit TV series White Collar.
"If I had a time machine, I would go back in time and steal Bomer's audition. I'm gonna tie his shoelaces together, puncture his bike's tire with a nail and push back his alarm clock in the morning. I'm gonna do everything in my power to get that role," joked Ivan in his English humor and accent.
Ivan's determination when it comes to bagging a dream role is commendable in any actor but for Ken, acting is a gift one should cherish.
The humble and respectful Ken credits his mentor, the late Master Showman German "Kuya Germs" Moreno for instilling in him a constant sense of gratitude.
"Kuya Germs told me, 'Ken, love your work and your co-workers... mula sa baba hanggang taas.' Huwag ko raw kakalimutan yung mga supporters, yung mga fans, dahil sila din yung isa sa mga dahilan kung bakit kami nandito. Yun ang tinatandaan ko sa tuwing may mga mangyayari sa akin na maganda, may mga darating na projects, blessings. I always go back to the things Tatay said," Ken reminisced.
Ken also shared that he already fulfilled his dream role — that of a transgender in the GMA series Destiny Rose. "I also want to try fantasy or a fantaserye, whatever role. Yung action na lang at yung fantaserye ang hindi ko pa nasusubukan."
For the handsome Jak, however, his dream role is something more realistic and grounded. He wants to portray a soldier like the one played by Zac Efron in the film The Lucky One. The movie may have started in the conventional way, showing Efron fighting a war but it later develops into a love story.
"May nakita kasi siyang picture at hinanap niya kung sino yun. Tapos yun pala yung The One niya. It has drama, comedy. It has everything," he said.
Jak also looks up to actors Matthew McConaughey and Eddie Redmayne for their ability to completely inhabit a particular role. He singled out McConaughey's award-winning turn as a cowboy diagnosed with AIDS in the 2013 biographical film Dallas Buyers Club.
He sees himself someday behind the camera, directing a TV show or movie, but for now Jak wants to explore all aspects of being an actor. When he's not taping, you can find him at the gym boxing or doing Muay Thai. He also rehearses his songs for the mall shows.
Asked what fans might not know about him, Jak shared that he cooks and can play the guitar.
Another musically-inclined member of the group is Addy who sings and plays the guitar. Not many may be aware but Addy was also a professional runner.
"In 2014, I was the 20th fastest man in India. I was preparing for the Olympics but I decided to move to the Philippines because I felt that athletics was not a popular sport in India. It was not worth the effort," he said.
Still, he has managed to maintain his physique and is open to starring in an action or superhero-type of movie.
As Jai in Meant to Be, he plays a happy-go-lucky guy. It's a role he can fully relate to.
"The thing I like most about my character is that he spreads happiness. No matter how serious the situation is, he always manages to lighten things up and make everyone smile."
Apart from the different roles of these four handsome and talented leading men, the show also tackles heartwarming family storylines, making it a treat for the whole family. No wonder it has gotten viewers of all ages hooked.
Meant to Be airs weeknights on GMA 7.